The following interview was conducted by Ed Stetzer. Ed is very well-known in the evangelical Christian world today. He's graciously endorsed two of my books, and I have a lot of respect for him.
Hope you enjoy it.
Introduction by Ed Stetzer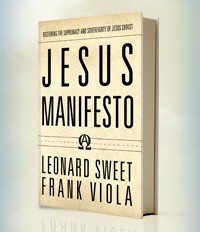 Today I'm sharing an interview with Leonard Sweet and Frank Viola about their recently published book, Jesus Manifesto. I think the response to the book has been fascinating to watch. For example, you don't often see a book endorsed by Ed Young, Matt Chandler, Jack Hayford, and Steve Brown. And, since Len and Frank are willing to dialogue today, I wanted to bring it to you attention. (By the way, Frank has been here at the blog before.)
Len serves as a professor and vice president at Drew University, has written numerous articles and books, and he is a primary contributor to the web-based preaching resource, sermons.com.
Ed Stetzer: What motivated the both of you to write Jesus Manifesto?
Len Sweet: I'll bet when you were a child you learned the song "Jimmy Crack corn and I don't care." It dates to antebellum days (pre-1860s), and no one really knows who wrote it, what it means, or how it stays in circulation. But the most likely explanation is that "Jimmy Crack" is a corruption of "gimcrack," or cheap corn, and gimcrack corn leads to an "I-don't-care" attitude. For too long too much of the church has been singing a gimcrack gospel, a cheap, tawdry, tacky gospel which reduced pastors to social workers, preachers to motivational speakers, and evangelism to marketing.
You can see this at work in academic circles. I cut my seminary teeth on the writings of Harvard theologian Gordon Kaufman. In his Theology for a Nuclear Age (1985), he disassociates salvation from Christ in this way: "in the earliest period of Christian history . . . salvation consisted essentially in a particular mode and quality of life, not in consciousness of some special connectedness with Jesus" (58-59). What!? Kaufman then at least has the honesty to face the ultimate question: "One might ask, What religious point has salvation of this sort? Why concern oneself with it at all? Why bother to be a Christian?" (59)
He never really answers this question, but the answers have come in our empty pews and enervated churches. Frank and I decided that it was time to call the church to stop putting first things last.
Frank Viola: We've consistently seen the Lord Jesus eclipsed by other "hot" topics. So we wanted to present the glories and riches of Christ in such a way that it made a deep impact on our readers . . . where they'd be profoundly touched by the sight of Him instead of jazzed about the gazillion and one "things" that are related to Him.
In addition, we feel that many believers are polarized on the left or the right, and the antidote to this polarization is a fresh unveiling of Christ. Not simply as Savior and Lord, but as Alpha and Omega (as Revelation puts it), our All (as Paul describes Him), and as our indwelling Lord (something that's often omitted in today's preaching).
We are called to follow the Lord Jesus Christ. But if we are to follow Him, we need to know exactly who He is and the means that He has given us by which to follow Him. What we try to do in the book, then, is to present the breathtaking glories of Christ in such a way that God's people are completely floored by HIM. And to show from the Lord's own teaching that the way to follow Him is the exact same way that He followed His Father.
ES: How did you two get together to write the book in the first place?
FV: A few years ago, Len and I talked about the need for a sweet book that was also frank. J
Actually, I marvel at how God brings people together to accomplish certain things. Proverbs says "our steps are ordered."
A few years back Len and I began talking about what was on our hearts, and we discovered (quite surprisingly) that we shared a common burden. That burden centered on the supremacy and sovereignty of God's Son . . . how it was being so-often omitted, side-stepped, lost, and replaced by so many other things. To articulate what was on our hearts, we crafted an online essay together which later became the book, Jesus Manifesto.
LS: For quite some time the Spirit had been speaking to me that I would be doing a book project with someone. I tried a few times to press this trajectory myself, and nothing ever worked out. Then when I bumped into Frank, and we couldn't stop ranting and raving for two days–about the missing Christ in the midst of our churches, about the attempts on Christianity's left and the right to live without Christ, which is suicide, about Kevorkian clerics and the assisted suicide business–I knew that in the providence of God we were meant to do this book together. My Pilgrim Holiness preacher-mom had a favorite expression: "God's clock keeps perfect time."
ES: What is unique about this book from the many other books that are on the subject of Jesus?
LS: One of my favorite Sunday School stories is of the child who comes home from the first day of Sunday School. His parents are curious about how things went, and begin by asking him what the teacher's name was.
"I don't know. I don't remember her name."
"Well, do you remember anything about her?"
"I think she is Jesus' grandmother."
"Why would you think that?"
"Because all she did was hold up His picture and brag on Him."
Frank and I have written a book that is dedicated to doing one thing: holding up the Bible's picture of Jesus and bragging on Him.
FV: Some that come to mind are:
A unique unfolding of Jesus Christ as the Tree of Life and what that means practically for every believer.
A scriptural critique of WWJD along with the alternative which comes from Jesus' own teaching and example.
A right-brained presentation of Colossians chapter one. (Many readers have commented that after reading our presentation of this passage, it gained a new coherence.)
A presentation of Jesus' favorite place on earth (Bethany) and how it applies to each believer today.
A chapter on "If God Wrote Your Biography" and how that biography would be Jesus Christ.
A take on social justice that transcends the old tired "justice" vs. "justification" dichotomy.
A presentation of Colossians 1-3 that's unique, personal, and intimate. (It appears at the very end.)
A reframing of the Christian life as not being an effort-filled imitation of Jesus' conduct, but a present, up-to-date living by His indwelling life. (That's the only way we can properly imitate Him, we argue.)
The writing style is unique in that it blends together poetry and prose, right-brain imagery/metaphor with left-brain biblical exposition and theological statements.
To expound on one of the above points, I was talking to Jack Taylor last year. In the conversation, he told me what it was like when he first discovered that God lived inside of him… something that he had never heard or considered for many years as a minister. That revelation utterly wrecked his life and drastically changed the direction of his ministry. (He later wrote a beautiful book about it that's been long out of print. One of the chapters in that book is entitled "Christianity Is Christ-In-You-ity.")
In Jesus Manifesto, Len and I not only expound on what it means for Christ to dwell in us, but what it means to live by His indwelling life. This reality, we feel, does not get much air-play today in evangelical, charismatic, or mainline circles.
Antoine de Saint-Exupéry once said, "If you want to build a ship, don't herd people together to collect wood and don't assign them tasks and work, but rather teach them to long for the endless immensity of the sea."
All told, Jesus Manifesto attempts to put in the hearts of readers a longing for the endless immensity of their Lord.
ES: What has the response been to the book so far?
FV: The vast majority of responses have been dumbfounding and humbling. Firsthand testimonies from readers can be viewed here. In addition, over 30 of the most influential Christian leaders of our time (including you, Ed

have graciously written endorsements for the book. What's striking about this is that the endorsers represent different segments of the body of Christ. For this reason, some have described the book as a symbol for "uniting the tribes" under one Head, Jesus. One of the major criticisms is that we don't give a "5-step, add-water-and-stir, microwave-on-high-for-2-minutes" recipe. But that was deliberate as we've explained elsewhere. Len can tell you about the other major criticism.
LS: We have our critics. There are a few who tend to be very vocal and media savvy who think we didn't spend enough time telling people they are spawns of Satan and worms of wretchedness. And it is true that "all have sinned and fallen short of the glory of God." But we have taken seriously John 3:17: "For God did not send his Son into the world to condemn the world, but to save the world through him." In a general sense, we're all children (by creation) of a Heavenly Father (Acts 17:28-29) . . . some are sowing wild oats, others are planting prairies in faraway places, but Jesus is saying to all "Come Home, Come Home…Softly and Tenderly, Jesus is Calling." And the Father is waiting with open arms to throw the welcome home party, and make them His sons and daughters by birth.
ES: What do you believe is the dominant view of Jesus in the evangelical church, and what is wrong with it?
LS: Myron Augsburger, former President of Eastern Mennonite Seminary, has said it best for me:
I believe in justice, but I am not a preacher of the gospel of justice, but the Gospel of Christ who calls us to justice.
I believe in love, but I am not a preacher of the gospel of love, but the Gospel of Christ who calls us to love.
I am committed to peace, but I am not a preacher of the gospel of peace, but the Gospel of Christ who calls us to peace.
I believe in the value of the simple life, but I am not the preacher of the simple life, but of the Gospel of Christ that calls us to the simple life.
For Augsburger, evangelicals have too often been guilty of the ultimate plagiarism: "borrowing some great concepts from Jesus then, running off proclaiming these concepts and not sharing the Christ that empowers these concepts."
FV: At best, Jesus is Savior and Lord, but not much more. So He gets routinely short-changed and limited. At worse, Jesus is a slogan, a banner, a logo, or a footnote to the gospel and the many "things" that Christians enthusiastically chase after today, whether they be the gifts of the Holy Spirit, leadership principles, apologetics, healing, miracles, the "five-fold ministry," helping the poor, social justice, personal holiness, memorizing Bible verses, a certain theological system, end-time theology, the coming revival, etc.
The problem is that Christians can chase these things, pursue them, major in them, and leave Jesus Christ out in the cold. I've met many evangelical Christians who were jazzed about a host of religious and spiritual "its" and "things" – I was also at one time – yet when Jesus Himself is brought up, they are disinterested. One of the reasons for this, I think, is that many believers have been given a very small Christ. By contrast, our book seeks to unveil His stunning greatness.
In short, if our eyes are opened to catch even a glimpse of the glory, the beauty, the majesty, the "otherness," and the amazing greatness of Christ, it would blow our circuitry. Everything else would turn into plain yogurt, and our hearts would be stolen for Him alone. That experience is the "Game-Changer" beyond all game-changers in my view.
Let me add one more word in this connection: Guilt is the greatest motivator on the planet. Psychologists tell us that guilt is a stronger motivating force than sex or money. That said, guilt is often used by contemporary preachers to get God's people to do certain things and stop doing other things.
But instead of being placed under a pile of guilt, what God's people need more than anything else (I believe) is an ever-growing revelation of the Lord Jesus Christ. For out of that flows everything else. The words of a classic hymn explain this better than I can:
What has stript the seeming beauty
From the idols of the earth?
Not a sense of right or duty,
But the sight of peerless worth.
The look that melted Peter
The face that Stephen saw
The heart that wept with Mary
Can alone from idols draw
This touches evangelism too. Not long ago I was talking to a young man who was a leader in a very large para-church organization that's known for its evangelism. After observing some intensely Christ-centered gatherings where every member present was participating and sharing the riches and depths of Jesus Christ, the young man said to me:
"I just got back from one of our leadership conferences and the more they talked about saving the lost, the more disinterested I was. I come to these meetings here and while nothing is said about evangelism, I'm so excited about my Lord that I want to share Him with others. There's no guilt or duty in it at all. I'm fired up about Him."
In short, we all need a fresh unveiling of our Lord. And that's what Len and I have set out to do in Jesus Manifesto.
Related:
Mike Morrell Interviews Len Sweet and Frank Viola