Have you ever read the Old Testament and thought to yourself, "Whaaa!!?" "Haaaa?" "No way!" "You've got to be kidding me?"
Granted, there are many stories in the Old Testament that just don't jive with our modern/postmodern world, culture, and mindset. To the modernized, Enlightenment thinker, much of it is nonsensical, absurd, and (at first blush) in contradiction to the teachings of Jesus Himself.
Ah but . . .
Paul Copan has just written a book. The book that I've been searching for since I've been a Christian.
It's a defense of the God the Old Testament that brings us back to the culture, the day, the time, the mindset, etc. of the Ancient Near East (ANE). And it sheds enormous light on those prickly texts that make us say under our breath, "Lord, why did you do that? Why did you say that?" and other such ramblings.
I'm not going to review the book. I have something better up my sleeve. So stay tuned. Closely tuned to this blog.
In the meantime, I would recommend that you get a copy of the book. And if you have friends who are atheists or agnostics or skeptics as a result of their reading of the Bible, particularly the First ("Old") Testament, but who are also open to have their views challenged, give them a copy also.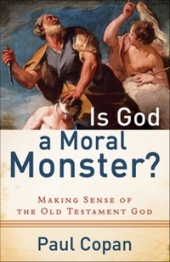 The book is very good.
Click this link to order it at a discount: Is God a Moral Monster?: Making Sense of the Old Testament God
Speaking of books . . . whenever a new book is released, publishers like to have a set of strong blurbs (endorsements) for the book from other authors. It is thought that a good blurb will help a book get into more hands.
(As an aside, some people benightedly think that if a person endorses a book, it means that the author of the book they are endorsing agrees with everything that the endorser has said or written. While this makes no sense whatsoever, it's what a few people think . . . oddly. But that's not the case at all. An endorsement simply means that the ONE endorsing the book agrees with the particular BOOK'S message and supports it. Glad we got that cleared up.)
Okay, back to the issue: The question before the house is DO endorsements/blurbs on a book really help a book? Do they provoke readers to obtain and read it when they normally wouldn't have previously?
(Btw/ if you don't know what I mean by a book blurb exactly, you can read some for my own books here and here.)
Question: Have you ever bought a book because of a blurb/endorsement you read about it? Not a blog post or a review, but an endorsement by another author on the back cover of the book or on a bookstore website like Amazon?