Beginning Friday, February 3rd, all Email subscribers of this blog will receive my new "Next Reformation" seminar as a free gift. So if you are an Email subscriber, keep an eye out for a special Email from us.
The seminar covers a lot of new ground with a battery of updated statistics on the state of the body of Christ and the shifting streams within Christianity today.
The seminar is not for sale nor is it for public consumption.
The only way to receive it is by subscribing to this blog via Email (RSS feed subscribers will also have to subscribe by Email in order to receive it). The seminar is our gift to our loyal Email subscribers.
The other advantage of subscribing by Email is that you won't miss any posts. Not a few of you have expressed disappointment after missing some of my special promotion blog posts. Subscribing by Email will prevent that from happening.
For instance, sometime in February, we will be having "Shameless Promotion" day. This is when I will invite each of my readers to promote their own blog or website. In this way, we will all be made aware of each other's online work.
An important note: In order to receive the "Next Reformation" seminar (and these blog posts by Email), you must VERIFY your subscription. To my amazement, we have over 350 Email subscribers who have never verified their subscriptions. (While this is a small percentage of our active subscribers, it's a surprising figure nonetheless.)
This bears explaining. When you subscribe, you will immediately receive an automatic verification Email. Check your spam folder if you don't see it. In order to activate your subscription, follow the simple instructions in that Email and your subscription will be activated.
This verification Email prevents people from subscribing you without your knowledge.
Click this link or click the banner below to subscribe by Email. And remember to VERIFY once you do.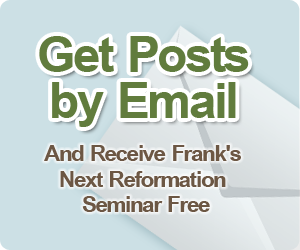 Recent Posts: