We are now at the one month point since I've resumed blogging after taking an 8-month blog sabbatical. I'd like to pause and reflect by sharing ten things with you . . . all of which I feel are important. I believe you will also.
1. First, I'd like to say "thank you" to each of you who subscribe to this blog. Especially those of you who share my posts with others. I've really enjoyed my return to blogging, and I hope you have as well. You've blessed me greatly with your encouraging and insightful comments.
2. One day this month, we will be having "Shameless Promotion Day" on the blog. I will be giving every reader an opportunity to promote their website or blog to our blog audience (which is quite large). You won't want to miss the opportunity. But it will only last one day; so you get one shot.
3. Since I resumed blogging on January 17th, the subscribership to this blog has almost doubled. In fact, I just found out that this blog ranks #10 out of all Christian blogs in RSS subscribers.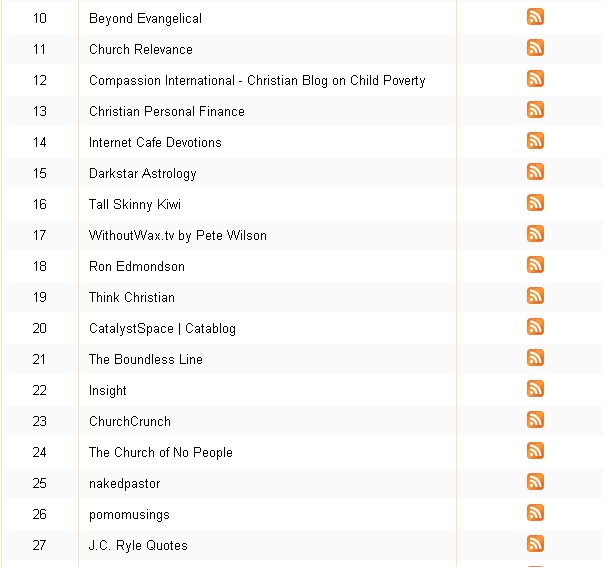 While many of you are RSS subscribers, I would encourage you to also subscribe by Email.
There are two reasons:
(1)    If you subscribe by Email, you are less likely to miss a post. For instance, "Shameless Promotion Day" only lasts one day. So if you miss it, your opportunity to promote your site will be gone.
(2)    If you subscribe by Email, you will receive my "Next Reformation" seminar for free as well as other free gifts in the future. These special gifts will be given to my Email subscribers only. (We have no way to contact RSS subscribers except through public posts like this one.)
4. This blog just hit 100,000 page views in one month. That's a record since I've been blogging. How did it happen? I followed these 25 pieces of advice. If you are a blogger, I suggest you follow them as well. I believe you'll see dramatic results in due time. Another factor is that some of you have been diligent to share my posts with others.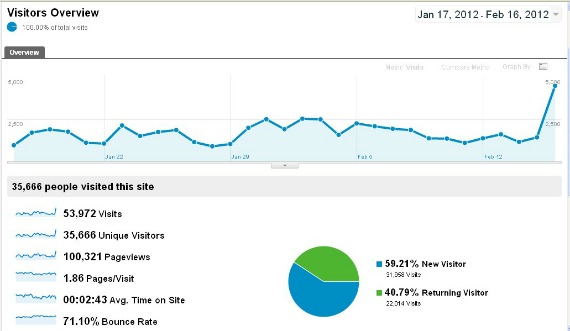 5. I want to encourage you to share my posts with others. As subscribers, you will see the "Share on Facebook" . . . "Share on Twitter" . . . "Stumble It!" . . .  "Digg This!" . . .  blue links at the bottom of every post. (If you don't see them, you need to click "display images" or "show images and links" in your email.) There are also share buttons at the bottom of each post for those of you who visit the blog directly to see the screen candy.
It only takes a second to click the "Share on Facebook" or "Share on Twitter" links or buttons.
Most of you know this already, but I'm not a fan of FB groups. So I prefer that you don't share my posts on those. But your FB wall is great. And when you click the "Share on Facebook" button, it goes straight to your wall.
Also: if you've not yet read it, check out The Art of Being an Online Jerk. Every person who has a blog or who posts online should read it. Special thanks to Rick Warren for your kind words on the post.

6. Here are the most popular posts I've written since I began blogging again. Feel free to share them with others.
Interview with Christian Smith ("The Bible Made Impossible")
The Art of Being a Jerk Online
7. Those of you who are new to the blog probably aren't aware of this, but I don't moderate comments. If you post a comment, and it's not approved, please look over the rules for commenting. Sometimes a comment will go into spam, and it will be lost forever. TIP: If your comment is super long or it contains links, the software will often mark it as spam. So it's best to keep your comments no longer than a paragraph. Oh, and we'd like to hear from those of you who never comment.
8. Realize that a blog post isn't a book, so every aspect of a subject that a post treats cannot be covered. For instance, if I write on the Deity of Jesus, making a comment like, "But Jesus is human too! Yada, yada, yada . . ." is silly. If I write a post honoring women, that doesn't mean that I demean men or vice versa. If I mention a particular age group, that doesn't mean that other ages "don't count." Sigh. Again, blog posts aren't books. They are limited in scope. Keep that in mind.
9. As many of you know, I don't profit personally from the sale of my books or speaking engagements. Instead, my income is derived from advertisements on this blog and affiliate programs. And I only advertise resources that I myself use or know enough about that I can endorse in good conscience.
February and March will be the last months where our advertising rates will be discounted. Beginning April 1st, the prices will go up to normal. So if you're interested in advertising a resource of yours – whether a book, audio, CD, website, blog, service, or other resource – send an Email to PTMIN@aol.com, let us know what you want to advertise specifically (give the link), and ask for the pricing list.
10. Finally, I want to remind everyone about #9 of my Advice for Bloggers (it applies to anyone who uses the Web): 
"Never Copy & Paste Someone's Blog Post on Your Blog or Facebook Page. This is just bad etiquette. Bloggers who write quality posts spend hours crafting them. It takes a lot of time and energy to put out a first-rate post. Consequently, for someone to just copy and paste it on their blog, Facebook wall, or discussion forum (which takes seconds) is regarded by many as inconsiderate and lazy.
The blogger who crafted the post will likely feel cheated and robbed. If you like someone's post, it's best to excerpt a section of it and then provide the link so readers can view the entire post. This also allows readers to interact with the author about the post if they so choose.
Also, if you post an excerpt of a blog on Facebook or Twitter as a quote, be sure to put the link to the entire post as well. Excerpts are out-of-context soundbytes. As such, they typically lead to misunderstanding (at best) or hostile criticism (at worse). People need to see the whole context of a post if they will completely understand it. So be careful to add the link if you do any quoting."
Thank you again for being a loyal subscriber.
I'm really excited about next week's blog post line up.
Yours in His infinite grace,
fv
Psalm 115:1