Relevant Magazine is mostly noted for featuring updates on pop culture, entertainers, and Christian music. They also feature Christian authors and speakers from time to time.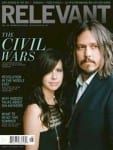 Relevant Magazine "has been berry, berry good to me." Relevant wrote a positive review of my book, Reimagining Church. They promoted Jesus Manifesto. And they published A Vanishing God.
Relevant's sister journal Neue has been "berry, berry good to me" also, publishing numerous articles and interviews over the years.
Last year, Relevant published a review of my hardcover, Revise Us Again.
As I've said elsewhere, I regard Revise Us Again to be in the top four of my most important books. It addresses problems that are rarely talked about today. Some of them being:
*How do you handle the times when God doesn't meet your expectations and seems to neglect fulfilling His own promises?
*How do you cope with not feeling or sensing God's presence (even at times when others do), and what does that mean exactly? And what does it not mean?
*What is the experience of "the dark night" in the Christian's life and why does it happen? (This is greater than a dry spell. It's when God seems to completely walk off the stage of your life.)
*How does personality and temperament effect how we hear God and how we talk about theology and spiritual things?
*Why do so many mentors turn on the people they are mentoring, and how does one deal with that?
*What's the difference between legalism and submitting to Jesus' Lordship? What's the difference between license and liberty in the Christian walk?
*What does it mean to be captured by the same spirit you oppose, and how can we avoid it?
*How can two groups that don't believe the same about spiritual gifts come together and meet as one church? What must happen for this impossible venture to take place?
 *Where did "What Would Jesus Do?" come from, is it biblical, and does it work in real life?
Here's the review written by Relevant. I was honored by it.
Frank Viola Gives a Much-Needed Nudge to Christian Thinking
Whether you grew up in a Christian community, recently started a walk of faith or are still on a spiritual search, it's likely that you have observed some actions within Christian circles that aren't exactly Christ-like.
In his new book, Revise Us Again, Frank Viola confronts some of the common thoughts, attitudes and behaviors among Christians that desperately need revising.
If you've been hanging around church since you were in diapers, or maybe since the POG-trading era, this book will have you nodding in agreement all throughout. Viola addresses detriments like "Christianese" and phraseology like, "God told me."
Have you ever heard the phrase "let me pray about it" after asking a Christian for a favor? Viola interprets it as a passive-aggressive way of saying "no." Many Christians need to revise their words, but on a deeper level, they need a revision of heart.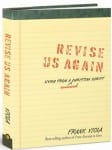 Viola goes on to address three interpretations of the Gospel: libertines, legalists and those living according to Paul's Gospel.
Libertines fall on the side of the spectrum that believes "God will forgive me no matter what," so no life change is required for conversion.
Legalists are on the other side of the spectrum, attempting to live perfect lives in order to earn God's good graces.
Viola encourages life according to Paul's Gospel—freely accepting God's grace, but producing good works and holy lifestyles. Viola unveils some Christian behaviors that are actually libertine and legalistic that have been cleverly disguised over the years.
Throughout the book, Viola demonstrates a deep understanding of denominations, theologians of past and present, and the way theological roots have affected the way Christians behave.
His style is reminiscent of C.S. Lewis or A.W. Tozer—real, convicting and intelligent. He seems to have a good pulse on what pitfalls are affecting modern-day Christians.
If you are looking for an encouraging, Joel Osteen-style motivational read, this is not necessarily for you. This is a book of admonition to the Church. It will leave you asking God what you need to change about yourself and wondering how you can revise your Christian community.
This would be a great read for someone who is immersed in the Christian subculture, whether at a Christian college, workplace or church. I would also recommend this book to pastors or church leaders.
Written by Lindsay Morris
Order Revise Us Again from Amazon
Order Revise Us Again on Kindle
Order Revise Us Again at a discount (bulk discounts also)
Order Revise Us Again on Audiobook
Click here to watch the video trailer
Listen to an interview with CBD (Christian Books)
Read a print interview discussing the problems and solutions the book treats
Excerpts from Revise Us Again:
Legalism, License, Lordship and Liberty
Do you subscribe to Relevant Magazine? If so, what do you think of it?
Related: