Recently I came across a book that I'd add to the list at #6. It's called Beyond Opinion by Ravi Zacharias. My publisher, Thomas Nelson, released it.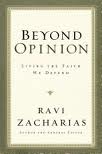 In Beyond Opinion, Zacharias (who was once a Hindu) turns the shredder on high and obliterates common objections to the Christian faith.
He even gets some help from Oxford's brilliant Alister McGrath who is noted for eating atheistic arguments for breakfast. There are other contributors as well.
Some of the chapters include:
Postmodern challenges to the Bible
Challenges from Atheism
Challenges from Islam
Challenges from Science
Zacharias also engages the "problem of evil" debate with an even hand.
Christians who want to be better equipped to share their faith intelligently to those who offer the usual push-back responses to the gospel will be helped by Beyond Opinion.
So I shall make it #6 on my "best books that defend the gospel" list.
Thanks Ravi!