The following is a paid interview. It is not an endorsement nor a recommendation, but an opportunity to ask questions of an author on his newest book.
My friend Mick Mooney is the author of the new novel called God's Grammar. I caught up with Mick to interview him on his new book. Here it is: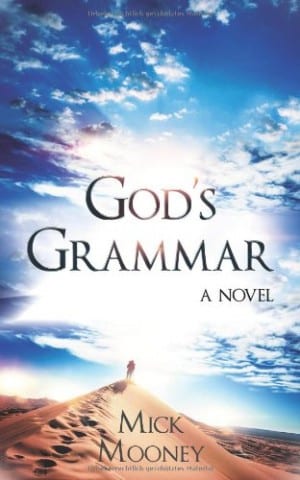 Summarize the main story in your new novel, God's Grammar.
Mick Mooney: The main character's name is Sam, a semi-committed agnostic who wakes from a strange dream where God offered to teach him grammar. When he gets out of bed he is startled to discover God actually in his apartment, ready to start the lesson. While the grammar lesson begins at Sam's kitchen table, inwardly an epic journey also takes place, a journey out of Sam's inner Fortress and into the greater realm of his soul. While God seeks to liberate Sam, the General—a dark co-inhabitant of Sam's inner Fortress—is determined to keep the revelation of God's unfailing love from finding a permanent home in Sam's heart. Ultimately, God's Grammar is an imaginative tale of loss, love and redemption that digs much deeper than just a conversation about grammar; it dares to answer one of life's biggest questions: Can love last forever?
What provoked you to write the book?
Mick Mooney: I moved to Germany five years ago with my wife. I had just finished three years of Bible college and had expected to work in some kind of full-time ministry capacity; however, at this time I was also going through a major paradigm shift regarding the notion of full-time paid ministry in an institutional setting. I decided not to go down that path and was left with a situation of being in a foreign country with no job prospects. The only job I could get was as an English language teacher, and so began a year long journey of learning my own language's grammar rules and teaching them. It was a hard process, and I found myself asking God why he had led me into learning grammar when I could be of much better use to the kingdom of God if I was preaching. This led me to think, perhaps God is teaching me more than just grammar in this time, which when I thought about it he most certainly was; and this realization was really the starting point that provoked the concept for my novel God's Grammar.
What were the greatest challenges during the writing?
Mick Mooney: The greatest challenge was keeping motivated. Working full-time as a language teacher and supporting a family, it was challenging to use so much of my free time to write, but as all writers will tell you, it was something I just had to do. I tried to give up, but it didn't work. The book had to get out of me so I kept on sitting down and writing; funny enough, every time I did sit down to write more on the story, it felt wonderful. It's strange really, but it was only when I wasn't writing I wanted to give up.
Who is your main audience? That is, what sort of person will be interested in your book and benefit the most from it?
Mick Mooney: Anyone who would like to read a novel that has God/Jesus at the center of the story, but without all the religious cliches. I attempted to tackle some of the really big questions we have about God and how he relates with us (and all the challenges/tragedies within the world) in a very honest way. I think those looking for an entertaining read that also has a lot of gospel imagery within the storyline will really enjoy it.
What do you hope will happen in the reader's heart and mind after they finish with the book?
Mick Mooney: I hope readers will finish the novel and feel the depths of God's love in a fresh and tangible way. My story is a work of fiction, but the essence of the story is the gospel of God's grace and the presentation of God in my story is how I believe he truly is. Although I'm certain I only gave a snapshot of God's cosmic-sized heart of love, I did the very best I could to exemplify the truth of God's unending love for all of us.
Order God's Grammar in paperback or Kindle