I usually don't blog on Fridays, however, there's an issue that I want to address.
There are only 3 more days left for the discount on my new online discipleship course, Living by the Indwelling Life of  Christ.
You can click here to register for the course and take advantage of the discount
If you use AVAST virus software, the page may give you a malware or virus alert. But that alert is FALSE.
My server host and I have contacted AVAST and here's the email we received from them yesterday saying that the site is now unblocked.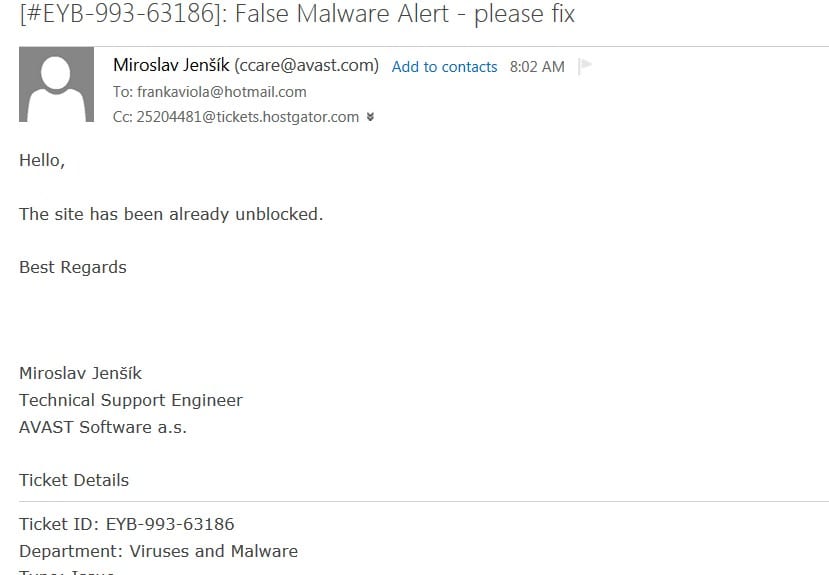 Nevertheless, if you STILL get a warning or block, let AVAST know that the site is clean and proceed on. There is no malware or virus on the site.
I am hopeful that if you update the software, the site will work fine.
New! Online Discipleship Course. Click the banner below for more information. The course is discounted until October 1st.

If you find this post helpful, you are free to ADD A LINK to it on your blog or website. But don't copy and paste the post as this violates Google's guidelines.
Join over 30,000 other readers and receive free blog updates. If you subscribe by
Email
, you will receive my eBook
Rethinking the Will of God
(Revised) and my
Next Reformation Seminar
as a free gift. By subscribing, you also won't miss a post. If you want to start your own blog from scratch in less than 10 minutes,
click here
. And if you're looking for a hosting or domain-name service, I highly recommend
BlueHost
.