Over the years, I've met so many Christians who were gifted in various areas, but when it came to their finances, they lacked common sense.
It's difficult bringing up the issue to such people, as money is a sensitive matter.
Ryan Eidson has solved the problem for us.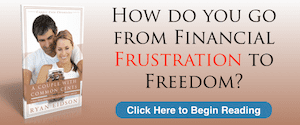 He has written an excellent, highly readable, modern-day parable that most North Americans can relate to.
A Couple with Common Cents is a book you can happily hand to those people you want to encourage and inspire with respect to their finances.
Ryan presents a practical, common-sense approach to managing your finances that's in line with biblical principles. He also offers a free course to go with the book.
The book is well written, extremely short (around 45 pages), and packs a lot of practical insight into the whole realm of finances.
If you or someone you know struggles financially . . . if you have issues bringing up finances with your spouse . . . if you want to take your financial life to the next level . . .  if you are in need of setting new goals and rethinking how you spend money, this book is the right medicine.
Click here to read my interview with Ryan