Jason Clark has just released a new book. And it's worth mentioning.
Better than mentioning it, I interviewed Jason about his book.
The title? Prone to Love.
Enjoy!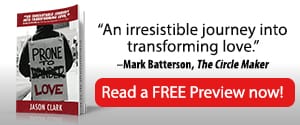 Jason, instead of asking, "what is your book about," I'm going to ask the question that's behind that question. And that unspoken question is, "how are readers going to benefit from reading your book?"
Jason Clark: Four years ago when I was discussing this book with a friend who works in the publishing world, I told her it was "a book about identity." She responded graciously and kindly with, "Jason, there are thousands of books on identity. What makes you think we need another?"
I thought for a second and then said, "This isn't a book on identity, it's a book on the nature of our heavenly Father. Identity is just the by-product."
So while the answer behind the answer is "identity," I spend the first two thirds of the book on the discovery of our Fathers nature – His always-good love for us.
Jesus came to give us access to our heavenly Father. And also to show us what a life can look like if we become sure in His love.
This book is an invitation to join me in discovering our Fathers perfect love, become sure, transformed, and empowered to live the greater works existence Jesus promised.
Tell us a bit about the experiences that shaped the insights in the book.
Jason Clark: About a year before I started writing Prone To Love I heard a statement from a minister by the name of Graham Cooke. He said, "A relationship where the son is always desperate for the Father is dysfunctional."
When I first heard that statement it was like a fist to the jaw. I knew it was powerfully good and I also knew God had something deeper for me in it.
Several weeks later, while out for a run, and while contemplating Grahams statement, I felt God ask me a simple question.
"Jason, am I a perfect Father?"
It was an easy and obvious answer.
"Yes."
What God said next was the origin and transformational thought for this book.
He said, "If I am a perfect Father and we are in a dysfunctional relationship, then it's not on Me."
That statement from God wasn't a question; it was revelation. It was an invitation to know Him in a way I never had before, as a perfect Father.
I was saved at the age of five. For the first 35 years or so, my relationship with God was primarily about my need for Him and most of the time desperate – desperate for His affection, His provision, His healing, His wisdom and so on. In fact, desperation became a badge confirming my spirituality.
But since that conversation with God I've discovered that a perfect Father doesn't want desperate kids. Jesus didn't come to earth so I could become more desperate in how much I need my Father; He came so I could become surer in how much my Father loves me.
How is your book different from the many other books on the subjects of the Father's love, our identity as Christians, being a son or daughter of God, etc.?
Jason Clark: Bob Mumford, an incredibly gifted and humorous preacher, once said that he "loves to make the audience laugh so he doesn't split their lips when he punches them in the teeth."
This isn't a typical teaching book or a "how to" book. There aren't seven steps and there are no guarantees it will change your life.
This is my story and therefore I'm the only one that can tell it. This book is about my journey into becoming sure in my Fathers love. I don't want to preach at my reader, they get preached at too often. I simply want to tell them in my own words, with every once of gifting and grace I've been given, what I've discovered. He loves me, His love is always good, and I exist to become sure.
This one thought, this one faith has transformed me. That alone has been infinitely worth the hours, days, months and years of writing this book.
How is this book different from others? It's a good question and I was stumped in how to answer it until I realized I wasn't going for different when I wrote it, I was just telling my story.
My hope is that my reader will discover his or her own story in mine; that they too may grow surer in our Fathers perfect love. I hope that I get them laughing, and that maybe they settle in, and just when they get good and happy I knock some teeth out…
Give us two or three insights from the book that would be helpful to Christians.
Jason Clark: Wow, that's a fun question! Let me go ahead and continue on the theme that seems to be on my heart during this interview.
Jesus taught us how to pray about need in what we know as the Lords prayer, which is found in Matthew 6.
Jesus says pray, "Give us this day our daily bread." The fact is we have a good Father who wants us to come to Him with our needs.
But before daily bread, Jesus said we are to pray, "Your kingdom come, Your will be done on earth as it is in heaven."
There are no needs in heaven. No sickness, no sorrow, no hunger, no death, no homelessness, no fear or anxiety or shame or brokenness…
If "on earth as it is in heaven" comes before "daily bread," then our need is in right relationship with our revelation and we never have to pray desperate prayers. If "on earth as it is in heaven" comes before "daily bread," our relationship with God will never be dysfunctional.
And because you did request two or three insights, let me also take a moment to write about the perfection or what I often refer to in the book as the "always good love" of our Father.
I believe goodness is not a sometimes deal with God. Goodness is an extension of His nature, of His love. It's not a theory or a concept; it's an absolute, a greater revelation. It's a truth we can either believe fully or not at all. Our heavenly Father is fully, completely good, all the time. And if we can learn to believe this, we have found the core value by which everything in life is measured. Life is about knowing His good love and then knowing more; it's about becoming sure. It's our one true ambition.
What do you hope readers will walk away with after they finish your book?
Jason Clark: As I mentioned earlier in the interview, two thirds of the book focuses on the perfection of our Fathers love. This is the foundational truth that empowers us to become sons and daughters, to live sure in our identity, like Jesus lived.
In the last third of the book I focus on who we are when we are living sure in His love.
Our capacity to live a victorious, greater-works, world-changing life, is discovered through faith in His always-good love nature and also through faith in our redeemed identity. We are not Christian sinners; we are believing sons and daughters, we are saints. My heart is that the reader would learn to see him or herself from our Fathers perspective.
There is a stunning and beautiful song (Come Thou Fount) that has defined a thought within the church for 250 years. "Prone to wander, Lord I feel it…"
While I think its sound theology for a sinner and while this song is an incredible story of salvation, I also think it's devastating theology if embraced on the other side of the cross.
Through the death and resurrection of His Christ, through the finished work of the cross we don't have to live "prone to wander" just cause we feel it.
My heart for my reader is that they would so encounter our Fathers love that they would not just see Him but they would also begin to see themselves from His perspective, in Christ, Prone To Love.
And I believe He sees world-changing generosity, mercy, grace, and kindness. He sees spiritual giants who will live transformed and in turn transform the world with His love. He see's sons and daughters sure and living the greater works Jesus promised.
If we would just take the leap of faith and agree with ho He sees, oh, the things we would see!
Thanks so much for the interview Frank. I am honored to be on your website and I pray blessing over your ministry!
Check out a free preview of Jason's book
Order Prone to Love by Jason Clark on discount