Derek Webb is the founder of NoiseTrade, which recently launched a new offshoot called NoiseTrade Books.
I caught up with Derek recently to talk about the site. You will want to read the entire interview. At the end, you'll see how you can download some of my eBooks for FREE from Noisetrade.
Enjoy and share!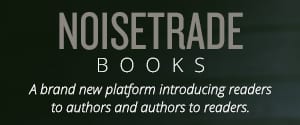 For those who aren't familiar with you, tell us who you are.
Derek Webb: I am a musician & an entrepreneur. i have spent the better part of the last 20 years making my living as a blue collar singer & songwriter, for 10 years as a founding member of a band called Caedmon's Call (started in 1992) and the most recent decade as a solo artist. I kind of backed into my entrepreneurial career 6 years ago when i founded NoiseTrade. 
Tell us the story . . . what is NoiseTrade exactly and why did you create it?
Derek Webb: NoiseTrade is a marketing and distribution platform where artists and authors give away free content for fan and reader data. We are also a discovery platform, with a huge and robust audience to whom we promote the best of what's on the site. More simply stated, we're in the tribe building business.
The idea come from an experiment I did about 8 years ago in my own career. I was about 6 months into the release of a new album, my tribe had all bought it, the sales were trickling, and the marketing money was gone. I wanted to continue trying to find an audience for the album but the label wanted to move on to the next album (since there was no more money to spend promoting the current one). Essentially, the label said, 'unless you can figure out a way to continue promoting this album that won't cost us any money, we need to move on,' which I think they meant rhetorically. But I took that question seriously and came back to them with the idea of giving away the album online for 3 months in exchange for emails & zip codes (so we could promote both old & new albums, and using the zip codes, live concerts).
At the time, I had about 5k folks on an email list I had built, and we started by promoting the free album to them. I also asked some artist friends with bigger tribes than me to mention it to their audiences as well. I managed to give away 85k albums in those 3 months, which was around 4 times what I had sold of any of my albums, indicating that these were all new fans. I was able to use that data to identify cities where I didn't know I had concentrations of fans, tour smarter, and push the biggest pre-sale of my career for the next album I released.
Needless to say, this experiment completely changed my career, and I immediately realized that I had a lot of musician friends who I knew would be more than willing to give away some music for free in exchange for information with which they could make a living. So I reached out to a few trusted friends in the business, we each invested a little cash to bootstrap it, and we launched NoiseTrade 2 years later (july 4, 2008). We now have 25k artists giving away music on our platform, give away around a half million full albums each month, and have 1.3 million people on our email list that we talk to twice a week about what we're featuring.  
What types of music does NoiseTrade feature?
Derek Webb: Anyone can sign up for a free account at NoiseTrade and within minutes have their music available for download. We have around 30-40 new albums uploaded to the site each day, and have music of every style and genre. While we carefully curate our featured music, we have pretty simple criteria for what we get behind. rule number one is always 'be great.' If an artist's music is great we'll consider if for a feature, and have featured everything from unknown & emerging artists to major label & legacy artists.
I understand the site features audio books and ebooks also. What types of books does NoiseTrade carry and how many?
Derek Webb: We launched NoiseTrade Books just a few months ago, which brings our same platform to ebooks and audiobooks. Like our music platform, NoiseTrade Books is free for authors and publishers to sign up, and we have new books added every day of every major style and genre.