Alton Gansky has written an important book called 60 People Who Shaped the Church. It's a historical work that's super easy to read.
Each chapter features one of the 60 game-changers in church history and dedicates a few pages to each one.
I caught up with Alton recently to talk about his book.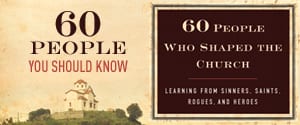 Instead of asking, "what is your book about," I'm going to ask the question that's behind that question. And that unspoken question is, "how are readers going to benefit from reading your book?"
Alton Gansky: Historian Bruce L. Shelley said many Christians suffer from "historical amnesia." Michael Crichton, novelist, said, "If you don't know history, then you don't know anything. You are a leaf that doesn't know it is part of a tree." 60 People Who Shaped the Church is an effort to address that problem. The church did not spring into existence full form, it developed over time and passed through many fires of controversy. Much of that has been forgotten by the person in the pew. My book is an effort to show the people behind the church—the sinners, saints, rogues, and heroes—and to do so in a way that even those with no inclination toward history can enjoy. The book is written for the non historian.
Why did you choose 60 people to feature and not 70, 80, or even 100?
Alton Gansky: The idea started with 21 people but I felt we were leaving too much out. I made a list of people that would fit the book's premise and ended up with a list of nearly 150 names. I could write a book that included each of those but I would be forced to serve up bite-size chapters. I would have to leave a lot on the cutting room floor. I kept up the painful cutting process until I could cut no more.
What was the criteria you used to include someone? For instance, the people from the 20th century who had the most profound influence on my life and ministry weren't included. So what was your yardstick for inclusion as a person who "shaped " the church?
Alton Gansky: We naturally relate to those in our historical period. The book, however, is meant to look at those who, in some fashion or another, shaped the contemporary church. I tried to pull from several arenas: theology, philosophy, evangelism, science, the arts, and others. Some of the shapers are well-known, others are unknown to most Christians. Some are people we don't normally associate with church life. Some weren't even Christians but still had an impact on the church.
Give us two or three insights from the book that would be helpful to Christians.
Alton Gansky: First, the shapers of the church were people with real-world problems. Some endured great persecution, others struggled with life-issues, some had mental challenges. None were perfect. Church shapers then are like church shapers today: ordinary people who did something extraordinary. Two, the doctrine we hold rose from turmoil and key figures sometimes handled things badly. All church shapers, all church heroes, were flawed. That makes them approachable. Third the church came to be by historical process; it moves into the future the same way.
What do you hope readers will walk away with after they finish your book?
Alton Gansky: I hope each reader learns something new about the church, comes to appreciate how we ended up with the church we have, and perhaps develops a new appreciation for the church as it was and as it is today.
What else do you want readers to know about the book?
Alton Gansky: While the book deals with 2000 years of church history, it is less a history book than a "people" book. I've tried to focus on the person rather than just the history around them. The best way to understand the past is to look past historical dates and see the real people behind the events.
Click here to order 60 People Who Shaped the Church