"Books are the quietest and most constant of friends, they are the most accessible and wisest counselors, and the most patient of teachers."
~ Charles W. Elliot
I'm happy to announce that my new book, The Day I Met Jesus: The Revealing Diaries of Five Women from the Gospels is now available.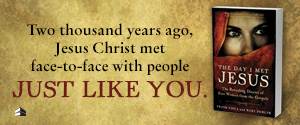 Today, I'm featuring the first interview that Mary DeMuth (my coauthor) and I did about the book.
What follows is the interview that Mary and I did. It's followed by early recommendations by other authors.
I'd LOVE to hear what you think about it!
Why did you write this book? 
Frank: Back in 2007, I got an idea to create a new genre of Christian literature. I call that genre "biblical narrative."
The new genre would contain autobiographical fiction closely based on the Scriptural narratives and faithful to first-century history. It would also contain a nonfiction section that practically applies the narratives to our lives. Finally, it would include a discussion guide so that readers could better digest and apply the content.
God's Favorite Place on Earth (2013) was my first book in this genre. In it, Lazarus tells the story of when Jesus came to His hometown Bethany and all the amazing things that took place there.
The Day I Met Jesus (2015) is the second book in this genre. I wanted it to tell the story of five women whom Jesus encountered, allowing each woman tell their own story. I also wanted to draw out practical lessons and critical insights from each narrative.
Because I'm not a woman, I couldn't do justice to the stories on my own, so I asked the top female Christian fiction writer of our time — Mary DeMuth — to coauthor it with me.
Mary: I wrote it because I love stories, and I felt that some of these encounters with Jesus didn't get the air time they deserved. By doing careful research and weaving more of a story arc into the five women's encounter, I hope to show people that the "characters" of the New Testament are actual, breathing people with stress and dysfunction and hopes just like us. Frank pioneered the idea of this book, so all credit goes to him for imagining it. I'm grateful he asked me to be a part. 
Tell us the story of how you two came to coauthor it. 
Mary: Frank wrote God's Greatest Place on Earth and had long wanted to do something similar with five women of the New Testament. He approached me about writing the fiction side of The Day I Met Jesus after he found out I wrote fiction as well as nonfiction.
Frank: When I began to think about a female coauthor for the project, I wanted it to be someone who (1) writes fiction (2) is a remarkable writer, and (3) believes in the classic tenets of the Christian faith (Jesus is divine and human, He rose again from the dead, Jesus is Lord and Savior of the world, etc.)
As I investigated authors who fit the bill, I quickly thought of folks like Francine Rivers and Karen Kingsbury. But then I discovered that Mary DeMuth wrote fiction. I had known that she was a non-fiction writer, but had no idea that she could "switch hit."
I also discovered that she was an outstanding writer of fiction as she was of nonfiction. (I regard Mary to be the Mickey Mantle of Christian literature — she has enormous power from both sides!) So Mary ended up being the only name on my "short list." 
You feature five women from the Gospels. Why pick women in particular as your subjects? 
Frank: Some of the most gripping, instructive, inspiring stories in the Gospels involve women. The longest recorded conversation that Jesus ever had was with a woman. And some of the most amazing things He said and did related to women. So I thought that a book in which some of these women told their own stories about Jesus would not only bring the Gospels to life in our minds, but it would also bring Jesus alive in our hearts.
Mary: Women had significant, personal encounters with Jesus, a fact that we sometimes miss, particularly since so many stories revolve around the 12 disciples (who were men). I love that we're elevating these stories, helping people reimagine just how radical it was that Jesus so beautifully interacted with these women.
Which one is your favorite and why?
Mary: For me, it's hard to say. I love them all in different ways. This week, I'll say it's Mary of Bethany. She didn't have a blatant "need" for Jesus. She was just downright faithful and often misunderstood. I think a lot of people can relate to that.
Frank: Mary of Bethany is my all-time favorite disciple of Jesus. This came home to me when I wrote God's Favorite Place on Earth. (Mary was the sister of Lazarus, so she gets ample airtime in that book.)
I love Mary because she knew Jesus better than most, anticipating His reactions and even His impending death. She also paid the price for loving Him, for she was falsely accused by both her sister and the other disciples (on two different occasions), mostly out of jealousy. In both situations, Mary embraced the spirit of the Lamb, refusing to defend herself. But Jesus Himself rose to her defense on both occasions. He also gave her an enduring honor that He gave no one else.
What parts of the book did each of you write? 
Frank: I had a very clear idea in my mind about what I wanted the book to do. I passed those ideas on to Mary by phone and email, and then she wrote about 95% of the fictionalized parts. I edited some of those sections, adding bits and pieces here and there. I wrote about 95% of the non-fiction application parts, and Mary added bits and pieces to each of those. The whole project came together nicely, I think, partly because we communicated throughout the process. And as a result, we both were on the same page about the vision for the book.
Fiction readers will no doubt enjoy the fictional part better while non-fiction readers will enjoy the practical application sections better. But whatever is good in the book, all credit and honor belongs to the Lord and not to us. Christian writers are like pencils in the Master's hands. Psalm 115:1.
Why would someone want to read the book?
Frank: If someone wants a good story to get tied up into . . . or if they want to see the Bible come to life in a compelling way . . . or if they want to experience Jesus Christ anew and afresh . . . or if they want to identify with people who were far worse off than they are, and see what Jesus did for them . . . or if they want to be given hope and encouragement in their situation . . . or if they are lacking love for the Lord and want that love to be rekindled . . . or if they want new motivation and fresh inspiration to follow Jesus more closely . . . or if they want to increase their faith and expectation in the Lord, they'll want to read The Day I Met Jesus.
Mary: Someone would want to read it because it's truly unique. It's biblical narrative, but in short story form, but it doesn't end there. After you've been absorbed into a page-turning story, Frank exegetes the wisdom from each encounter and helps you apply it to your life.
Tell us about the course that supplements the book.

Frank: The Day I Met Jesus Master Course is designed for those who wish to delve deeper into the themes set forth in the book. It includes a workbook and 20 audio messages delivered by Mary and I. In addition, it includes 8 bonus eBooks from Mary and I. It also includes a closed forum where people can access us both directly for Q&A and dialogue. People can check it out at thedayimetjesus.com/course
Click here to order The Day I Met Jesus on discount
Some Early Recommendations
"Elegant, stimulating, rewarding, this probe into Jesus' relationship with women packages the best of biblical scholarship and theology in the spellbinding wraps of storytelling."
Leonard Sweet, bestselling author; professor (Drew University, George Fox University); chief contributor to sermons.com
"Jesus, from the very beginning, has been 'good news for women.' Perhaps that news has rarely been needed more clearly than in our day. One reads of His encounters with the women described in this book with a sense of wonder that these interactions took place two thousand years ago. He is good news for women still."
John Ortberg
"What a treasure this diary-style book is! This impactful message focuses on five broken women in the Bible and their life-changing encounters with Jesus. The way Mary and Frank portray their stories will help any woman who has experienced heartbreak, loneliness, ​and rejection step right into the extravagant grace and love of Jesus."
Lysa TerKeurst, New York Times bestselling author
"In The Day I Met Jesus, Frank and Mary demonstrate lucid insight into the balanced, candid, focused, tender, and penetrating manner of our Master–Jesus the Christ. See again the Savior who was God and Man embodied to show and transform us by His unpretentious holiness, empowering authenticity–without scorn or condemnation, transmitting love's purity, life's vitality, and hope's eternity. I commend the authors and this book to you: both will enrich and enlarge your thoughts and your life."
Jack Hayford
"Mary and Frank provide a fresh look at biblical women that breathes life, color, and hue into these familiar stories. If you want to better understand the richness of biblical accounts in the context of first-century history, this is a book you won't want to miss."
Margaret Feinberg
"The Day I Met Jesus is a refreshing look at five women in the Gospels, telling their stories in a way that brings them to life but at the same time based on careful research into the real world in which they lived. I thoroughly enjoyed this book and could not put it down. Through the eyes of women whose lives Jesus touched, this book invites us to see Jesus more deeply. It ministered to broken places in my own heart."
Craig Keener, professor of New Testament, Asbury Theological Seminary
"Step into the first century, as your senses and imagination are engaged in Mary DeMuth's masterful biblical narrative, deftly exploring the hearts and minds of five women who met the Savior. Then Frank Viola brings his own gifts to the page, opening the Scriptures to help us understand each account more fully. Together, their voices sing of the beauty of Christ and the redemption He offers. The Day I Met Jesus is truly a wonderful book."
Liz Curtis Higgs, bestselling author of Bad Girls of the Bible
"Many Christians fail to experience the full power of the Bible's stories because they never learned how to imaginatively 'get inside' the lives of biblical characters to make them come alive. I don't know of any book that better helps readers do this than The Day I Met Jesus. Combining imaginative creativity, historical scholarship, and great story-telling, Viola and DeMuth help readers enter into the lives of five women in the Gospels to experience Jesus from their perspective. And by this means, they help readers deepen their own understanding of, and love for, Jesus. After reading this poignant and gripping book, you won't view these five women, Jesus, or yourself the same way!"
Greg Boyd
"We all long to lift the veil of history and catch a glimpse of the real story–the one that makes our hearts pound, our faith grow, and our lives change. That's exactly what Frank Viola and Mary DeMuth offer in this compelling book. You will never look at Scripture or God's work in your own heart the same way again after you close the final page."
Holley Gerth
"Story. History. His-Story. This book has all of these and immediately gripped my heart. I held my breath as I read about women who encountered Jesus in their day. I absolutely love books that compel me to love Jesus more. Together, Frank Viola and Mary DeMuth created a masterful biblical narrative that reminds us once again how Jesus feels about the sinner who desperately needs saving. He loves us. He came to save us. Enjoy every page of this book. You'll be glad you did."
Susie Larson
"Through the stories of five unique women from the Gospels, Frank Viola and Mary DeMuth masterfully reveal the truth of Jesus in a riveting, breathtaking way. Each story captivatingly invites you on a journey through pain, rejection, and brokenness and leads you right into the heart of Jesus as He meets each woman in an intimately restorative and loving way, as only Jesus can. This book will minister to the broken places in your heart and leave you longing to know Jesus more deeply."
Derwin L. Gray
"I thought I knew the women in these stories well, but in this beautiful book I met each one in a fresh, personal, and profound way. The life-changing grace and mercy Christ extended to these our sisters so long ago is here right now for you and for me."
Sheila Walsh, author of The Storm Inside
"Inventive, engaging, compelling, and filled with freedom, this book will help you see the wonder of our Jesus more clearly. Here is very simply the truth about Jesus and His relationship with women: He loved us. What a powerful truth for women in the world today! Jesus is always the hero of the story. Through this book, we see and know that He is the hero of our stories too."
Sarah Bessey, author of Jesus Feminist