My assistant wrote the subject line, fyi. As you know, I usually only send this UNFILTERED email on Thursdays, so this is a special edition.
I've been waiting to make this announcement for over a year. And today is the day.
My new book INSURGENCE: Reclaiming the Gospel of the Kingdom is now available. Since August of last year, you've been getting my blog posts on the explosive gospel of the kingdom. Well, this is the complete book where I seek to unveil that gospel.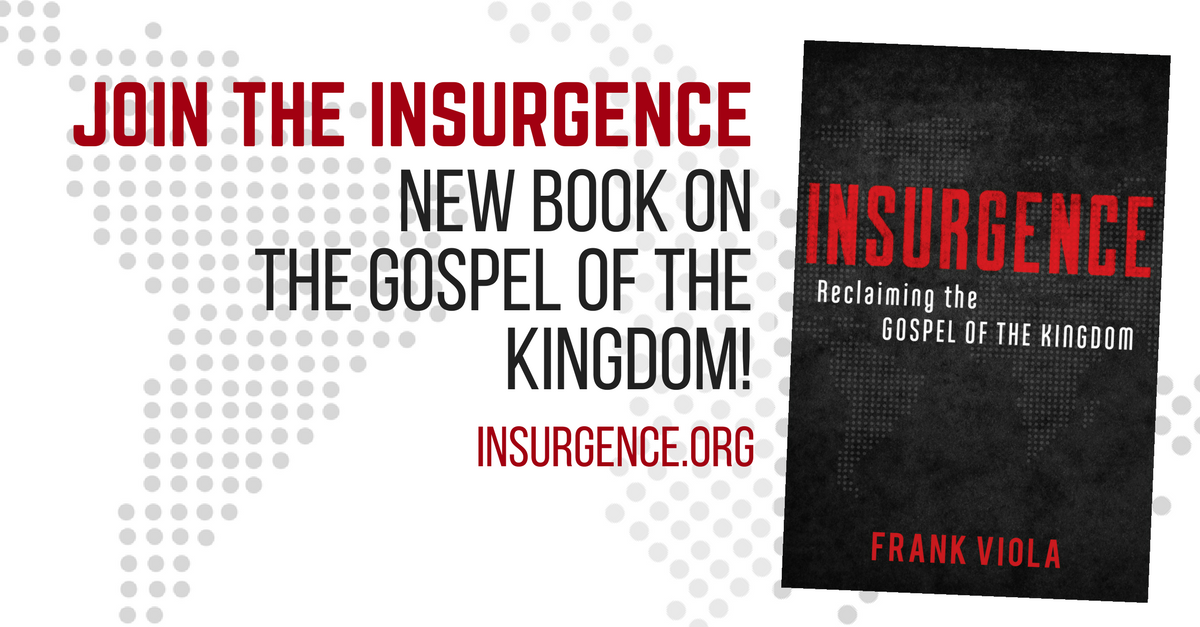 We are making available 3 valuable bonuses available to all of you who purchase the book (for a limited-time). I'll explain how in a second.
Right or wrong, I believe that Insurgence will define my entire library. It's what I believe the Spirit is speaking to the body of Christ right now.
Here is an early review:
What Pagan Christianity did in redefinding and revolutionizing "church," Insurgence does in redefining and revolutionizing "kingdom." This is a daunting, engrossing powerhouse that's accessible to all audiences. I predict it will become one of the author's most iconic works and the new benchmark on the kingdom of God. Penetrating and full of insight. Revolutionary from start to finish, Insurgence astonishes and delivers. A masterstroke of spiritual genius.
Christian Book Reviews, D.S.
On Insurgence.org, you can view reviews by Greg Boyd, Dr. Michael Heiser, Dr. Craig Keener, Kenneth Boa, Bruxy Cavey, Dave Ferguson, and others as well as samples (both audio and print). Since it's debut, it's been the #1 New Release in Christian Theology on Amazon.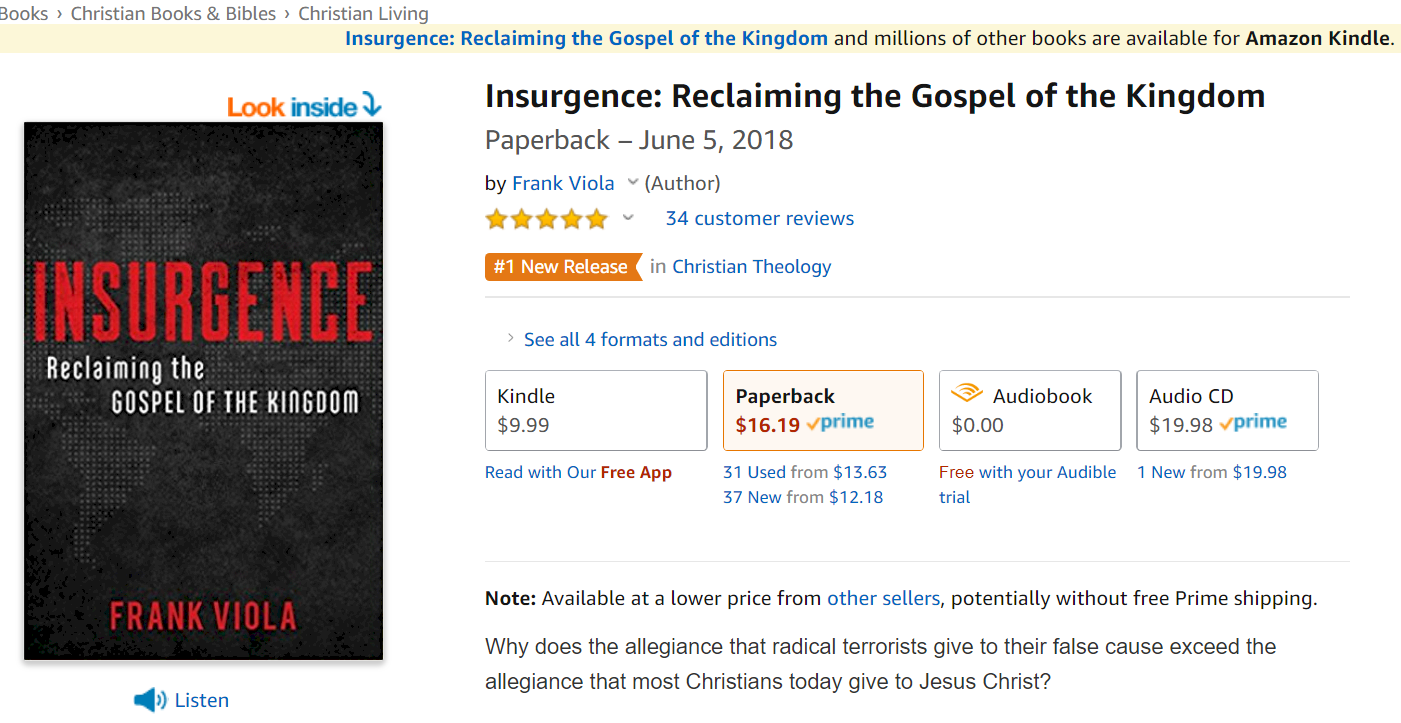 Someone asked why I wrote the book. Simple: I write the book that I myself want to read, but that doesn't exist.
Since I couldn't find a book that touches all the dimensions of the kingdom of God in one volume, specifically
"the gospel of the kingdom" in a clear, easy-to-read, accessible yet comprehensive way, without a hint of legalism or guilt, and that wasn't aligned with the progressive left or the conservative right, I took upon myself the daunting task of writing and launching it into the world. (For better or worse!)
After crowd sourcing various ideas with friends, I decided to send everyone who purchases the book 3 exclusive bonus audios for a limited time. These resources have never been released anywhere before:
A challenging message I delivered in 1998, long before I had a public ministry or was professionally published. The message explores the two distinct aspects of the sovereignty of Jesus Christ – His lordship and His headship – and how each applies to you.
A live Q & A session that I participated in at a recent conference where I answered uncommon questions by a group of pastors. What happened at the end is an example of the in-breaking of the kingdom of God captured on audio.
Reframing Rejection. An audio where I give a behind-the-scenes look at the struggle to publish the book — including why the first five publishers dared not touch it. The audio contains a lesson for all believers on how to reframe rejection and not lose heart.
Here's how to get the bonus audios:
STEP 1. Go to Insurgence.org and order the book from any of the online stores featured on the menu. You can get it in paperback, audiobook, iBook, Kindle, Nook, etc. Any version counts!
OR
Purchase the book from a local bookstore (check to see if they carry it first).
If you live in South Africa, Loot carries it. If you live in Australia, Koorong carries it. If you live in other countries outside the USA, Fishpond carries it.
(Note about the audio version. The notes aren't recorded and they are valuable. So I recommend you grab a paperback version in addition to the audiobook.)
If you already pre-ordered the book, go straight to Step 2.
STEP 2. After you buy the book, send an email to InsurgenceBonus @ gmail.com (remove the spaces, of course) and write in the subject line, "I bought the book." (NOTE: Lying will prove damaging to your transformation.)
STEP 3. Within two hours, you will receive an email reply that will contain links to listen to the audios. Check your "spam/junk/promotions/other" folders if you don't see it.
If you have questions, write them to Frank @ FrankViola.com not to the InsurgenceBook address.
What follows is the back cover copy from the publisher.
THE INSURGENCE HAS BEGUN
DON'T MISS IT!
Why does the allegiance that radical terrorists give to their false cause exceed the allegiance that most Christians today give to Jesus Christ? Have we lost the explosive, earthshaking gospel of the kingdom that Jesus, Paul, and the other apostles preached? Have we exchanged this dynamic, titanic, living gospel for a gospel of religious duty or permissiveness and "easy believism"?
Yes, says bestselling author Frank Viola. And it's high time we reclaimed it.
In today's politically charged era, Christians on the progressive left as well as the conservative right both equate their particular viewpoints with the kingdom of God. Viola dismantles these perspectives, offering a fresh and revolutionary look at the radical gospel of the kingdom. With gripping power, he challenges Christians to reclaim the lost kingdom message of Jesus and join a spiritual insurgence that can change the course of history.
To order including the Sampler and a 3-minute video go to Insurgence.org