Fellow bloggers and authors often ask me about the tools I use. So here's a list of them arranged by category.
There's no question in my mind that these tools have helped me to produce as much content as I have up to this point (over 900 blog posts, over 100 podcast episodes, and over 20 books).
These tools have also enabled me to become a professional blogger.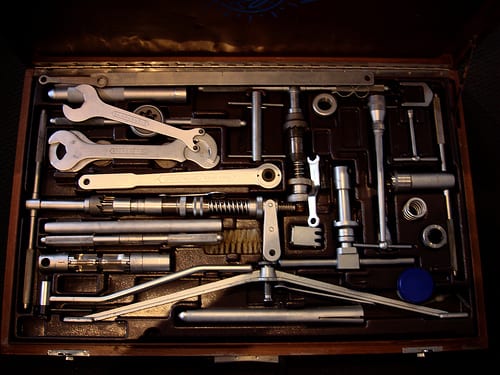 Hardware
The Logitech G510s Keyboard: While this is technically a keyboard for gamers, I use it for all my typing. It's an amazing product. 54 programmable function keys (saving you lots of time), backlit keys you can set to any color (so you can work in the dark or dim lighting), audio and microphone jacks. Durable, comfortable, superb! I won't use any other keyboard. (UPDATE: This keyboard is no longer being made, so the prices are astronomical. This keyboard looks very similar, and it's less expensive as I write this.)
The Logitech G500s Mouse: This mouse is for gamers, but I won't use any other. It has backlit settings for various speeds (again, you choose the colors) and weights you can set in the mouse according to your own comfort level. The feel and movement is smooth and elegant. Highly recommended! This Logitech keyboard and mouse have been game changers for me. (UPDATE: This mouse is no longer being made, so the prices are astronomical. To save money, go to the link above and look for a similar, newer version made by Logitech.)
GelPro Floor Mat: This is the floor mat I use with the stand-up desk.
Blogging
Speaking
The Roland Studio Recorder: This sleek digital recorder creates professional recordings. It fits in your pocket, it's easy to use, reliable, and compact. I take it with me everywhere I speak. The quality is much better than the cheaper digital recorders on the market.
The Sony Stereo Condenser Microphone: This is a great mic to use with the Roland Studio Recorder. Note: to get this mic to activate with the Roland Recorder, in the recorder, go to the Menu Setup, press #5 "Input Settings" and turn Plug-in-Play to ON.
SoundForge: This is a great program for editing your recorded talks and adding effects. Easy to use and extremely powerful and versatile. My conference messages are recorded using the Roland Studio Recorder (above) and edited through SoundForge.
Podcasting
If you have a budget, I recommend the Samson c03u Condenser USB Microphone. It plugs into your computer and comes with studio recording software.
You can use the SoundForge for editing your podcast episodes and adding effects. (This is what I use and it works very well. It's also much less expensive than buying high-end podcasting equipment.)
Bible Software
Logos Bible Software: This is the Cadillac of Bible software programs. Be sure to use the code on the page to get a discount.
Bible Hub: This is a free Internet Bible search tool. Very limited, but I use it for quick references. 
Productivity