Whether you are a leader or anyone who loves to be educated through books, but you don't have time to read all the books you desire to learn from, Leaders Book Summaries may be the ticket you've been looking for.
And best of all, it's FREE for my readers for an entire month with no catches.
Dave Frederick, the creator of Leaders Book Summaries, tells you all about it . . .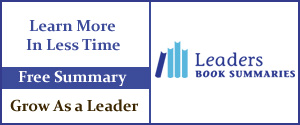 Tell us what Leaders Book Summaries is exactly.
Dave Frederick: Leaders Book Summaries is a service designed to help pastors and other Christians who want to grow their leadership skills and understanding. We take the top books out there that are focused on leadership, management, personal growth, church growth, etc. (books that are good for leaders to read), and we condense them. We take all the key content and ideas and put it into a 12-15 page summary, so people can easily read and digest the material.
That allows people who are really busy the opportunity to invest in their own growth and development. And when they become better leaders, their church or organization will benefit.[Continue Reading…]