Earlier this year Shattered Magazine came to my attention. It's a high quality Christian periodical that features real-life stories that inspire, encourage, and instruct.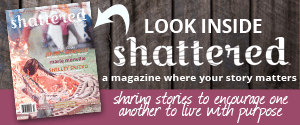 From the layout to the design to the stories, the magazine is "top shelf."
And subscription is inexpensive.
Rachael Jackson, the creator and editor, is a West Point graduate. Through experiencing and overcoming the challenges in her life and witnessing hardships in the lives of people she loves, a strong desire grew in her heart to reach out to those who struggle in life and connect them with an all-powerful and loving God who cares enough to walk us through our valleys and rejoice with us on our mountaintops.
She created the publication to cut through the noise of the rest of the world and help point people towards a truly satisfying and rewarding life (now and in eternity) – regardless of temporary afflictions or momentary struggles.
Most of the readers of the magazine are Christian women ages 25 – 60. However, men and children benefit from the magazine as well.[Continue Reading…]