A free audio of Chapter 4 of God's Favorite Place on Earth is now available.
Click here to listen to the chapter for free – along with the Introduction.
I've never written a book that provoked so many emails from grown men, saying that the book made them weep.
Chapter 4 – "Anointed in Bethany" – has brought many men to tears.
Interesting.
I'm curious to know if any of my sisters in Christ cried from reading the book. So far, it's only been men who have told me it made them cry.
You can read Chapter 4 here if you don't wish to listen to it.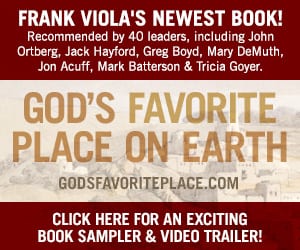 If you find this post helpful, you are free to ADD A LINK to it on your blog or website. But don't copy and paste the post as this violates Google's guidelines.
Join over 30,000 other readers and receive free blog updates. If you subscribe by
Email
, you will receive my eBook
Rethinking the Will of God
(Revised) and my
Next Reformation Seminar
as a free gift. By subscribing, you also won't miss a post. If you want to start your own blog from scratch in less than 10 minutes,
click here
. And if you're looking for a hosting or domain-name service, I highly recommend
BlueHost
.