The New Parish is a new book by Tim Soerens, Paul Sparks, and Dwight Friesen. As someone who has written a great deal on ecclesiology myself, InterVarsity Press sent me a copy of the book. Instead of writing a review, I thought it would be better to interview all three authors.
If you have any questions for me about the book, feel free to ask them in the comments. I'm not sure if the authors will be fielding questions here or not as I know they are extremely busy promoting the book.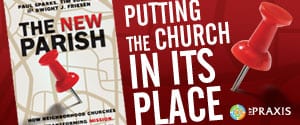 Instead of asking, "what is your book about," I'm going to ask the question that's behind that question. And that unspoken question is, "how are readers going to benefit from reading your book?"
Tim Soerens: I like that question because while the book is obviously about "The New Parish," but what is undergirds the hopes of the book is the idea of faithful presence. The idea that God is calling us in each moment into what it means for us to relate faithfully to God, to the person in front of us, and to the context in which we find ourselves. The New Parish is about how faithful presence in a local and communal context, just might set the stage for a re-imagined way of being the Church. And this of course gets to the book's benefits.
I've been hearing in the last few weeks since the book has come out is that it's giving folks language and even imagination for longings they've had for how to be the church in their every day lives. In other words it's putting language to longings that I think a whole lot of Christ's followers intuitively feel, but wrestle with how to communicate.[Continue Reading…]