It's interesting to me that Justin Holcomb has just released a book about heresy.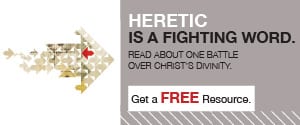 I say "interesting" because another author and I have just written a new article on what we call "the H-bomb" — how Christians misuse the word "heresy" all the time. The article will be published this Fall, God willing.
In our article, we will show that the way the word "heresy" and "heretical" were used in the New Testament doesn't at all map to how people commonly use it today. Neither does it map to the way pre-modern Christians used it.
That said, Holcomb's book looks at how historic Christianity understood the word. And in his companion volume on the creeds and counsils, he explains what orthodox doctrine is exactly.
In Know the Heretics, Holcomb provides an accessible guide to the most significant heretical beliefs throughout Christian history. Significantly, most of them are alive today.[Continue Reading…]