InterVarsity Press has just released a new book called Starting Missional Churches: Life with God in the Neighborhood by Mark Lau Branson and Nicholas Warnes.
I caught up with the authors to interview them on their new book.
Enjoy!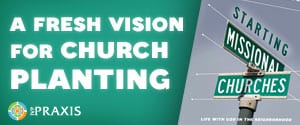 Instead of asking, "what is your book about," I'm going to ask the question that's behind that question. And that unspoken question is, "how are readers going to benefit from reading your book?"
Nick Warnes: Good question. The benefit of readers is two-fold. First, readers will encounter a fresh theological framework for how new churches are started. We contrast the pre-conceived notions of how new churches begin with four new priorities.
We want to encourage everyday people in everyday churches to become engaged in the local neighborhoods and to develop contextual imaginations. Link these new priorities with seven practical, on the ground narratives of people doing this work across America, and readers will experience the four new priorities in action.
To add to this, we are finding that many existing churches, along with new churches, are finding encouragement and very practical stories in our book. This came as a bit of a surprise to us, but we are enjoying the activity! The book is meant to be accessible and we hope that it will inspire planters and churches to become aware of how God is already ahead of them in their own contexts so they can be witnesses of Emmanuel in their communities.[Continue Reading…]