My new book 
JESUS NOW
 is now a CBA bestseller.
The following is an excerpt from my upcoming book, Jesus Now.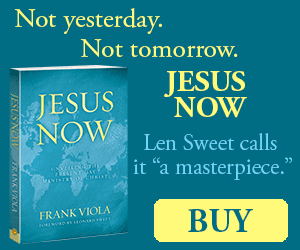 —
I want to explore the human conscience and its role in our walk with God in a bit more depth here than I did in chapter 1.
Think of the conscience as a window by which the light of heaven shines through to our spirits. Through the conscience, the Holy Spirit corrects, reprimands, and makes us feel uneasy when we take a step that contradicts our new nature in Christ.
A believer's conscience reproves sin and approves righteousness. In order to walk in the Spirit, we must learn how to be sensitive to the voice of our consciences. For the Christian, the conscience is an inward monitor that alerts us to our spiritual condition.
The conscience bears witness to God's will (Rom. 2:15; 2 Cor. 4:2), and it testifies to the truth (Rom. 9:1; 2 Cor. 1:12; 5:11). Paul and Peter exhorted believers to follow their consciences (Rom. 13:5; 1 Cor. 10:25–29; 1 Pet. 2:19). The New Testament describes five different states of the human conscience:[Continue Reading…]