Unless you're new to the blog, you are aware that my focus in ministry over the past few years has been exclusively on two things:
* In writing and study, it's been on historical Jesus studies, deeper life themes, Christology, and apologetics. My book Jesus: A Theography and my Answers to Skeptics series are two fruits of that effort.
* In practical ministry, it's been a complete focus on developing relationships with non-Christians (some of whom are agnostics and atheists) on the one hand, and walking along side of and aiding the poor and the afflicted on the other. For that reason, I spend very little time on the Internet these days.
I've not written on organic church since 2009 and haven't been involved in it for several years now. Though I still stand by everything I've written on the subject.
I'd like to share on the present focus of my ministry.
At this moment, I have in mind the faces of the poor and afflicted whom I've worked with in 2012 and will continue to, God willing, this year.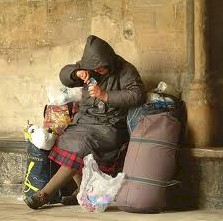 Some of them have very few friends. Some of them are living in poverty. Some of them have mental illnesses that regularly torment them. Some of them have legal problems. Some of them have gone nose-to-nose with suicide. Some of them are incredibly needy.