In 60 People Who Shaped the Church, Alton Gansky chooses 60 significant figures through history who have shaped the formation of the Christian faith in some way.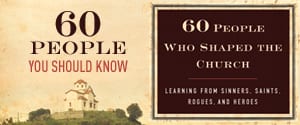 The strength of Ganksy's book is that each chapter is very short (only 3 to 6 pages long) and he tell stories. Gansky, an author of 24 novels and 8 non-fiction books, tells the story of 60 "sinners, saints, rogues, and heroes" throughout Christian history in a simple to read survey.
He begins with Peter (one of Jesus' first disciples) and ends with Billy Graham.
All told, the 60 men and women are given mini-biographies arranged in chronological order. This is a broad overview of the Christian historical past through the lives of some who impacted the church. The author begins each chapter with a quote referencing the individual.[Continue Reading...]