John Wallace has written a fascinating new book called Starting at the Finish Line: The Gospel of Grace for Mormons.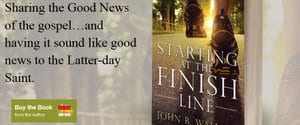 Starting at the Finish Line seeks to declare the Good News of the gospel in a way that sounds like "good news" to the Latter-day Saint. It does this by 1) establishing the authority and "correctness" of the Bible, 2) explaining how we are saved by the grace of God when we put our full faith and trust in the redeeming blood of Jesus Christ, and in His blood alone, and 3) exposing the dangers of trying to contribute to our own salvation by adding obedience and good works to the finished work of Christ on the cross.
This message, to the devout Latter-day Saint, is overly simplistic and offensive. But to the struggling Mormon or to those who have already left the Mormon faith and find themselves lost in a sea of confusion, it's music to their ears.
I caught up with John to discuss his new book.[Continue Reading...]