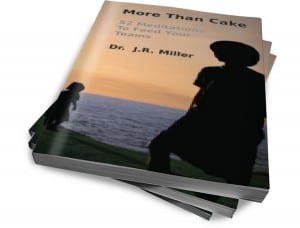 Today, I want to introduce you to Joe Miller's book, More Than Cake.
Joe wrote the book for teams, but it's good for individuals too.
Each chapter has a quote by another author, a devotional where Joe reflects on a topic, and then a discussion section.
The discussion sections contain four parts. Here's an example:
1. MEANING: What meaning does this devotional have for you?
2. CONNECTION: As you think on this meaning, what passage of Scripture has special significance? Why?
3. CALL TO ACTION: What message does this devotional have for your team?
4. FINISH TOGETHER!: After you meet with your team, write the ending to each sentence:  a. "Based on the challenge of this devotional, my role in the team…"
The book contains 52 meditations in all. Because Joe writes in a winsome style, it's a fast read. The discussion sections slow you down to reflect on each devotion.
I especially liked the quotes that Joe selected. They alone are worth the price of the book. Here are some of my favorites:[Continue Reading…]