Let's face it. Our world has changed dramatically. A decent segment of the population has great trouble reading literature. They've cut their teeth on skimming tweets, digesting texts, and scanning blogs.
Reading literature is fast becoming an endangered skill.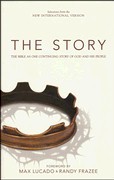 For this reason, many have trouble reading the Bible.
Enter a new kind of Bible for a text-skimming, tweet-digesting, blog-scanning generation.
The Story.
If you or someone you know has trouble reading the Bible, this is a great resource to start them out with.
While The Story doesn't really replace the Bible, it's a great transition from iPhone texts to Scripture.
The Story condenses the Bible into 31 highly readable chapters (based on the NIV version). It seeks to sweep the reader into the unfolding progression of biblical characters and events from Genesis to Revelation.[Continue Reading…]