Today's post – May 12, 2009 – is a response to a great deal of email I've received from people who have read one or more of my books. The common question in those emails is: "What's your next book going to be about, and will it be on the subject of the church?"
Let me give you some background to that question, as it will put my answer in context.
This is a "back story" that's not been made public until now.
I can't remember the year, but I'm going to guess that it was 1998. I had a vision (not the mystical kind) for a 5-book series laying out a comprehensive model for a new kind of church. One that just didn't "tweak" the traditional church experience or rearrange the ecclesiological vocabulary.
It's been observed that the way to begin a new movement is to invent a new vocabulary. I believe we've seen this done over the past 40 years. Even up until the recent time.
There are several new movements on the horizon, but if you peel back the vocabulary, there's not much new in them at all. They just "sound" new.
My vision of a 5-book series on radical church reform was not motivated to start a new movement (I have no such desire). Nor was it simply to clothe an old thing with some catchy new terms.
Instead, it was to present a revolutionary and fresh vision of church that would be built on my experience and observations since 1988.
Back in the late 90s, I toyed with self-publishing and put together a very incomplete, immature, and awkward "rough draft" of the series that I saw in my mind's eye. All of those self-published projects are out of print today (thank God!). Each volume was very rough and missed the mark on many counts. They also desperately needed the skilled hand of a professional editor.
But in January 2005, my vision began to take shape. Destiny Image, publisher of T. Austin-Sparks, Myles Munroe, and T.D. Jakes, offered to publish the first book in the series.
THE UNTOLD STORY OF THE NEW TESTAMENT CHURCH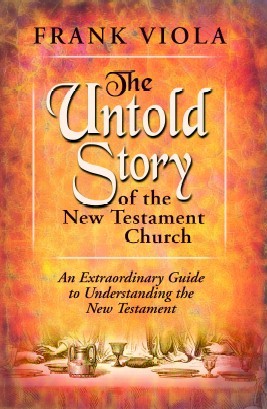 THE UNTOLD STORY contributed a fresh approach to the New Testament. One that was rooted in a chronological narrative reading of the Biblical text. In so doing, readers became familiar with the free-flowing story of the early church, and certain neglected principles were highlighted.
Then in January 2008, the second book in the series was released by Tyndale House (publisher of Watchman Nee's classic books).
PAGAN CHRISTIANITY (co-authored with the researcher George Barna) deconstructed the traditional practices of the modern institutional church.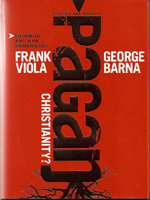 The unique contribution of PAGAN is that it doesn't just call for the typical changes that most church reform books did (and still do today), a la, better pastoring skills, more outreach, better methods to make disciples, more cost effective church buildings, stronger strategies for making converts, etc.
Instead, it went to the very roots. It raises the brutally challenging question, "could it be that the very way we do church — from the modern pastor, sermon-focused services, the common architectural arrangement of church buildings, etc. — is the problem? Or to put it in terms of a Clinton slogan, "It's the system, stupid."
So while THE UNTOLD STORY sought to give readers a fresh look at the New Testament church, PAGAN leveled the ground of the prevailing church structure and form, calling all of it into question.
The third book in the series was published by David C.Cook (publisher of Leonard Sweet, Brennan Manning, and Francis Chan). It's called REIMAGINING CHURCH.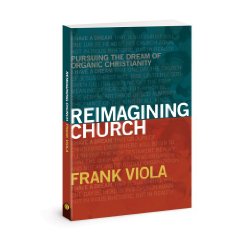 This book did what PAGAN CHRISTIANITY did on the opposite end. PAGAN deconstructed; REIMAGINING constructed. PAGAN challenged the old, REIMAGINING presented the new. Len Sweet rightly called it "a theology of church as organism rather than organization."
Everyone who has read PAGAN CHRISTIANITY should read REIMAGINING CHURCH, else they are only getting one half of a comprehensive discussion. (If you know people who read PAGAN, feel free to pass this on to them. A good number seemed to have missed the fact that PAGAN isn't a stand alone; and it can only properly be understood after reading REIMAGINING CHURCH.)
The fourth book in the series, also published by Cook, just released in March. This fourth volume is by far my most important book I've ever written. It reveals the heart of my ministry and gives the big "why" behind all my other books.
Very thankfully, it hit the CBA bestseller list last month (the top 50), ranking #16 of all books in the Christian Living category.
FROM ETERNITY TO HERE is an unfolding of the big, sweeping epic of God's eternal purpose and grand mission. It seeks to present the grand narrative of the entire Bible as an unbroken story rather than as a systematic theology.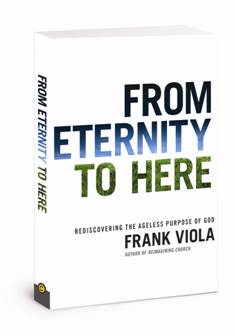 Readers have repeatedly told me that after reading FROM ETERNITY, my other books now make more sense. Some, who were critics of PAGAN CHRISTIANITY, now view it completely different after reading FROM ETERNITY.
As far as I'm concerned, if you had to read one book of mine, I'd say burn all the others and read FROM ETERNITY TO HERE. It stands out above the rest and contains the most important message of all. It's the big river; my other books are but tributaries.
That leads me to the fifth and final book, and the question that provoked this blog post.
What's the next book about?
In short, after people read books 1,2,3, and 4, the common question I receive is …
Where do I find this?
How do I start something like this?
How is it sustained?
Is it really possible, and if so, what are the ingredients that make it work?
The fifth book, FINDING ORGANIC CHURCH, answers all of these questions in great detail. It's a tremendously PRACTICAL book. Almost a manual of sorts.
It covers the four ways that churches were planted in the first century, how they can be planted today along the same lines, the ingredients to the survival of an organic church, the diseases and treatments, how to build community, and much more.
So all five books make up the ReChurch Series, and I'd also add JESUS MANIFESTO as the crowning sixth volume that ties the whole set together.