Three years ago I lost a close friend to Leukemia. I credit her for being the woman who taught me how to die.
I am aware of three Christian scholars who have written books on the subject of grief after losing a loved one.
C.S. Lewis wrote A Grief Observed after losing his beloved wife (Kindle Edition).
Nicholas Wolterstorff wrote Lament for a Son after losing his boy (Kindle Edition).
And very recently, my friend Ben Witherington and his wife Ann wrote When a Daughter Dies after losing their daughter.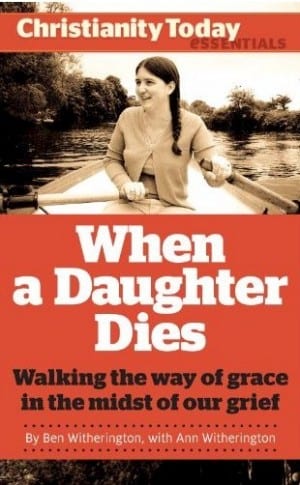 In our day, grief is mostly privatized. But the ancients were different. They grieved in public.
All of the above embody human grief in written form. As such, they stand in the spirit of the ancients with a view to helping others handle their own grief and loss.
Ben Witherington asked me to endorse his book after it was printed, which I gladly did. Here's what I wrote.
Every parent's worst nightmare is to lose their child. Unfortunately, this was the nightmare that befell renowned New Testament scholar Ben Witherington and his wife Ann. Writing from the pain of a recent tragedy, this tender book will touch the heart of every person who has lost a loved one. While beautifully honoring the memory of their daughter Christy, the Witheringtons also tackle the difficult questions about God's will in such tragedies, how to handle grief, and how (not) to help others who are grieving, all within a biblical context.