Yesterday, George Barna and I did our first interview together since Pagan Christianity released four years ago.
Recently, Tyndale House released the paperback (softcover) edition of Pagan Christianity. I love that the softcover edition is the same size as the constructive follow-up books, Reimagining Church, From Eternity to Here, and Finding Organic Church.  So they look nice on a bookshelf. 🙂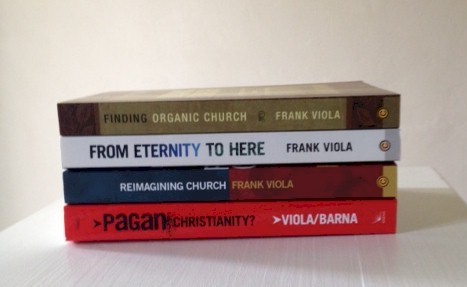 After the hardcover edition of Pagan Christianity sold 100,000 copies, Tyndale sent me a special leather-bound, gold-leafed edition of the book commemorating the sales mark. This was very classy of Tyndale to do, and I wanted to thank them publicly for this thoughtful gesture.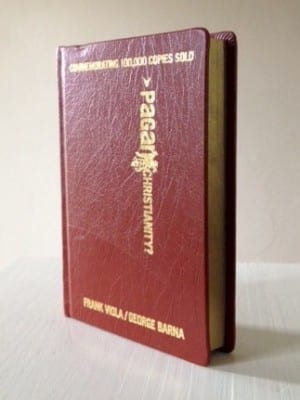 What follows is the new preface to the softcover edition followed by a list of free resources for the book. I'm publishing the preface here because it's so important to the conversation.
As many of you know, Pagan Christianity is not my favorite book. It's simply a curtain raiser for my other volumes. 
Therefore, if I could wish a Christian wish, it would be that every person who has read Pagan would go on to read my most important works: From Eternity to Here, Jesus Manifesto, Revise Us Again, and Epic Jesus.
Only then will readers have a complete picture of the Christ-centered subtext that stands behind Pagan Christianity.
Here's the new preface (I wrote it in June 2011).
— 
SINCE ITS initial release, the response to Pagan Christianity? has been electric. Cataclysmic even. During the first year of its release, debate over the book burned up the blogosphere.
It was venerated and vilified. Hailed and hammered. Commended and criticized. Some people made the interesting observation that it was the most reviewed book by those who had never read it.
Most readers, however, responded positively, saying things like, "This book articulated what I've been feeling about church for many years. And it gave me biblical and historical merit for those feelings." Interestingly, George and I received countless letters from pastors saying the same thing.
Without a doubt, the book struck a chord. And a few nerves.
Because of the raft of questions and critiques we've received about the book, we created a FAQ page where we have responded to each question and objection. You can view that page at PaganChristianity.org.
Five important observations before you begin to read this softcover edition:
1. Over the last four years, Pagan Christianity? has changed the way scores of Christians understand and practice church. Many people have told us that since reading the book, they have found the freedom to question commonly accepted church traditions and to test them against the teachings of Jesus and the apostles. In addition, many organic expressions of the church have been planted all over the world. In these communities, believers are discovering the experience of the body of Christ and what it means to gather under the headship of Jesus.
2. Pagan Christianity? was never meant to be a stand-alone book. It is only part one of a conversation. Part 2 is found in the constructive sequel, Reimagining Church. Pagan deconstructs, while Reimagining constructs. They are two sides of the same argument. Consequently, reading this book alone is like hanging up after hearing only the first half of a phone conversation. The second part of that discussion (Reimagining Church) is the part where viable and biblical solutions are offered.
3. After four years of rigorous critique (and, sometimes, misrepresentation), the arguments in the book still stand. Despite the many objections that have been leveled against it, Pagan Christianity? has yet to be credibly refuted or discounted.
4. George and I wrote this book out of a profound love for the church. We also wrote out of a vision that burns within our hearts. The style of writing, therefore, is one that is intended to challenge. Some readers who aren't used to this style of writing may misinterpret the tone to be angry. But our challenge was motivated by love and born out of many tears and a broken heart for the restoration of God's house.
5. As you read this book, you will note that some of the common misrepresentations about it are not true. For instance, George and I do not argue for "house church" as the correct model for church. We instead point to the "organic expression of the church" ("organic church" for short), something different from a house church. We do not argue against preaching or teaching but endorse both. Yet we challenge the modern sermon on historical, biblical, and pragmatic grounds. Also, we do not believe that, just because a practice has pagan roots, it is wrong. We instead argue that those practices that contradict the teachings of Jesus and the apostles should be discarded in favor of what they taught. 
Pagan Christianity? was not written to divide the body of Christ. Instead, George and I wrote the book to encourage you to rethink your church practices in the light of Scripture and to pursue the Lord corporately in fresh and creative ways that are biblically faithful and that magnify Him. The constructive books that follow this volume are designed to help you reach those goals. Our prayer is that this book will begin to free you to experience God's best and highest for His beloved church, just as He intended.
Frank Viola
June 2011
Answers to Questions and Objections about Pagan Christianity & Reimagining Church
Audio Interview with George Barna and Frank Viola (35 min.)
Audio Interview with George Barna and Frank Viola (68 min.)
Print Interview with George and Frank: 1
Print Interview with George and Frank: 2
Print Interview with George and Frank: 3
Print Interview with George and Frank: 4
Scholarly Debate I: Jon Zens. vs Ben Witherington III
Scholarly Debate II: Frank Viola vs. Ben Witherington III
43 Endorsements by Scholars, Historians, Pastors, and Teachers
Pastors Weigh-In on Pagan Christianity
Discussion Guide to Pagan Christianity
Sample Chapter of Pagan Christainity
Sample Chapter of Reimagining Church
Audio Chapter of Pagan Christianity
Audio Chapter of Reimagining Church
10 Straw-Man Myths About Pagan Christianity & Reimagining Church
Why I Love the Church: In Praise of God's Eternal Purpose
A Word to Authors – Aspiring and Actual
The Cost of Challenging the Status Quo
The Disconnect Between Eastern and Western Medicine: An Analogy
Willow Creek on Pagan Christianity
Order Pagan Christianity & Reimagining Church on Discount