"A recently published book I can highly recommend is Frank Viola's Beyond Evangelical."
~ Roger Olson, Professor of Theology, George W. Truett Theological Seminary of Baylor University.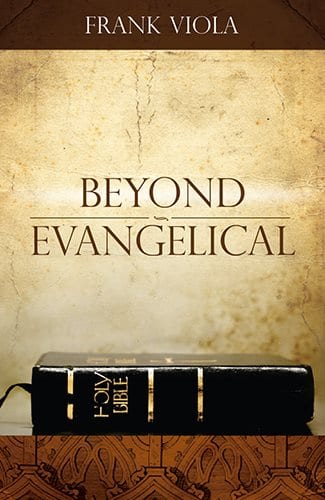 Description
Recent studies indicate that evangelical Christians are known by the world as people who are narrow-minded, judgmental, self-righteous, legalistic, callous, hard-hearted, politically partisan, and quick to attack their own. Why is this, and is there a viable cure?
The evangelical Christian world has fractured into four main streams. One of these streams has grown weary of the Christian Right vs. Christian Left squabbles and vitriolic disputes. If this describes you, then you are not alone. And you will be encouraged to know that God is raising up a new breed of orthodox Christians who are breaking free from the Christian Right vs. Left quagmire.
Beyond Evangelical explores the changing face of evangelicalism and introduces readers to a growing segment of the Christian population who do not fit into the Right or Left categories, but who are marked by an uncommon devotion to the Lord Jesus Christ as this world's true Lord.
You can listen to the first chapter which answers the question: What Does Beyond Evangelical Mean?
Introduction – The Birth of This Book 
In May 2011, I began a series of posts entitled Beyond Evangelical, short for beyond evangelicalism.
Hundreds of thousands of people read the series from all over the world and many asked me to turn it into a book. That request is the genesis of this work.
In addition to the original series, I've added new chapters that haven't been published anywhere before. I've also added some blog posts from my old, dusty archives that go along with the theme.
Beyond that I've added a list of source materials that delve deeper into the subjects, including a list of quotes, blog posts, and books written by various authors (mostly theologians, scholars, and pastors) who are saying many of the same things.
I've also added a chapter where I respond to questions and objections to the original series. (Be sure to read that chapter as it will help clarify the content and prevent misunderstanding.)
The overwhelming majority of people who read my original series resonated strongly with it. The series captured the yearning of many Christians who wish to see the face of evangelicalism changed.
In short, a growing number of Jesus-followers are tired of the Christian Right vs. Christian Left wars. They don't fit neatly into either camp, yet they don't want to leave the evangelical fold. They simply want to see a higher expression of evangelicalism for the 21st century.
Historians and semioticians agree. The face of evangelicalism is changing rapidly and the fissures in the movement are becoming more obvious each day. Civil discourse among evangelicals is rare. The norm is to draw battle lines and throw rocks at one another across those lines.
Some authors have argued that evangelicalism has been co-opted by the Republican party. Others have argued that mainline churches have been co-opted by the Democratic party. And the turf war is getting increasingly uglier. All told, countless Christians are weary of the intramural squabbling and vitriol that comes from both camps (right and left), and they are looking for a higher, deeper, more Christocentric expression of evangelicalism.
That's where this book comes in.
It seeks to give vision and language for a new kind of evangelicalism.
My hope is that the Lord would use this little book to give encouragement, clarity, language, and inspiration to all Jesus-followers who are disaffected by the right vs. left wars, believing within their hearts that a higher way exists. If that describes you, then you are certainly not alone.
Frank Viola
Psalm 115:1
Contents 
Introduction: The Birth of this Book
1.  What Does "Beyond Evangelical" Mean?
2.  Four Divergent Streams in the Evangelical Fold
3.  Clearing the Terrain
4.  You Are Not Alone (A Collective Confession)
5.  A Repeat of History
6.  The Uneasy Conscience of Modern Evangelicalism
7.  Why the Christian Right and Left Won't Adopt Me
8.  Sinning Differently Than Others
9.  Cutting the Moral Line
10. Moving Beyond Legalism & Libertinism
11. Moving Beyond Deconstructionism
12. Moving Beyond Self-Righteousness
13. Moving Beyond Sectarianism
14. Moving Beyond Calvinism & Arminianism
15. The Turning Tide
16. The Coming Evangelical Collapse
17. Answers to Questions and Objections
18. How Evangelicalism Lost Its Way (Other Voices)
19. A Beyond Evangelical Approach to Reaching the World
20. Forgotten Words of Jesus
Afterword: Continuing the Conversation
Appendix: Three Ways to Be Connected
This book is now only part of Frank's Titan. Check it out here.