I'm continuing my series of reviews for various Bible software programs.
The publishers of these programs were gracious enough to send me copies of their software to review on this blog.
Each review will give a rating for various categories along with an image of the software from my computer and the link to the official website where you can see a demo and order the program.
This review is for WORDsearch 10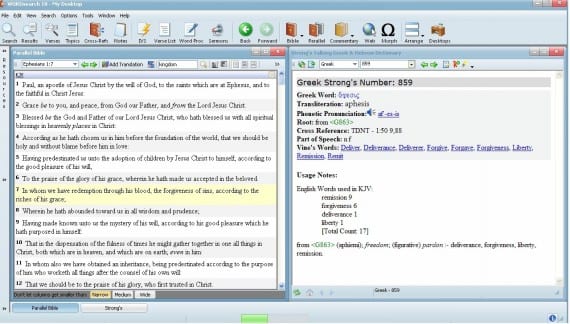 I tested the program out on my PC using Windows XP.
The ratings are on a scale of 1 to 5.
1 is poor. 3 is average. 5 is excellent.
Here's how I rated WORDsearch 10.
Design: 5
Loading Speed: 2
Speed After Program is Loaded: 5
Search Features: 4
Copy & Paste Functionality (from the program to Word): 5
Quality & Quantity of Free Bibles & Books: 4
Quality & Quantity of Available Books & Bibles to Purchase: 5
Availability in Electronic Formats (iPad, iPhone, Mac, PC, etc.): 2
WORDsearch 10 Thomas Chain Reference Bible Library Price: $49.95
WORDsearch 9 Preaching Library Price: $499.95
Website: https://www.wordsearchbible.com
Comment: I like the design of this program. It's clean and the buttons are easy to spot. The add-ons are great, but you have to pay for them. Yet they're reasonable in price. The Preaching Library comes with all the bells and whistles: 22 Bibles, 226 Reference Works, 32,000 illustrations, quotes, and anecdotes, etc. A nifty program indeed.