Five years ago, George Barna and I wrote an entire chapter in our book Pagan Christianity on the biblical foundation of the tithe. In it, we argued that Christians didn't tithe until hundreds of years after the church was born. However, the early Christians did give financially and they gave to several specific things.
Recently, Jeff Anderson wrote a new book on Christian giving called Plastic Donuts: Giving That Delights the Heart of the Father.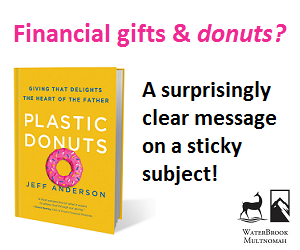 Giving in the body of Christ, especially financial giving, is a sore spot for many Christians because of all the undue emphasis on money and the flagrant abuse surrounding it.
In his new book, Jeff Anderson seeks to redeem the true biblical vision of giving. I caught up with Jeff to interview him on his book.
Enjoy.
How are readers going to benefit from reading your book?
I used to have lots of questions about giving – how much should I give? Does the tithe still apply today? What kind of lifestyle is acceptable?
In my work with Christian ministries, I learned that many people have these same questions – even pastors, teachers and leaders are asking them. As a result many Christians either don't give, or they give while carrying around a load of religious guilt or questions in their minds.
The subject of Christian giving is so murky, and often divisive, and I'm concerned most Christians are missing the essence of what it's all about. While the book addresses the topic of financial giving, it's really a book about connecting with God, seeing and relating to Him in new ways.
Tell us a bit about the experiences that shaped the insights in the book.
One day while working  on my laptop in the living room, my 18-month old daughter toddled up to me and gave me a toy donut from her kitchen play set. I played into the gift in a playful manner and it connected us in surprising ways. This simple toy donut encounter helped me to see giving from a completely different perspective. I was reminded that our financial gifts to God are much like the gift of a plastic donut. This connected the scriptural dots.
God is our Father and we are His children. God does not NEED our gifts – but in similar ways, God desires to connect with us through them (our gifts.)  That was God's design for giving all along.  When we lose that perspective, everyone misses out – including the very churches, causes, and people we desire to help.
Give us two or three insights on giving that would be helpful to Christians.
First and foremost giving is about relationship.
God "invented" the concept of gifts and giving before there were needs. Although we're surrounded by needs now, the premise has not changed. Christian giving is intended to connect us to God. Sadly, today there is more focus on needs, and less on God – that's a path that's robbing people of a true experience of giving.
As we learn with the early gifts of Cain and Abel, and the widow's mite, God notices our gifts. Our gifts have the ability to delight His heart.
When I bought an engagement ring for my wife before we were married, my gift was a symbol of the growth in our relationship – a token of my love and commitment. In similar ways, our gifts to God are no small matter.
What has the response been to the book so far?  
One reaction is simply that people are reading it. I know that  doesn't sound very deep, but given that most books sit on nightstands and are never read, this is important to me. Plastic Donuts is short, easy to read and very relatable.
But I believe the main reason folks are reading is because it's so different than anything they've heard on the subject. Everyone is tired of the default teaching on giving. This message is fresh.  "I'll never see my giving the same," is what I'm hearing frequently. Pastors all over the country have even bought copies for their congregations.
Readers quickly see that this book is loaded with deep, biblical nuggets. Significant biblical research went into fleshing out four key principles in this book and pastors, teachers and seekers alike recognize that when reading Plastic Donuts.
Maybe the most delightful surprising reaction, for me, is that so many people have expressed, sometimes in tears, how the book helped them see God as their loving father.
How is your book different from the many other books on giving?
First, let me restate the words of Solomon: there is nothing new under the sun – and that goes for Plastic Donuts.  But the book's main idea – something the bible calls the  "acceptable gift" – is fresh, because it's been drowned out by so much noise on the subject. Much of that noise is hurtful and unbiblical.
There are plenty of books that speak to how our gifts can meet needs – fund the church, feed the hungry, heal the sick, spread the gospel. Some with perverted arm-twisting. And there are books that speak to how our gifts can serve us as givers – grow our hearts, stretch our faith, store up treasure in heaven.
But Plastic Donuts focuses on seeing our gifts from God's perspective. Our gifts can impact God too, and that's a brain shift for most of us. Our gifts really can reach heaven and bring delight to our Father's heart.] This brings our focus back to God as the primary recipient of our giving.
These truths are biblical, yet paradigm shifting. I'd actually encourage givers to take a pause, and stop giving completely… and read this book. Yeah, that's right. Hit the reset in your giving. This book will change the way people look at giving, and God, in a beautiful way.
What do you say to the person who says we should never give to get back from God?
Yeah we hear this a lot. This sounds sort of like a riddle to me. On the one hand, we all hate how the doctrine of sowing and reaping has been abused by teachers and preachers – and believe me there's a lot  of abuse going on with this. But it's sort of tricky because the abuse is actually built on a biblical truth and not a false doctrine.
The fact is, the bible is clear that God rewards givers. Jesus encourages us to give, and expect rewards in heaven. How can you tell a child not to think about the positive effects of their pleasing behavior? You can't. These rewards are exhilarating and motivating, and very much part of the relational aspect of giving to the Father.
Needed balance comes from the fact that God's patterns of blessing givers are not automatic in ways that we can see. God is not a genie or a slot machine. Giving requires faith, and sometimes our faith is tested. Sometimes we don't experience blessings quite the way we expect, or maybe as we have in previous occasions. These faith risks will cause up to look up to God with our gifts… instead of looking down for something to fall from the sky.
What else do you want readers to know about your book?
It's OK to have questions about giving.
Plastic Donuts will bring clarity to an often complex subject. Many people view giving to God like filling out an IRS form. This message will help reset their thinking and discover a new freedom and joy in giving to God.
But despite the title, Plastic Donuts is not a creampuff book. It's a strong message that offers great challenge. Giving gifts to God is no small matter.
I think that's why readers love the book… it's a solidly biblical message that brings enormous freedom and challenge at the same time. People trust that kind of message.
Click here to order Plastic Donuts by Jeff Anderson on discount
Jeff Anderson has worked with churches and non-profits for nearly two decades, in his own church, as Vice President of Generosity Initiatives with Crown Financial Ministries, and currently as leader of AcceptableGift.org. Jeff continues to consult and speak, and is the author of Plastic Donuts, Giving the Delights the Heart of the Father, published by Multnomah/Random House.