Dear Women and Men of Planet Earth,
It's March 2017 and Mary DeMuth's book – The Day I Met Jesus: The Revealing Diaries of Five Women from the Gospels – has been out for two years.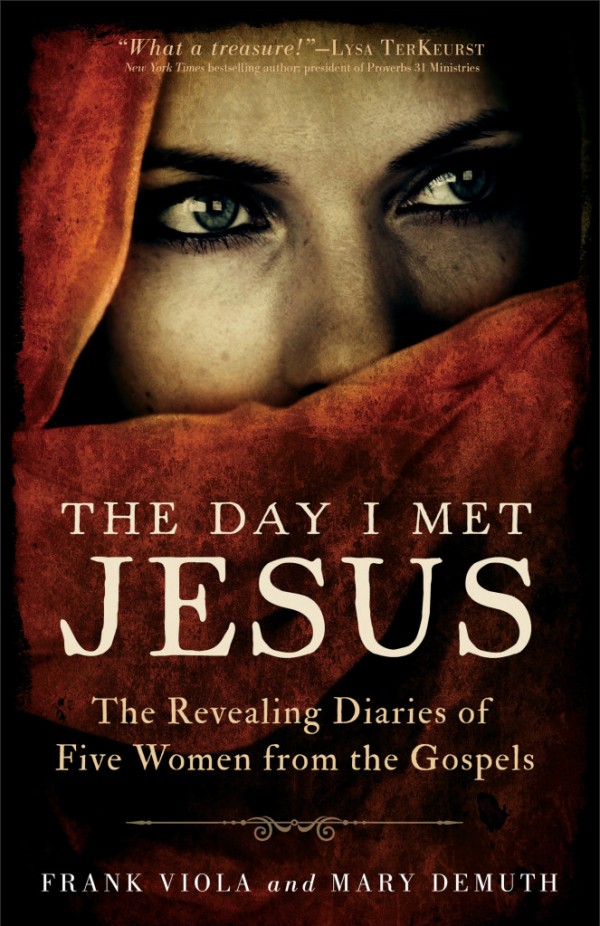 According to my painstaking research (okay, I asked Siri on my iPhone), approximately 3.42 billion women still haven't gotten a copy of Mary's book. This is most perplexing to me. More so than trying to understand Stephen Hawking's take on quantum mechanics.
While Mary's book isn't written just for women, it's quite popular among women who bought and read it (specifically, Mary's friends, daughters, aunt, and 7th-grade teacher). So it's kind of like Jesus Calling in its appeal to the female species.
The problem is, all the women who bought Jesus Calling still haven't bought Mary's book. Not even a fraction of them.
I just don't get it.
Now for those of you who need some gentle arm-twisting, here are 12 irrefutable reasons why you'll want to order a copy today (and 4 more copies for your mother, sister, daughter, and your BFF from high school.)
12 Reasons Why You Should Buy Mary's Book This Week
The book is safe. Unlike my 2008 book with George Barna — which has been flung across living rooms throughout North America, taking out a human eye or two — Mary's book is not dangerous. It's perfectly safe on the eyes.
Mary DeMuth is incapable of writing an inelegant sentence. Read the book and you'll agree with me.
Dr. Craig Keener — the world's greatest New Testament scholar — was the historical advisor to the book. (Yes, Mary made him an offer he couldn't refuse, despite the fact that she's not Italian. I won't say if I helped her with the offer or not.)
The woman featured on the front cover makes for a great conversation piece. In fact, the cover can be easily torn from the book and framed as a first-century relic in your home without having to pay any copyright fees.
The book is void of any tiny footnotes (like the ones that appear in "the little red book" I wrote with Barna). So you don't need a magnifying glass to read any it. Plus, you don't have to waste your time checking Mary's sources. An added bonus.
The book will give legalists apoplexy and self-righteous Christians running fits.
There's a cool discussion guide at the end of the book that asks nifty questions to discuss over tea and crumpets.
Mary inserted several subliminal messages in each chapter. (I can't find them so I have no idea what they are, but I'm assured they are there. Hopefully it's nothing like Stairway to Heaven when played backwards.)
The book is less than 200 pages long and Mary doesn't use big words that require you to scurry through your dictionary to find out what they mean.
If you don't like reading the print or digital versions, there's an audio version. So you're out of excuses.
The book was glowingly endorsed by Lysa TerKeurst, Liz Curtis Higgs, John Ortberg, Holley Gerth, Greg Boyd, Leonard Sweet, Jack Hayford, Jenni Catron, Sheila Walsh, Sarah Bessey, Derwin Gray, and Margaret Feinberg because they all love Mary and appreciate her electrifying writing.
Kathy Lee Gifford has a copy of it (Mary is still waiting for Kathy to mention it on The Today Show). Gretchen Carlson from Fox News also has a copy (Mary is still waiting for Gretchen to mention it on Get Real.) So when you get your own copy, you can say (without fibbing) that you have something wonderful in common with Kathy and Gretchen.
Shall I go on? I don't think I need to.
You're now doubtlessly wondering (like me) how is it that roughly 3.42 billion women still haven't gotten the book, right?
I haven't a clue. But Mary hopes to cut the number by 1/2 by Christmas, so help Mary out here, would ya?
CLICK THE LINKS BELOW TO ORDER
The Day I Met Jesus on Barnes & Noble
If you live outside the USA, you can get the paperback here. Shipping is free.
P.S. Mary's birthday was last month. So getting a copy would be a belated birthday present for her. Thanks for not hatin' and participatin.' 😉
P.P.S. For those of you who stumbled on this article and aren't familiar with me or my humor, I co-wrote this book. But since Mary wrote it also, I'm promoting it for her! Ha! 😉
P.P.P.S. The prequel to The Day I Met Jesus — God's Favorite Place on Earth — is also available.