If you are NOT going through a crisis right now, you will.
Life is peppered with adversity, hardship, challenge, and difficulty.
This is especially true if you're a Jesus-follower. We are promised suffering, hardship, and tribulation.
Your boyfriend/girlfriend suddenly breaks up with you.
You lose your job. Or you still can't find one.
You have a parent who is terminally ill.
Your best friend is in critical condition.
Your spouse doesn't want to be married anymore.
You have an enemy who is obsessed with destroying your life.
Your baby is sick and the situation is only getting worse.
And on and on.
How do you cope?
How do you survive without being destroyed?
How do you keep from becoming bitter (which is spiritual suicide)?
Well, here are several ways that will enable you to survive your present — or future — crisis.
1) Embrace the reality of the situation.
Many people crash-and-burn because they aren't willing to acknowledge the seriousness of their crisis. They pretend it doesn't exist. Or they minimize it.
Some overdramatize it.
A helpful way to avoid falling off one side of the horse or the other is to write down the reality of the crisis. By writing it down, you can better determine if you have made it worse — or better — than it really is.
But facing the reality of it — however dire — is critical for surviving it.
2) Refuse to lose hope in the end of the story.
While Scripture promises us trial, tribulation, suffering, and hardships, it also promises us triumph in every situation.
So whether God chooses to deliver you from your crisis or deliver you through it, the end of the story will lead to His glory and to your benefit.
Romans 8:28 hasn't been deleted from your Bible.
In Where's God?, 21 authors all weigh in on what the Lord is up to when He lets His children go through unimaginable crisis.
Very often, God seems to have walked off the stage during such times. And His grace doesn't appear to be sufficient.
But when time passes and you look back, you discover that not only was He present, but His grace was fully sufficient to handle the situation.
And so it goes for people of faith.
So never lose hope that the end of the chapter is going to be to your benefit and to His glory.
3) Imagine the worst possible outcome and surrender it to the Lord.
After you've embraced the reality of the situation and you've refused to lose hope, face the possibility head-on that your crisis may not turn out the way you want. In fact, what you desire the least might actually happen.
This may seem contrary to not losing hope. But it's not. Your hope should never be tied to how your crisis turns out.
Your hope should be tied to what God will gain through it.
So yes, imagine the worst possible outcome, and in the presence of that horrific ending, say to the Lord, "If it happens this way, I am okay with it. I will still love you. I will still serve you. And you will get me through it."
Such an exercise breaks the power of fear over you. It also puts you in a position where you are untouchable to the enemy.
It was this same attitude that was in the heart of the three Hebrew children when they refused to bow their knee to pagan gods. They told the king the following:
"We're not going to serve your gods or worship the image. The Lord is able to deliver us from your furnace and He will deliver us. But even if He doesn't, we still will not bow the knee to your gods."
Application: "Lord, you will deliver me … but even if you don't, I will still love and serve you."
By surrendering the worse possible outcome to the Lord, you are embracing the cross of Jesus Christ.
4) Remember that this too shall pass.
All suffering has an expiration date. It won't last forever. Even though your crisis might leave scars that you'll carry into eternity (as your Lord did), you will get past it.
And we are given the sure-fire promise that all suffering is designed to lead to your transformation and to life-giving ministry to those in pain. (This is brought out clearly in Romans and 2 Corinthians.)
5) Recall the words of Joseph.
At a teenager, Joseph was left for dead by his own family. He was then sold into slavery. Following that, he was falsely accused of seducing a leader's wife. For this he was imprisoned. This entire ordeal was the fault of his own brothers.
Remarkably, when God finally delivered and exalted Joseph to a place of prominence, he faced his brothers. Without malice or bitterness, Joseph told them:
"You intended to harm me, but God intended it all for good. He brought me to this position so I could save the lives of many people." (Genesis 50:20)
Note that it was 13 years from the time that Joseph's brothers left him for dead and the time that God freed and exalted him.
6) Humble yourself under God's mighty hand.
This one needs no explanation. Peter's words say it all. They contain thunder and lightning for everyone who is undergoing a crisis.
"Humble yourselves, therefore, under God's mighty hand, that he may lift you up in due time." (1 Peter 5:6)
Do these six things in the midst of your crisis and you will survive it.
But more, you won't waste your sufferings. Instead, you'll watch them turn to gold.
Yours in the fellowship of God's Son,
fv
LEARN TO RECOGNIZE WHEN JESUS IS SPEAKING TO YOU
Frank's new book — JESUS SPEAKS: Learning to Recognize & Respond to the Lord's Voice — is a #1 New Release in its category on Amazon and it's still on discount.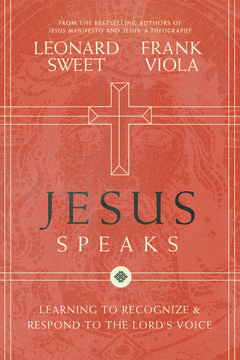 Here's an Amazon Editorial Review.
"The Christian analog to the Lennon-McCartney brand, Sweet and Viola offer the third book in their JESUS trilogy. Jesus Speaks is a masterful study on hearing God's voice. Mixing the personal with the scriptural, Viola and Sweet offer a comprehensive and practical look at recognizing the voice of Christ. This book emerges at the pinnacle of the authors' creative output and stands as an entrancing statement by the duo. One of the most anticipated books of the Summer of 2016, I predict it will be the new touchstone in its field and the gold standard for practical spirituality. Ignore it at your own peril." – D.S.
*** CHECK OUT THE BOOK HERE – the various online outlets are at the bottom of the book page.