What follows are my top 100 Christian theological  and scholarly works (along with my favorite New Testament commentaries) created April 2012.
Note that these titles were selected out of the Christian academic books I've actually read – which admittedly is a small slice of what's been written. There are thousands of academic books I've never read, and I'm still sifting through volumes that people recommend to me.
I created this list because many people who read my Best 100 Christian Books Ever Written list wanted my "theological and scholarly works" recommendations, including New Testament commentaries.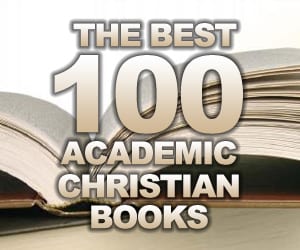 Please keep the following in mind as you view this list:
* To keep the list to 100 volumes, it only contains books written during the 20th and 21st centuries.
* I've not added Old Testament commentaries simply because I haven't read enough of them to rate them against one another. What's listed are the most helpful New Testament commentaries I have come across so far.
* Just because a book or a commentary appears on this list doesn't mean that I agree with every word of it. Nor does it mean that I agree with everything the author has ever said or done.
* The books do not appear in any particular order, except that the commentaries appear at the end. Some of the books listed do not show the book covers, but they are still available for purchase. Shipping is free for orders of $25 or more.
* I'm an Amazon affiliate, so if you purchase a book from this list, I receive a small commission.
To read my non-academic Christian book list, click the 100 Best Christian Books Ever Written. (There are a few academic works on that list, but they are accessible.)
fv
Psalm 115:1 
Christian Academic Books
The Beauty of the Infinite by David Bentley Hart
Jesus, Paul, and the Gospels by James D.G. Dunn
Jesus Remembered by James D.G. Dunn
Unity and Diversity in the New Testament by James D.G. Dunn
Act and Being by Dietrich Bonhoeffer
Creation and Fall by Dietrich Bonhoeffer
Letters and Papers from Prison by Dietrich Bonhoeffer
Christ the Center by Dietrich Bonhoeffer
A Mind for What Matters by F.F. Bruce
Surprised by Hope by N.T. Wright
Jesus and the Victory of God by N.T. Wright
The Resurrection of the Son of God by N.T. Wright
The New Testament and the People of God by N.T. Wright
The Climax of the Covenant by N.T. Wright
Paul Among Jews and Gentiles by Krister Stendahl
Christus Victor by Gustaf Aulen
Inspiration and Authority by Paul J. Achtemeier
Trinity and Society by Leonardo Boff
After Our Likeness by Miroslav Volf
Scripture as Communication by Jeannine Brown
Jesus and the Father by Kevin N. Giles
Christ in Eastern Christian Thought by John Meyendorff
Paul's Narrative Thought World by Ben Witherington III
Empire in the New Testament by Cynthia Westfall and Stanley Porter
The Presence of the Kingdom by Jacques Ellul
Anarchy and Christianity by Jacques Ellul
Dogmatics in Outline by Karl Barth
Incarnation by Thomas F. Torrance
Atonement by Thomas F. Torrance
The Christian Doctrine of God by Thomas F. Torrance
Jesus of Nazareth by Pope Benedict XVI
Women Leaders and the Church by Linda Belleville
Reason Within the Bounds of Religion by Nicholas Wolterstorff
The Common Life in the Body of Christ by Lionel Thornton
The Body by John A. T. Robinson
Torah and Canon by James A. Sanders
Ordination: A Biblical-historical View by Marjorie Warkentin
The Canon of Scripture by F. F. Bruce
The New Testament Documents by F. F. Bruce
The Historical Reliability of the Gospels by Craig L. Blomberg
Theology for the Community of God by Stanley J. Grenz
Resident Aliens by Stanley Hauerwas and William H. Willimon
A Community of Character by Stanley Hauerwas
Against the Nations by Stanley Hauerwas
Flame of Love by Clark H. Pinnock
A Theology of the New Testament by George Eldon Ladd
The Bible Made Impossible by Christian Smith
The Royal Priesthood by John Howard Yoder
Four Views on Hell by William Crockett
Four Views on Salvation in a Pluralistic World by John Hick, Clark H. Pinnock, Alister E. McGrath, et. al
Four Views on Eternal Security by Michael S. Horton, Norman L. Geisler, Stephen M. Ashby, and J. Steven Harper
Three Views on the Millennium and Beyond by Craig A. Blaising, Kenneth L. Gentry Jr., and Robert B. Strimple
Five Views of Sanctification by Melvin E. Dieter, Anthony A. Hoekema, Stanley M. Horton, et. al
Predestination & Free Will by John Feinberg, Norman Geisler, Bruce Reichenbach, and Clark Pinnock
Jesus and the Old Testament by R. T. France
According to the Scriptures by C. H. Dodd
The Apostolic Preaching and Its Developments by C. H. Dodd
Answers to Questions by F. F. Bruce
The Fullness of Christ by John H. Yoder
New Testament Commentaries 
New Testament for Everyone Set by N.T. Wright
Commentary on the New Testament Use of the Old Testament by G. K. Beale and D. A. Carson
The Epistles of John by I. Howard Marshall 
The First Epistle to the Corinthians by Gordon D. Fee
Paul's Letter to the Philippians by Gordon D. Fee
The Gospel of Luke by Joel B. Green
The Book of the Acts by F. F. Bruce
The Epistle to the Hebrews by F. F. Bruce
The Epistles to the Colossians, to Philemon, and to the Ephesians by F. F. Bruce
The Acts of the Apostles by Ben Witherington III
Conflict and Community in Corinth by Ben Witherington III
Paul's Letter to the Romans by Ben Witherington III and Darlene Hyatt
1 and 2 Thessalonians by Ben Witherington III
The Gospel of Mark by Ben Witherington III
Grace in Galatia by Ben Witherington III
The Letters to Philemon, the Colossians, and the Ephesians by Ben Witherington III
Paul's Letter to the Philippians by Ben Witherington III

The Gospel of Matthew by Craig S. Keener
The Epistle to the Galatians by F. F. Bruce
The Epistles to the Colossians and to Philemon by James D. G. Dunn
The Gospel of Luke by I. Howard Marshall
The Message of Ephesians by John R.W. Stott
The Message of Galatians by John R.W. Stott
The Message of Romans by John R.W. Stott
The Letters of John by John Stott
Acts: An Exegetical Commentary by Craig Keener (4 Volumes)
Colossians and Philemon by N.T. Wright
The Epistle to the Romans by Karl Barth
The Gospel of John by Craig S. Keener
The Epistle of Paul the Apostle to the Romans by G. Campbell Morgan
God's Ultimate Purpose by D. Martyn Lloyd-Jones
New International Biblical Commentary: Philippians by F. F. Bruce
The Gospel of John by F. F. Bruce
The Epistles of John by F. F. Bruce
1 & 2 Thessalonians by F. F. Bruce
First Epistle to the Corinthians by C. K. Barrett
Second Epistle to the Corinthians by C. K. Barrett