What follows are all the installments of Frank's "Gospel of the Kingdom" blog series.
NEW! The signature book is now available – INSURGENCE: Reclaiming the Gospel of the Kingdom.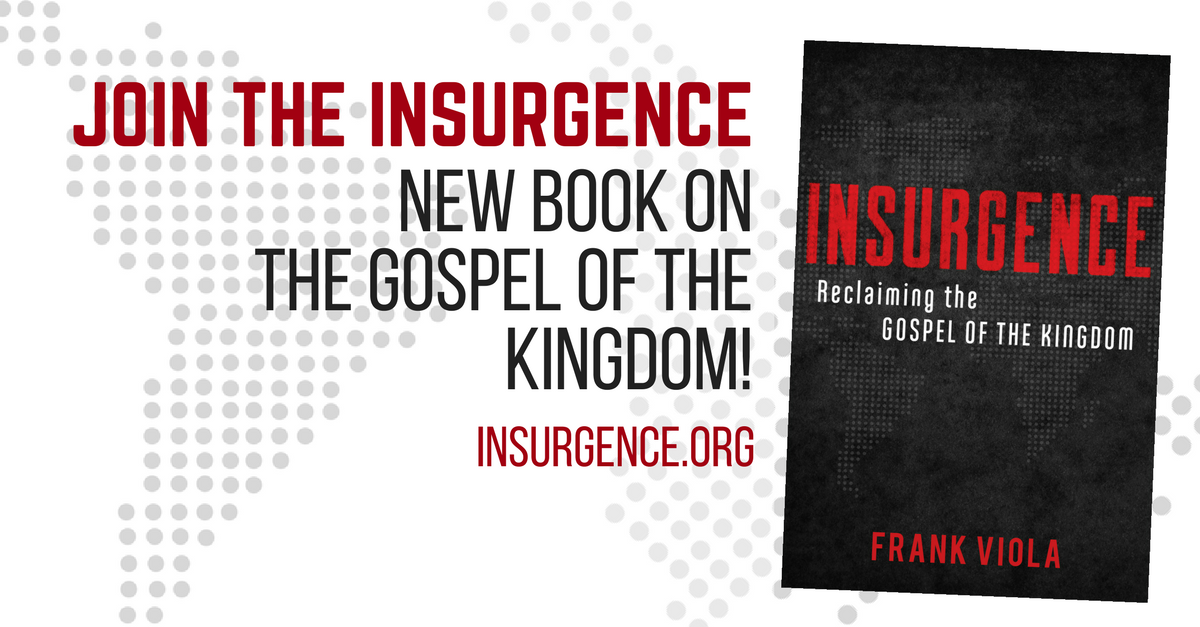 Articles are listed from the most recent to the least. So if you're new to the series, begin at the bottom and work up.
The Insurgence Podcast is Here!
What is the Gospel of the Kingdom?
The Kingdom of God vs. the Church – Exposing a Myth
What's the Full Gospel, Really?
The Kingdom of God & Politics Among Today's Youth
Obliterating 5 Errors About the Insurgence
Greg Boyd and Frank Mix It Up on the Lost Gospel of the Kingdom
This Has to Be Said (Offensive) – A Birthday Wish
Should an Insurgent Vote in Political Elections?
Answers to Your Recent Questions (including present needs)
A Ministry Dream Team Revisited
How to Form a Kingdom Cell Where You Live
The Origins of Human Government and Hierarchy
Liberals and Conservatives vs. Jesus Christ
The Entire First Part of INSURGENCE Free
Video Interview: Left vs. Right Politics
Bible Gateway Interview on the Insurgence
5 Ways to Spread the Insurgence
How to Be Part of the City of God
Dispelling Kingdom Myths 7: The Kingdom is Signs and Wonders
Dispelling Kingdom Myths 6: The Kingdom is Within You
Dispelling Kingdom Myths 5: The Kingdom is Separate from the Ekklesia
Dispelling Kingdom Myths 4: We Are Called to Build the Kingdom
Dispelling Kingdom Myths 3: The Kingdom of God is Heaven
Dispelling Kingdom Myths 2: The Kingdom Was for the Jews, Grace for the Gentiles
Dispelling Kingdom Myths 1: Jesus Preached the Kingdom, Paul Preached Grace
Why Christian Leaders Don't Work Together
A Clash Between Kingdoms (includes free conference message)
Identity Politics and the Kingdom of God
Radicalization & The Gospel of the Kingdom
The Race Card of the Early Christians
A Word About Political Elections
Fast & Furious 6: A Tale of Two Kingdoms
Pressing Into the Kingdom (includes free audio message)
To get the new articles in the series, subscribe to the blog below. A new article is sent by email every Thursday.