I'm a student of history. And the more I look at it, the more I recognize a certain pattern. God sends spiritual giants who change the course of church history in waves.
One wave was made evident around 1926 and continued through the 1940s. In three different countries.
Three choice vessels of God began publishing then. They had lots of similarities in the testimony they bore regarding the supremacy of Jesus Christ and His church.
Those three vessels were:
Watchman Nee in China.
T. Austin-Sparks in England.
Dietrich Bonhoeffer in Germany.
In the coming days, I'm going to be blogging through Bonhoeffer's complete works.
Bonhoeffer was first and foremost a theologian. And as a theologian, he's one of my favorites.
I'll begin by recommending a recent biography written about him, which may be the best ever written on his life.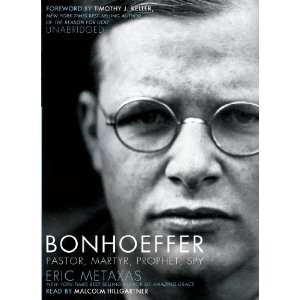 It's called Bonhoeffer: Pastor, Martyr, Prophet, Spy
If you like reading biographies, you'll want to own this one. Click on the link above to see a movie trailer and read endorsements and reviews. I own the book and love it.
Stay tuned for tomorrow's post: It's called Advice for Christian Authors. It will contain advice for established authors, first-time authors, and those toying with the idea of writing a book.
Blogging Through Bonhoeffer: Part II
Blogging Through Bonhoeffer: Part III
Blogging Through Bonhoeffer: Part IV
Blogging Through Bonhoeffer: Part V
Blogging Through Bonhoeffer: Part VI
Blogging Through Bonhoeffer: Part VII
Blogging Through Bonhoeffer: Part VIII