Since McKnight and I bear the same testimony regarding the Lordship of Jesus and the presence of Christ in the Old Testament narrative, I wanted to underscore his latest book with this interview. Scot McKnight's The King Jesus Gospel is an excellent contribution on the meaning of the gospel.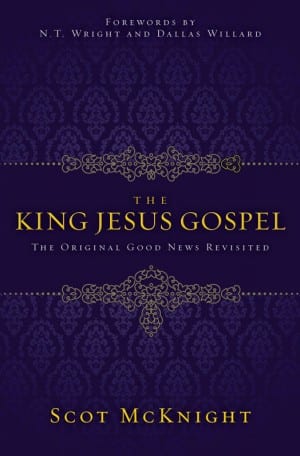 While I wish the book would have discussed "the mystery" of God's eternal purpose and the indwelling life of Christ – both of which are vital aspects of the gospel in my opinion – McKnight's new book does a great job beating another drum I've been banging for years: That the gospel and personal salvation are not the same thing.  And that the gospel isn't a "plan" as much as it is a Person.
As many of you know, the way I defy the "echo-chamber" phenomenon rampant in the blogosphere today is by interviewing other authors and bloggers with whom I have both agreements and disagreements. I personally wish more bloggers would do such interviews as I believe it's healthy for the body of Christ.
Enjoy the interview and get Scot McKnight's book.
Scot, I've interviewed you on the blog before concerning your last book. Since then, however, this blog has gotten many more subscribers. So for the sake of our new readers, tell us a little about "who you are" (to quote Jack Nicholson in Anger Management) and what your ministry is all about.
Scot McKnight: Frank, thanks for taking the time to do this interview. I was reared in American fundamentalism in the Midwest in a Baptist church; as a high schooler I was converted and became convinced immediately I was to go into some kind of ministry; I became a ferocious Bible reader; went off to a Christian college (now Cornerstone University in Grand Rapids), seminary and did a PhD.
I have been a professor and author for almost thirty years, love this ministry of teaching and speaking and writing, and have also developed a blog called "Jesus Creed." Kris and I grew up together, married in college, had our children while I was in seminary and now both of them are married (two grandchildren) and Kris is a psychologist.
Scot, "I don't want you to tell us what you do, I want you to tell us who you are." Just kidding (couldn't resist. Just saw the movie the other day . . . sigh.) You're in an elevator and you have one minute to tell someone – an evangelical Christian – what your new book is about (because they asked nicely), what would you tell them?
Scot McKnight: The gospel we have been told since we were kids is a shortened, and sometimes dangerous, gospel. That gospel, roughly the four spiritual laws, is not found that way in the New Testament. The gospel of the New Testament focuses on the Story of Israel being fulfilled in the Story of Jesus, and the good news for them was that Jesus was the very one they awaited. The good news, then, is that Jesus is King/Messiah and Lord and he saves. The gospel is not first about us but about Jesus.
Back in 1980s, John MacArthur wrote a bestseller entitled, The Gospel According to Jesus. It was a response to what was dubbed as "easy believism" that came out of Dallas Theological Seminary at the time. MacArthur's book was said to promote "lordship salvation" where the Dallas people were said to promote "cheap grace." Understanding that both you and I differ with MacArthur on many things, how is The King Jesus Gospel similar and different from MacArthur's, The Gospel According to Jesus? 
Scot McKnight: John MacArthur and I are not arguing the same thing. Yes, it is true that I emphasize Jesus' Lordship, but Macarthur was battling Zane Hodges and Charles Ryrie's notion that faith is intellectual assent to propositions about Jesus as Savior and that repentance was to change your mind about who Jesus was and who we are.
They added the stinger than making Jesus Lord would mean works would be involved, so Jesus' Lordship was about discipleship and not salvation. Macarthur then argued that the NT does not separate Jesus as Lord from Jesus as Savior for you either take Jesus as he is – both – or you don't have the real Jesus.
The issue for them was the nature of what one had to believe, or surrender to, in order to be saved.
Their gospel was essentially a gospel of how to get saved.
The King Jesus Gospel entails the need to surrender to Christ, to be sure, but the gospel of the New Testament can't be reduced to the plan for personal salvation, which is what that debate did, and so while I agree with Macarthur that Jesus is Lord is at the heart of the gospel, I don't agree with how he was then defining the gospel. One more time: the gospel cannot be reduced to the plan of personal salvation; the gospel is the Story about Jesus, the full Story, and then the plan of salvation flows out of that Story.
One of the debates among Christians has been over the word "disciple." Some view a disciple as something different from a convert. Being a convert is necessary for being saved; being a disciple is optional and has to do with receiving future rewards (so the thinking goes). Others argue that being a disciple and being a convert, a believer, a Christian, etc. are all the same thing. What is your take and why?
Scot McKnight: How do we get ourselves in these knots? I'll tell you how: we have reduced the gospel to the plan for personal salvation, we have tried to figure out the minimal requirements (the sufficient and necessary conditions) for getting saved, and then we try to figure out how to get those who have made a decision to become disciples.
Jesus would have nothing to do with this reduction. Jesus is King/Messiah and Lord; he is Lord over the cosmic realm; he summons people to him as King and calls them into his kingdom; if you want to dwell in the kingdom of Jesus, you have to listen to the King.
A convert may well describe the transformation, both beginning and ongoing, and disciple one's posture toward Jesus, but the former term is almost not found in the New Testament (one reference in Matt 18) and the latter is everywhere. So we would do well to focus our energies on what a disciple is and being that.
Tell us how the book has been selling compared to your other volumes. I ask because this speaks to the kind of interest in the topic right now.
Scot McKnight: This book is selling very well; my Jesus Creed, since it was pitched at the lay level, has done best, but this book is doing well. But whether it sells well or not is not as important as being satisfied with it, and I'm confident it expresses what the NT says about the gospel and honored by the sorts of letters and comments I'm getting from folks I respect.
Realizing it's still early (the book came out in September 2011), do you see any changes happening as a result of the book? If so, what kind? If not, when and what do you expect to see in the way of change?
Scot McKnight: I had a conversation yesterday with a young scholar who is plowing similar fields on similar topics, and we both observed that it is going to take a long, long while for this to work down to the "tract" level where we are evangelizing in a more biblical way.
The most common discussion/question I've had over the last five years is "How do we evangelize if the gospel is about the king and the kingdom?" More often than not what is being asked is how can I reduce this stuff to four or five rhetorically-compelling propositions. That, I have said over and over, is the problem and this gospel can't be reduced like that. We are learning to evangelize in a more embodied and story-shaped form, and the results are encouraging.
What are the two or three main objections you are getting on the book from other Christians and what is your response to them?
Scot McKnight: The first and most common is that I pit "Story" over against "salvation" and that folks want both. Which means they are not reading well. Over and over I have said, and say in this book, that Story involves salvation while the salvation approach (I call it the "soterian" approach, the Greek word for salvation, and the one that reduces the gospel to four or five points) excludes Story. So the options are "Story with salvation" vs. "Salvation with no story." If you don't need the Old Testament to explain salvation you don't have the biblical gospel. 
The book is not practical enough. That's a fair criticism, but in part what "practical" means is "how do I reduce this stuff to a few lines for some quickie evangelism?" Well, I repeat: it can't and I won't. But I do want to write something, perhaps an e-book, that offers some evangelistic sermons that illustrates the gospeling of the New Testament.
Finally, tell us a bit about your daily writing routines. When/how do you write your books and your blog posts? If we observed your writing habits for a solid week, what would it look like? 
Scot McKnight: I'm a professor and on my days off I get up early, say 5am, have breakfast, say my prayers, etc, and then I'm at my desk by 7am or 7:30am and I basically stay there, for short breaks and a short lunch, until 3 to 4pm. During the summer I do this 4-5 days a week. I never "work" in the evenings (and never have) or on weekends, unless on some rare occasion (1x every three to four years) I have a deadline that can't be extended.
In the evening I read and chat with Kris and blog and read some more. I often write the blog posts on Saturdays for the whole week. It is Sunday AM (we go to church on Saturday evenings usually) and I have only a Friday post to write. That is common, except when I travel for a whole weekend… then I often read for the posts on the plane and write them out as I have time. Perhaps once every other month I write a post in the evening for the next morning. What is hard is when we go abroad for two weeks, which we will do this summer (Australia and Denmark), and I have to get the posts ready for the whole time… I often begin those series a month or so in advance so I can stack up posts and not have to try to do them all at once.
Frank, my habits are compartmentalized. At school I do school work; I don't write or blog there. At my desk in my library I write books and articles and study and read for what I'm writing. In my sitting chair in our backroom I read for pleasure and write the blog.
When I'm home I work; and I don't have problems with distractions. I love to play golf but a summer off from teaching doesn't seem to make it any easier to golf. I have work to do in my calling and I stick to it. I tend to golf when someone asks me to play with them, or when I finish a book and say "Time to take a day off." (But I do keep my eye on the Cubs games.)
Order The King Jesus Gospel by Scot McKnight in hardcover
Order The King Jesus Gospel by Scot Mcknight in Kindle
See also:
Interview with Ben Witherington
Interview with Christian Smith