Revise Us Again: Living From a Renewed Christian Script is one of the most important books I've ever written. The book released last year.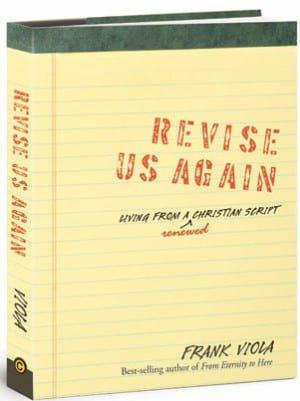 Among those who have read it, the reception has been phenomenal.
In this book, I talk more about the Holy Spirit and His gifts than in any other of my writings. What I say about them may surprise you.
For one month, Present Testimony Ministry offered a signed/dedicated copy of the book for a limited time. This offer has now ended. However, you can still order the book at a great discount using the links that follows this post.
Here is the Table of Contents along with some links to special interviews I did on the content of the book.
Revise Us Again (David C. Cook: April 1, 2011)
Introduction
1. God's Three-Fold Speaking – Revising How We Hear the Lord's Voice
2. The Lord Told Me – Revising Christianeze
3. Let Me Pray About It – Revising Christian Code Language
4. Spiritual Conversational Styles – Revising Our Semantics
5. What's Wrong with Our Gospel? – Revising Our Message
6. The Felt-Presence of God – Revising Our Awareness of the Divine
7. Captured by the Same Spirit You Oppose – Revising Our Attitudes
8. The God of Unseen Endings – Revising our Spiritual Expectations
9. Stripping Down to Christ Alone – Revising the Holy Spirit's Ministry
10. Your Christ Is Too Small – Revising Our Chief Pursuit
Interviews
Rescripting the Christian Life: Part I
Rescripting the Christian Life: Part II
How to Order on Discount
Order the hardcover from Amazon
Order from us at a huge discount (bulk discounts also)
Order by check or money order (only if you live in USA)