Announcement: Many years ago, my good friends Tony and Felicity Dale created a full-color magazine for Christians who gather outside the institutional church called House2House. It's been awhile since an edition of the magazine has been published, but there seems to be renewed interest to "kickstart" it. Funds are needed to republish it, however. If you are interested in supporting the project, click on Kickstarter to learn more.
–
The subject of hearing God's voice is both a mystery and a struggle for many. On this score, two books that I've personally found helpful on the topic are . . .
Hearing God by Peter Lord (revised and expanded)
My friend Felicity Dale has also written a neat little eBook on the subject of hearing God, and she's giving it away for free. Click here to obtain your copy.
Finally, I've  written on the subject also in my book Revise Us Again, exploring the three ways that we can lay hold of the mind of Christ and the chief obstacles to each. The book is presently on sale for $8.00 until February 3rd.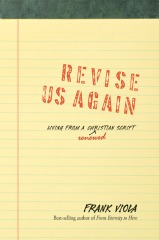 Join over 25,000 other readers and receive free blog updates. If you subscribe by
Email
, you will receive my
Next Reformation Seminar
as a free gift. By subscribing, you also won't miss a post. If you are new to the blog, be sure to check out my
Top Posts of All Time
. I look forward to your input and comments. Be part of the conversation!