Ever since I became a professional blogger, readers have asked me what blog platform I recommend as well as what blog hosting service I endorse.
The answer for both is BlueHost . . . hands down.
As I argued in this podcast episode, I believe every Christian should have a blog. Even if you're not a writer, having a space online is important in our day.
Here are the reasons why I recommend BlueHost over other hosting services:
1. BlueHost uses WordPress, which is my preferred platform. I won't use anything else. It's much better than Typepad and Blogger.
2. The price is incredible. You can get a 3-year hosting service for as little as $4.95 a month.
3. It's reliable. I've used other hosting services and was frustrated to find that my sites were down often. Since I've used BlueHost, I've not had one problem.
4. The customer service is as good as it comes. The folks at BlueHost are very helpful should you have any questions.
5. They have an amazing affiliate program. They give you $65 for every new account that is referred by you.
6. They have an easy to use step-by-step process to start a blog in 5 minutes. In this post, I give you all the steps.
7. I also highly recommend Studio Themes to get your blog looking stellar.
You can also view this step-by-step video. Open up the video in one window on your browser and click Full Screen on the right in the Youtube video. Then open up another browser and click this discount link: BlueHost and follow the instructions on the video.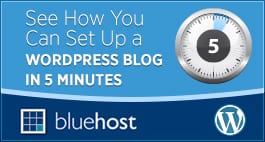 If you find this post helpful, you are free to ADD A LINK to it on your blog or website. But don't copy and paste the post as this violates Google's guidelines.
Join over 30,000 other readers and receive free blog updates. If you subscribe by
Email
, you will receive my eBook
Rethinking the Will of God
(Revised) and my
Next Reformation Seminar
as a free gift. By subscribing, you also won't miss a post. If you want to start your own blog from scratch in less than 10 minutes,
click here
. And if you're looking for a hosting or domain-name service, I highly recommend
BlueHost
.