On Wednesday, I posted an interview with Dr. Michael Brown on his new book, Authentic Fire, a response to John MacArthur's Strange Fire.
As most of you know, in November, I wrote a 70-page critique of Strange Fire called Pouring Water on Strange Fire.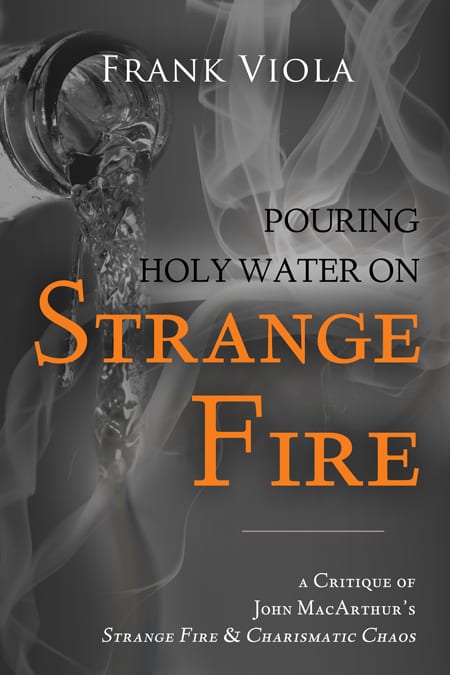 One of the reasons why fundamentalist Christianity is dying in our time is because of the irrational and highly self-righteous and judgmental attitudes that many fundamentalist Christians express toward their fellow brethren, some of whom they don't even know.
On the contrary, Michael Brown's book is written with grace and respect.
Unfortunately, a few people who haven't read Brown's book (or mine for that matter) wrote tweets today that were less than gracious.
Some were based on faulty logic.
To give you some examples, one person said that he read MacArthur's book and found it "irrefutable" . . . but he never cared to take the time to read Brown's book or even obtain it. And he didn't even know I wrote a response which refuted MacArthur's arguments.
Intellectual honesty dictates that you cannot claim that something is irrefutable if you haven't read the rebuttals.
Several others were glibly pointing to some tweet that Brown put out recently saying that he was interviewed on Benny Hinn's show.
One person took this to mean that Brown's book (which they never read, mind you) has been defeated.
Hu?
Another said in a tweet that because Hinn endorsed Brown, this means that Brown is not credible.
I kid you not.
That's what people are saying and arguing.
Such responses makes Brown's case all the more strong, since the logic here is so weak it's almost incomprehensible.
A few points:
1. Brown hasn't yet responded to the Benny Hinn accusations (guilt by interview association), but he tells me that he will respond in an article. So stay tuned for that.
2. This is simple math and logic, but if person B endorses person A, that doesn't mean that person A endorses person B. I know people who endorse John MacArthur and Billy Graham who live like hellions. Neither MacArthur nor Graham would endorse them. Keep in mind that Charles Manson endorsed and was inspired by the Beatles. So what. It didn't work the other way around. To say it does stretches the bounds of credulity until they break.
3. I know several people who were on Benny Hinn's show that have nothing in common with him. And they certainly don't endorse his ministry. But being on his program is like being on CNN or Fox News. It's a MASSIVE audience to speak to.
Were you aware that John MacArthur was interviewed by Larry King on CNN? Does this mean that MacArthur endorses King's lifestyle and religious views? Does this mean that MacArthur endorses homosexuality since many on the CNN staff are homosexuals and/or defend same-sex marriage?
Hmmm . . .
An interesting response to my point above is that "Larry King" isn't a Bible teacher.
Does that really matter with respect to this conversation? The argument from Brown's detractors is that because Brown was interviewed by Hinn, ergo, Brown *endorses" Hinn's views and life style.
Therefore, because MacArthur was interviewed by King, ergo, MacArthur *endorses" King's views and lifestyle.
If one is going to argue the first, the second is irrefutable.
But more striking, John MacArthur himself was interviewed on TBN . . . the network he sorely criticized in his book. The network that carries Benny Hinn.
If you want proof, click here.
It's really IRRELEVANT who interviewed MacArthur on TBN, because MacArthur CONDEMNS TBN out of hand. So trying to split hairs on this inconsistency and make excuses for MacArthur will not fly.
Using the identical logic that's being leveled at Brown, one can argue with equal vigor that MacArthur endorses homosexuality, same-sex marriage, AND approves of everything that TBN has done and promoted.
Note that I'm not criticizing MacArthur for going on TBN. I'm simply pointing out the double-standard here and demonstrating that MacArthur has essentially done the same thing that Brown did by going on a program he may not agree with to reach the audience. Brown did the same thing with Hinn.
I look forward to hearing Brown's response. And it should be coming very soon. (Once it does, I will post it here.)
If anything, this whole controversy about Brown appearing on TBN with Hinn makes his critics appear as though they are grabbing at straws to try to silence and discredit him.
But more, all of this has nothing to do with the arguments in Brown's book.
Thus this line of reasoning is not only a non sequitur, but it's an exercise in hand waving — what magicians use to distract from the real issue.
If you are so confident that MacArthur is correct, then have the intellectual integrity to read Brown's book and see if you can refute it.
Oh, and when it comes to the Internet, don't believe everything you hear or read.
Selah.