From time to time, people ask me to mentor them. In this post, I want to address that topic and answer these questions.
Jesus gave us a particular model for ministry.
1. One tier of His ministry was to the masses wherein He gave specific ministry to the multitudes.
2. Another tier of His ministry was to 70 people whom He sent out on a special mission.
3. A third tier of His ministry was to the Twelve. Jesus shared the mysteries of the Kingdom with the Twelve and some women who Luke refers to as "The Women."
4. Beyond that, there was the smallest tier of all. Peter, James, and John, 3 of the Twelve whom Jesus included in special cases.
Note that the 70, the Twelve, and the 3 (Peter, James, and John) were all present when Jesus ministered to the multitudes, but they received special ministry beyond what He gave to the masses.
I've reflected on the Lord's four-tiered ministry model for many years.
Taking that as my model of ministry, here are four ways that I mentor people.
If you're one of the people who has requested mentoring, you'll want to avail yourself of all four ways:
1. My books are for every Christian who wishes to have my best thinking on a topic. In like manner, my blog posts are supplemental to my books, often dealing with current issues. My blogs and books don't duplicate each other. The content is different but complimentary, except when I will occasionally post an excerpt from a book.
2. My discipleship courses, personal periodic updates, and podcast are even more personal. As Maya Angelou once said, "Words mean more than what is set down on paper. It takes the human voice to infuse them with deeper meaning."
In my podcast, I often speak on some very heavy and controversial issues that I do not speak on anywhere else. At the end of this post, I'm going to explain step-by-step how to subscribe to my podcast in iTunes, and I will also explain how to listen to a podcast if you're a super busy person. 
3. Each year, I hold one or two live events for a small number of people who are serious about delving even deeper. Get on my Events list to find out where these events are being held.
4. At some future date, I plan to assemble a small ministry team. It will probably consist of more than 3 people, but it will follow the same principle of Peter, James, and John. Those who will be part of this team are those who have read all my books, listened to all my podcast episodes, and gone through my courses. And they are ready to delve deeper.
If you've not yet subscribed to the podcast in iTunes, here's how:
How to subscribe to the podcast in iTunes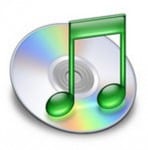 You can try doing it through this link: iTunes Subscribe
That should work on any computer. Try it on your smart phone or tablet also. If nothing comes up, then follow these steps:
1. Open the podcast app (it's a purple image of a microphone). If you don't see the app, you need to download it from the App store. It's free.
2. Once you're in the podcast app, search the Store by typing into the window: "Frank Viola podcast" and tap the search icon.
3. It will display all my podcast episodes.
4. Under "Podcasts" at the bottom, you'll see the "Christ is All" image for my Podcast. Tap it.
5. You'll then see a purple "Subscribe" button on the right. Click it and you're done.
6. To download past episodes, which I recommend, just click the download icon to the right of each episode.
I just posted episode #102 — MY UNFORGETTABLE MEETING WITH A.W. TOZER. More exciting episodes are coming.
If you don't have an Apple device
Beyond Pod (for non-Apple devices)
1. Go to the Podcast Directory and click "Search by Keyword."
2. Type in "Frank Viola."
3. Subscribe to the "Christ is All" podcast.
How to rate my podcast in iTunes
First, if you don't already have iTunes on your computer or smart device, you must download iTunes. It's free download. Here's the download link.
Second, click this link and you will be taken to my iTunes podcast page. Once you are on that page, click the blue View iTunes button on the top left and it will take you to "Launch Podcast."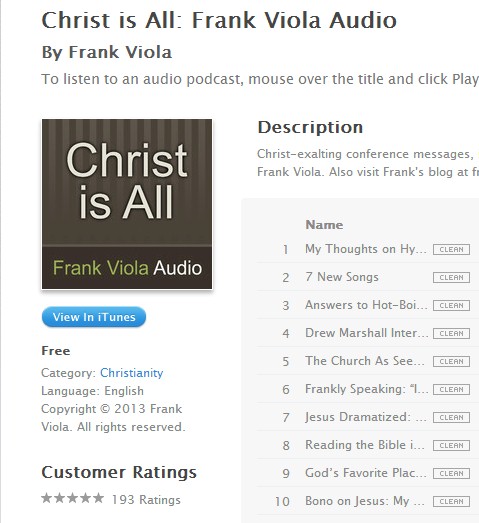 Third, once you are looking at my podcast in iTunes, click on the "Rating and Reviews" gray button at the top of the podcast page, to the right of the big "Christ is ALL" image. (You may have to create an iTunes account to do this, but doing so is very fast.)
Finally, click the "Click to Rate" star button you want. 5 stars would be appreciated, of course.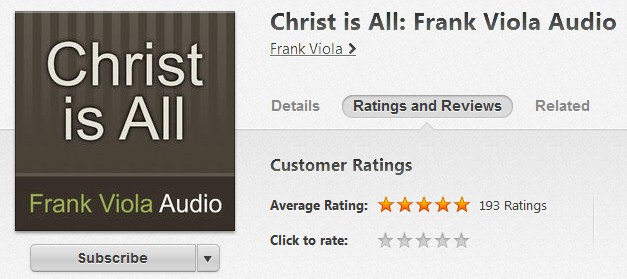 I suspect iTunes on the iPad or iTouch works the same way, but since I don't have either, I can't be positive.
If you are using a smart phone (iPhone, etc.)
* Open the iTunes Store app.
* Put "Christ is All Frank Viola" in the search window.
* Click the "Christ is All" podcast at the bottom . . . click OPEN.
* When the podcast is pulled up, you'll see the "Reviews" option in the middle. Click on it.
* Click "Write a Review." Rate it with the stars.
* Use a unique nickname. Name the review. Write a short review  . . . even one word. Click "Send."
How to find time to listen to the podcast
* I listen to podcasts while I'm exercising. For me, that's 3x a week. So when I'm on the treadmill, the elliptical, or the arc trainer, or even while pumping the iron, I have my iPhone on and my earbuds in, listening to a podcast.
* while I'm driving. If your car is equipped with bluetooth, you can run the podcast from your smart phone through your car speakers. If you don't have bluetooth, you can listen on your smart phone with the volume turned up or with ear buds on (some drivers don't like doing that and I'm not sure if there's a law against it in your state, but if you're a passenger, you certainly can.)
* When it's warm outside, I like to walk. Some people like to run. This is the perfect time to listen to an
* I've listened to a podcast while I'm washing the dishes or cleaning up part of the house. I have the podcast running on my iPhone and listen with ear buds in.
* When I'm waiting. Waiting for what? Anything. Waiting in a car line to pick someone up. Waiting at the dentist's office. Waiting at the bus stop.
Since I'm doing all of these activities already, it takes me no additional time to listen to a podcast.
Problem solved.