Update: Jesus Now hits the CBA (Christian Book Association) Best-Seller List for June 2014! Thanks to all of you got a copy of the book.
Welcome to the Jesus Now landing page. I'm happy to offer my latest work on the Present-Day Ministry of Jesus Christ. Check out the free resources and discounts below.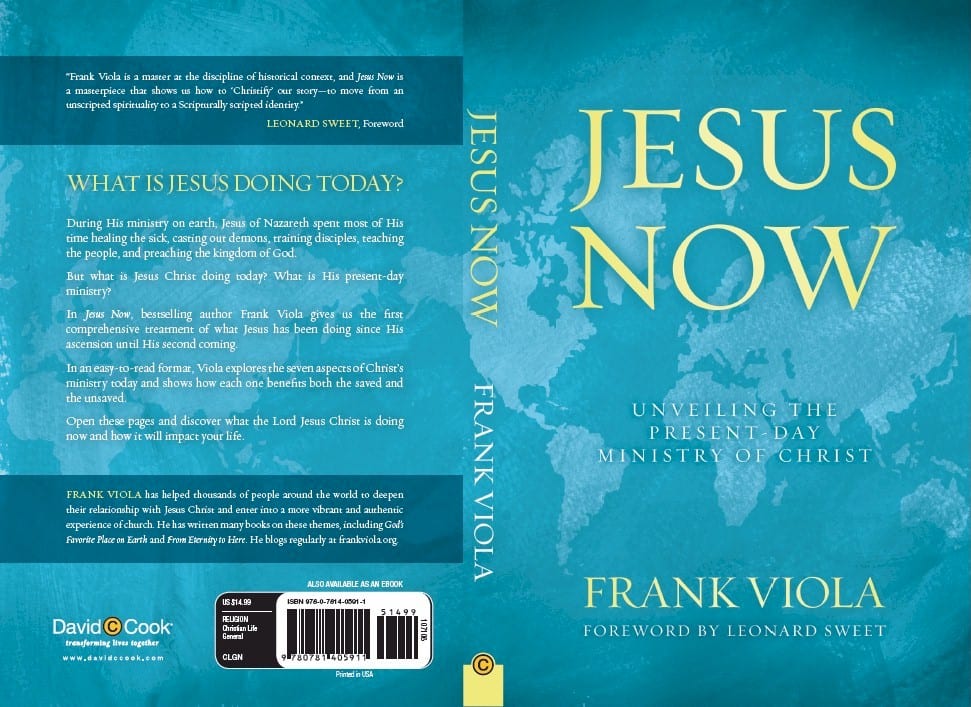 Jesus Now: Unveiling the Present-Day Ministry of Christ
"I'm not aware of any other work that so clearly fleshes out the present ministry of Christ. Using a style that is engaging and accessible to all, Frank discusses Jesus as our High Priest, our Shepherd, our Bridegroom. He then unpacks what the New Testament has to say about Jesus as the Author and Finisher of our faith, as the builder and head of the Church, and as Lord of the world. I believe readers will find this work not only informative, but transformative. The first chapter alone will set free many who live in condemnation."
Greg Boyd, Reknew.org
"Frank Viola is a master at the discipline of historical context, and Jesus Now is a masterpiece that shows us how to 'Christify' our story–to move from an unscripted spirituality to a scripturally scripted identity."
Leonard Sweet, from the Foreword
"Viola is an exuberant writer who knows his Bible. I would recommend Jesus Now to Christian leaders and discussion groups to understand the present-day ministry of Christ."
CBA Retailers & Resources
Parable.com paperback
Parable.com ePub
Amazon paperback
Amazon Kindle
Koorang (Australia)
Kalahari or Loot (South Africa)
Fishpond (free shipping to ANY country)
Resources
Fresh Light on Hebrews 4:12 – The Word of God is Sharper . . .
Greg Boyd's Review of Jesus Now
You Can't Join Jesus in His Present Work if You Don't Know What He's Up To
*** The JESUS NOW Study Guide ***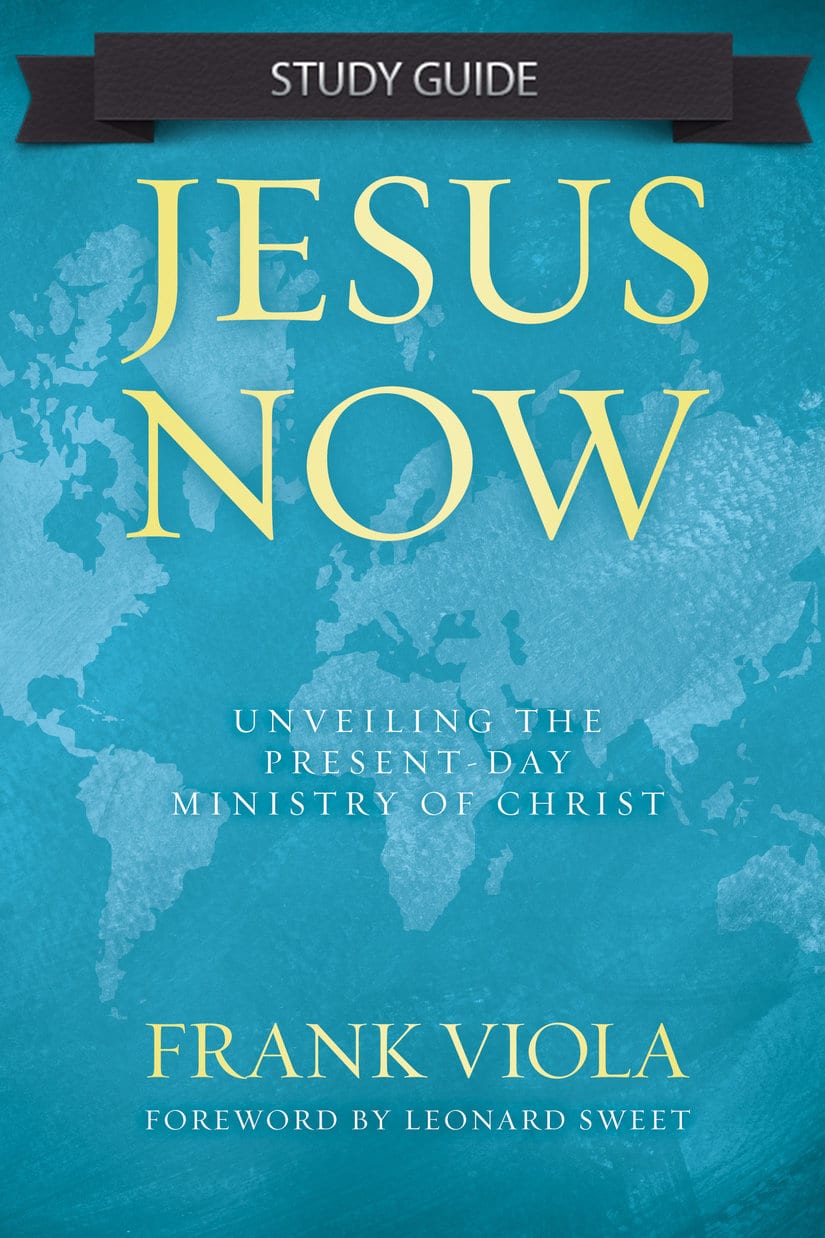 Sharing Jesus Now
At a friend's request, here are quotes from Jesus Now that you can share with friends via Twitter and Facebook. Just copy and paste them.
Jesus is "the same yesterday & today and forever, but His ministry has changed from "the days of His flesh" http://JesusNow.tv
Jesus Christ, our real high priest, rolls up His sleeves and joins us in the broken places of our lives. http://JesusNow.tv
The book of Hebrews is built around the theme of the Lord's present-day ministry as high priest. http://JesusNow.tv
The blood of Christ—having satisfied God's holiness—cleanses our consciences & removes our guilt & shame: http://JesusNow.tv
Your relationship with the Lord should b closer & more glorious than that of Abraham, Moses, & David Heb. 11:39-40 http://JesusNow.tv
When God forgives, He forgets (Heb. 8:12; 10:17). http://JesusNow.tv #JesusNow
Approaching God is never based on your works—whether good or bad. But upon Christ's work. http://JesusNow.tv
The Holy Spirit's illumination & Satan's accusation are two very different things. Discover how to know: http://JesusNow.tv
"He knows the worst about you and is the One who loves you the most." AW Tozer in http://JesusNow.tv
Never confuse legalism with lordship or libertinism with liberty. http://JesusNow.tv
Psalm 23 teaches us exactly how Jesus Christ is our Chief Shepherd. http://JesusNow.tv
Insofar as we follow the voice of the chief shepherd, we will remain safe, secure, and pleasing to His heart. http://JesusNow.tv
Jesus is the greatest lover in the universe—not in a cheap or sentimental way, but because He comes to where we are. http://JesusNow.tv
Before creation, God the Father ordained that He would give His Son an eternal companion who would meet His beating heart. #JesusNow
Just as the 1st Adam desired a companion, a lover, Jesus is seeking lovers—those who will return His love. http://JesusNow.tv
Paul was confident: what Jesus Christ began in your life will be completed, Phil. 1:6. He's the Author & Finisher of Our Faith: #JesusNow
Think of the conscience as a window by which the light of heaven shines through to our spirits. http://JesusNow.tv #JesusNow
The Bible tells us there are 5 different states of the human conscience. Which is yours? http://JesusNow.tv #JesusNow
Jesus is both the shape and the shaper—the former and the form—as He works Himself into us, conforming us into His glorious image #JesusNow
The beginning of the Christian life is easy. The end is joyous. But the middle is where the fiercest battles take place. #JesusNow
The Holy Spirit is the reality of Christ's presence. The Spirit dispenses to us the very life that Jesus lived. http://JesusNow.tv
The incarnation was Jesus leaving God's space to enter the human space. http://JesusNow.tv #JesusNow
The ascension was Jesus in His incarnation leaving the human space and going back to God's space. http://JesusNow.tv #JesusNow
Because of the Holy Spirit, the history of Jesus Christ becomes our story and experience. http://JesusNow.tv #JesusNow
The eternal purpose of God is centered upon making Jesus the absolute head over all things. http://JesusNow.tv #JesusNow
God's goal is the establishment of the complete sovereignty and supremacy of His Son. http://JesusNow.tv #JesusNow
Jesus Christ has not gone on vacation. Instead, He's active in the world in 7 key ways: http://JesusNow.tv #JesusNow
In the first century, there were three "gospels." And those three gospels are still with us today. http://JesusNow.tv #JesusNow
The closer someone gets to Jesus Christ, the less judgmental, self-righteous, harsh toward others, and selfish he or she will be. #JesusNow
The purpose of the 2nd Adam was to recover what the 1st Adam had lost in the fall & to destroy what Satan had gained. #JesusNow