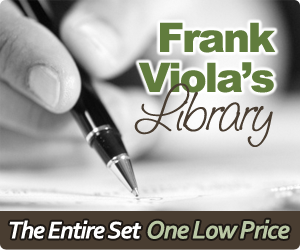 Frank Viola's Library includes the following 9 books:
Pagan Christianity (paperback)
Reimagining Church (paperback)
From Eternity to Here (paperback)
Finding Organic Church (paperback)
The Untold Story of the New Testament Church (paperback) 
Jesus Manifesto (hardcover)
Revise Us Again (hardcover)
Jesus: A Theography (hardcover)
God's Favorite Place on Earth (paperback)
Endorsements by John Ortberg, Matt Chandler, Tricia Goyer, Shane Claiborne, Ed Young, Jon Acuff, Mary DeMuth, Mark Batterson, Jack Hayford, Calvin Miller, Ed Stetzer, Reggie McNeal, Pete Wilson, Greg Boyd, Francis Frangipane, Scot McKnight, Steve Brown, Myles Monroe, Leonard Sweet, Margaret Feinberg, Rowan Williams, Dan Kimball, Alan Hirsch, Michael Spencer, Anne Jackson, Robert Banks, Jenni Catron, David Fitch, Phil Cooke, Howard Snyder, Andrew Jones, James Goll, Ralph Neighbor, DeVern Fromke, Don Francisco, Jon Zens, Milt Rodriguez, Tommy Barnett, Mark Chironna, Chris Seay, and many others.
To see details on each title, plus discounts and different formats, click here.
Retail Cost for All 9 Books = $143.00
Your Price = $77.00
Click the "Buy it Now" button below to order FRANK VIOLA'S LIBRARY
---
Don't Like to Order Online? Click here if you live in the USA and you want to order by check or money order.
IMPORTANT IF YOU ORDER ONLINE: If the order goes through, you will receive an email receipt. If you don't receive an email receipt, it means the order wasn't completed. So re-do.
Please follow these directions carefully. We suggest you print this out so that you can read it and follow it step-by-step.
1.) Click the "Buy Now" button for the book you want.  
2.) You will be taken to the shipping menu.
3.) Find your country in the drop down menu that says "Select Country." If you live in the United States, for instance, select United States. If you live in Puerto Rico, select Puerto Rico. If South Africa, click that. Brazil, select Brazil. If you live in the Philippines, select Philippines.

4.) Skip the state dropdown menu if you don't live in the States or Canada. If you live in the States, select the state. If you live in Canada, select the province.
5.) Type in the postal or zip code. South Africa is a 4 digit code. Others have 5 digits. 
6.) Click the "add shipping" button.
7.) You will see your shipping options. Click on the one you want.

8.) Follow ALL directions carefully.
9.) On the "Payment Options" page, Paypal is the payment service we use for handling ALL credit card purchases. If you have a Paypal account, use the right side "Option." If you wish to use a credit card instead, use the left side "Option." Fill out ALL information and complete the order. Receipt of confirmation will be sent to your email address. It's that simple.
IMPORTANT: You will receive an email receipt if the order goes through. If you do not, follow these steps again.