According to friends who are older than me, people hardly ever heard of someone getting cancer 30 years ago.
It was a rarity.
Today, however, it's all too common.
On that score, Jacquie Woodward has written a marvelous book based on research and her own proven experience called Slam the Door on Cancer.
I liked the book so much I interviewed Jacquie on the blog.
If you are interesting in how to avoid getting cancer and/or how to treat it, you'll want to read this interview, share it with your friends, and get the book.
Enjoy!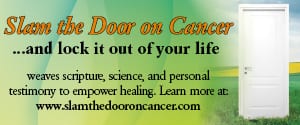 What provoked you to write the book?
When I was diagnosed with pancreatic cancer, I needed this book desperately. Available literature was piecemeal, and I had no time to chase down rabbit trails—I needed solid consensus factually (science) and truthfully (God's Word).
Doctors admitted they had nothing for me.  A physician friend told me "If you get through this, you will have to be your own doctor."  My faith had been latent for many years.  There was much to learn and time was of the essence.  My story illustrates the blessing of "seek and you shall find."[Continue Reading…]