Alton Gansky has written an important book called 60 People Who Shaped the Church. It's a historical work that's super easy to read.
Each chapter features one of the 60 game-changers in church history and dedicates a few pages to each one.
I caught up with Alton recently to talk about his book.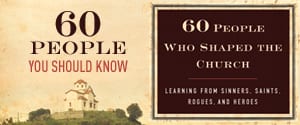 Instead of asking, "what is your book about," I'm going to ask the question that's behind that question. And that unspoken question is, "how are readers going to benefit from reading your book?"
Alton Gansky: Historian Bruce L. Shelley said many Christians suffer from "historical amnesia." Michael Crichton, novelist, said, "If you don't know history, then you don't know anything. You are a leaf that doesn't know it is part of a tree." 60 People Who Shaped the Church is an effort to address that problem. The church did not spring into existence full form, it developed over time and passed through many fires of controversy. Much of that has been forgotten by the person in the pew. My book is an effort to show the people behind the church—the sinners, saints, rogues, and heroes—and to do so in a way that even those with no inclination toward history can enjoy. The book is written for the non historian.[Continue Reading…]