Today I interview Rachael Jackson, the Editor-in-Chief of Shattered Magazine. This is a quality magazine for Christian readers.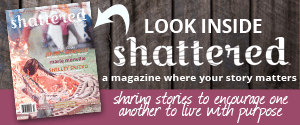 What provoked you to start Shattered magazine?
I am West Point graduate, for Army Captain, and Apache Pilot. At one point, my identity was firmly planted in that of soldier. I took the road less traveled and excelled in my demanding environment. Feeling a sense of pride and accomplishment, yet still missing something in life, God began to systematically dismantle everything I thought I was and teach me what it truly means to rely on, satisfy myself with, and pursue a relationship with Jesus.
Through experiencing and overcoming the challenges in my life and witnessing hardships in the lives of people I love, a strong desire grew in my heart to reach out to those who struggle in life (and we all do at one time or another) and connect them with an all-powerful and loving God who cares enough to walk us through our valleys and rejoice with us on our mountaintops.
As the founder and editor-in-chief of Shattered Magazine, my desire is to create a publication that can cut through the noise of the rest of the world and help point people towards a truly satisfying and rewarding life (now and in eternity) – regardless of temporary afflictions or momentary struggles.[Continue Reading…]