Today I'm reviewing Caesar Kalinowski's book Transformed.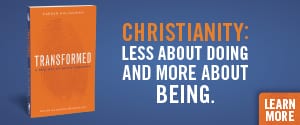 Caesar wrote the book to try to awaken the hearts of people to their true identity and birthright as Christians.
His premise is that the Christian has been instantly transformed and given a new identity. So what is their new identity?
According to Kalinowski, they have been part of a family of "missionary servants," sent to serve the world and make disciples of Jesus.
Kalinowski tells stories of people fleshing the above out in real life.[Continue Reading...]