T. Austin-Sparks was 49 years old when Watchman Nee visited him in England and spent 8 months with him. Nee was 34. This meeting was a turning point in the history of the church, and one of the results was Nee's The Normal Christian Church Life in English.
Note: Watchman Nee's groundbreaking book The Normal Christian Church Life was translated from Chinese to English with the help of Sparks and his friends. The Normal Christian Life by Watchman Nee is a different book, though it was based on many of the spoken messages that Nee delivered on this same trip.
As far as I'm concerned, T. Austin-Sparks and Watchman Nee had the greatest revelation of Jesus Christ and God's Eternal Purpose in Him since Paul of Tarsus. Their insight into Christ exceeded that of Augustine, Calvin, Luther, Wesley, etc.
Yet, as with most of God's choicest vessels, few people know of them today.
And as is the case with both Jesus and Paul, both men, during their lifetime and even to the present day, were lied about, slandered, and attacked mercilessly by their "Christian" detractors. But God preserved their testimony and their work continues unabated, all these years later.
Here's a rare photo of Watchman Nee and T. Austin-Sparks together. Giants in the land!
Lord, give us days like that again. Where your choicest vessels whom you've called to restore your Eternal Purpose come together to labor arm-and-arm.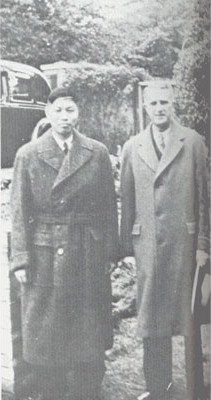 —
Related:
T. Austin-Sparks: A Major Influence on My Life and Ministry
Letters Regarding Watchman Nee & T. Austin-Sparks