A few weeks ago, B&H publishers sent me a copy of their new book, Jesus, In His Own Words,
authored by the renowned Greek scholar Robert Mounce.
The book is incredible.
First, it weaves all four gospels together to create one unified narrative in chronological order. So you are reading all four gospels as one story in its historical sequence from eternity past with God the Father (John 1), to Bethlehem, to the ascension.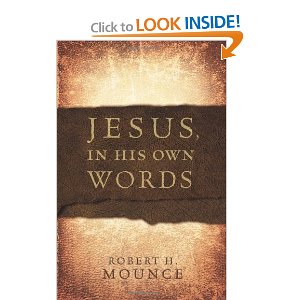 Second, it removes chapters and verses so the narrative reads as a free-flowing story. The biblical references are placed in an inconspicuous place so they do not break the flow.
Third, Mounce goes further and makes the story an autobiography of Jesus. He changes all the places where the original says "And Jesus" to "And I." He changes "He said" to "I said."
For example:
At that time I went from the town of Nazareth to Galilee to the Jordan River to be baptized by John. But John tried to talk me out of it, saying, "I ought to be baptized by you; why then are you coming to me for baptism?" (p. 25).
In other words, Mounce brilliantly turns the story of Jesus in the gospels to an autobiography, where Jesus is telling His own story.
Amazing.
Fourth,  Mounce creates his own beautiful translation of the original gospels that is accurate and highly readable. Robert Mounce is a Greek scholar who has served on numerous Bible translating teams (New Living Translation, New International Version, English Standard Bible). He is highly qualified for this particular work, and he hits the ball out of the park with it.
The book uniquely presents the greatest story ever told in a fresh and living way . . . one that comes from the Lord's own lips. It's a modern-day Diatessaron (harmony of the gospels). Mounce brings the gospels to life by this approach, and you can see the whole sweeping story from beginning to end in its chronological sequence.
(Incidentally, Mounce's book builds on two previous out-of-print works by combining them together. Johnston Cheney's ground-breaking, pioneering work, The Life of Christ in Stereo—retitled The Greatest Story—and Frank Laubach's The Autobiography of Jesus Christ. Those happen to be favorites of mine, but I like Mounce's work better.)
I'm now recommending this book as the precursor to my The Untold Story of the New Testament Church, which tells the story from Pentecost to Patmos (including all of the epistles) in chronological order as one sweeping narrative.
Thank you, Robert, for this beautiful work.
Order JESUS IN HIS OWN WORDS