Today, I interview renowned New Testament scholar Ben Witherington (or Ben Witherington III, a.k.a BW3).
This is the fourth New Testament scholar I've interviewed on the blog to date.
So if New Testament scholarship is of interest to you, you can also take a look at my interviews with N.T. Wright, Scot McKnight, and Craig Keener.
Ben Witherington's forte is the social world of the first century. Out of everything that Ben has done, I appreciate his Socio-Rhetorical Commentaries on the New Testament the most. I equally appreciate his two books on women in ministry: Women in the Earliest Churches and Women in the Ministry of Jesus.
Enjoy the interview.
—
Frank: You've written a series of commentaries on the New Testament entitled Social-Rhetorical Commentaries. For the non-academic person, explain what a "socio-rhetorical commentary" is exactly and why would someone want to read one?
Ben Witherington: When we think of history we usually think of wars and the like, but in fact there is another whole kind of history social history, the history of customs, cultures, laws, religion, and ordinary everyday life. In fact social history often tells us more about a culture and a world than the recounting of its conflicts.
The commentaries I write have focused on the social side of history not least because it is so often ignored and neglected. Obviously things like the customs and structures of normal family life are of relevance to the discussion of the NT, for example the passages on marriage and family, and the family structure.
The other side of socio-rhetorical is rhetoric, the ancient art of persuasion. To a degree that we can barely fathom, ancient cultures were oral and rhetorical cultures, not cultures of texts. Most ancients could not read or write. In such a setting speaking was at a premium, and for a new evangelistic religion like Christianity, persuading was a must.
The NT is full of evidence that the earliest Christians used rhetoric, the ancient art of persuasion to convince all sorts of people to become followers of Christ. This is especially evident in Paul's letters or say in the speeches in Acts or in Hebrews where the whole structure of ancient speeches is recapitulated, and when you find the thesis statement, you can figure out what a whole discourse like Romans is about (see Rom. 1.16-17 or  1  Cor. 1.10).
Frank: One of the things that sets you apart from most scholars is that you have also written a series of novels. Explain your novel series, the plotline, and the various books in the series.
Ben Witherington: I was an English major at Carolina, back B.C. (by which I mean before computers) at the dawn of time when the earth was still cooling (i.e. in the early 70s). After decades of doing ministry it became plain to me that most lay people do not read technical works of theology. So I decided the best way to squeeze some history and theology into them painlessly is by writing some novels based in history archaeology and theology.
The Art West novels (of which four are published and three more are in the works) are stories about a modern evangelical NT scholar whose particular field is archaeology. He has all kinds of exploits at famous archaeological sites like Corinth or in the Holy Land, but he is also a person who cares deeply about his own relationships with Jews and Muslims.
So there are two other main characters in these novels — Grace Levine a Jewish epigrapher who teaches at Hebrew University in Jerusalem, and Kahlil el Said a Muslim antiquities dealer in the Cardo in the old city of Jerusalem. They manage to have all sorts of adventures together involving—stolen antiquities, trials, amazing discoveries, kidnapping, and general daring do. The novels now are all on Kindle at a very reasonable price, and have been well received. Each is about 250 pages, most have color pictures of the sites, and a good time is had by all who have read them.
Frank: Recently I wrote a blog post on my 4 best and most important books. Many of my readers were surprised by the books I didn't select to be part of that list. If you had to burn every book you ever penned, and left behind only 4, what would those 4 books be and why?
Ben Witherington: Selecting only four books for a desert island is a hard thing. Obviously, one of them would be my Greek NT. I would enjoy memorizing it finally. Secondly, I probably would take the novel I am working on, to give me something productive to do. As for other people's books, I probably would take my colleague Craig Keener's Bible Background Commentary, and lastly I would take something just for fun — like the hilarious book by A.J. Jacobs, A Year of Living Biblically.
Regarding which four of my own have had the most impact and have been in some way game-changers:
1) Women in the Ministry of Jesus is the best selling Cambridge monograph of that sort of all time, and an academic book that helped changed the way people discussed women in the NT.
2) The Christology of Jesus made even a bigger splash in that it forced even liberals to take seriously Jesus' messianic self-understanding, and even Jewish scholars liked it.
3) For whatever reason the Acts commentary was ground-breaking even though Lord knows I've done many commentaries before and after that.
4) Without question my Indelible Image, a comprehensive 2-volume study of both the discrete and the combined witnesses in regard to the theology and ethics of the NT is the one I would most hang my hat on.
Frank: What else are you working on now?
Ben Witherington: I am working on an entry level Introduction to the NT for Oxford U. Press which they think will eclipse many of the existing ones as a basic textbook. It's hard work. I've never had a book reviewed by 8 people twice just in the editing process and then having to do more and more revision. I guess I am meant to go on to perfect.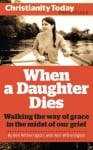 My Luke commentary (which you keep asking about) is in the works, but it all depends on when A.J. Levine finishes her part. We live in hope. Two other books which are about to come out I am very pleased with. Daily Life in Corinth is a novella with lots of Closer Look sections — the story of a freedman named Nicanor entangled in all kinds of situations in Corinth. In this little book, I explain what it would be like to live a week in Paul's Corinth. IV Press is publishing it in May.
Lastly there is my little spiritual formation book A Shared Christian Life (Abingdon). On a sadder note there are my reflections on grieving the loss of our sweet daughter Christy, who died at 32 in January. Christianity Today has published the ebook about this called When a Daughter Dies. It's apparently doing very well on Amazon and Kindle and all the proceeds will go to a scholarship fund in her memory at Asbury.
Frank: Think about your legacy. What would you say is your major contribution to the body of Christ?
Ben Witherington: I would hope that my legacy would be that I have been a faithful servant of Christ in both word and deed, and that I have tried hard to love people as Christ loves them, and serve people as Christ did. Most people, the million or so who have read my books, only know me from my writings, but I spend much of my time teaching and preaching, and I have pastored six churches as well. I would hope people who have lived near me would know me as a faithful servant of our church and of my family and friends and a good colleague at Asbury and elsewhere where I have taught.
Frank: You are extremely prolific. Give us an idea of your writing routines. Both daily and weekly. What does a normal day look like in the writing world of BW3? What does a normal week look like in your writing routine?
Ben Witherington: I don't really have a writing routine. I just write when I have time, which would usually be on Wednesdays and the weekends. Mainly the thing is writing is not a chore for me. It's a gift God gave me, and I've been writing since I was little, and I was published before I got out of high school. I am one of those persons who finds out what he thinks by getting it down on paper, so writing is like breathing to me — it's essential, and once I get it out of my system, I sleep better. 🙂
Frank: I was profoundly saddened when I heard about the loss of your young daughter. Can you share a little about that and what you'd want to say to (1) people who have lost loved ones themselves, and (2) people who wish to properly console someone who has lost a loved one?
Ben Witherington: Frankly it is difficult to talk about the loss of my sweetpea, Christy. No parent wants to lose a child or outlive their children. It's every parent's nightmare. Ann and I are still recovering from what happened January 10th (she died of a pulmonary embolism — quite unexpectedly). Ann and I have written about this in a little ebook called When a Daughter Dies.
It includes her life story and lots of reflections on death and grieving with hope, from a Christian perspective. There are many things people don't tell you, like when a child dies without a husband or heirs or a will, then it's a total mess. We are still sorting out her bills and furniture etc. with proceeds to a scholarship in her name. Honestly it's heartbreaking.
Somedays when you give away or sell some of her favorite stuff you feel like you are giving away your daughter little bits at a time. Ann and I have resolved to focus on positive things and become better, not bitter, from all this. But don't let anyone tell you it isn't heartbreaking just because you're Christians — it is.
Frank: Tell us about your favorite pastimes . . . things does BW3 like to do when you're not writing?
Ben Witherington: In my spare time (I use the term loosely), I love music and sports and have done both all throughout my life. I use to be a distance runner and ran marathons 20 years ago (including finishing the Boston marathon), but now I'm a slow jogger, and I walk nine holes of golf every week. I also have been a musician and music lover all my life. Classical, rock n roll, Christian music, and more recently learning jazz has been a passion of mine. I still love it all. Oh yes, I would be remiss to mention I am a fan — of the Tar Heels, Red Sox and Braves especially.
—
For those of you who are into reading vigorous theological discourse, you might find my interaction with Ben some years back of interest. In it, we hammered out our disagreements on ecclesiology. It was a robust yet civil dialogue . . . and lots of fun.