Welcome to the God's Favorite Place on Earth landing page.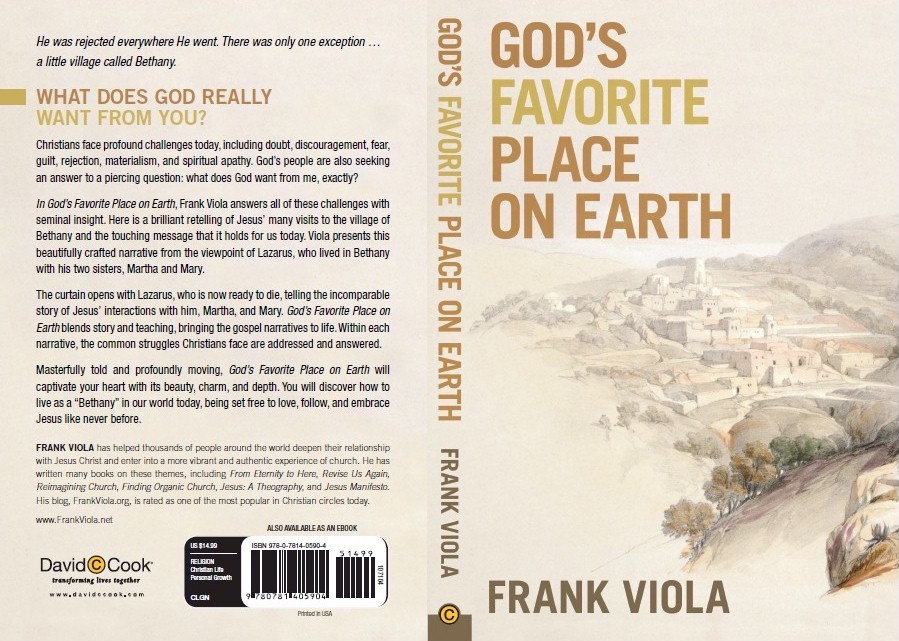 *** If you are looking for the samples to the Living by the Indwelling Life of Christ course, go here.
God's Favorite Place on Earth hit #13 on Amazon.com out of all 12 million titles and made #6 on the Salisbury Post BS List and the FamilyLife BS List (below).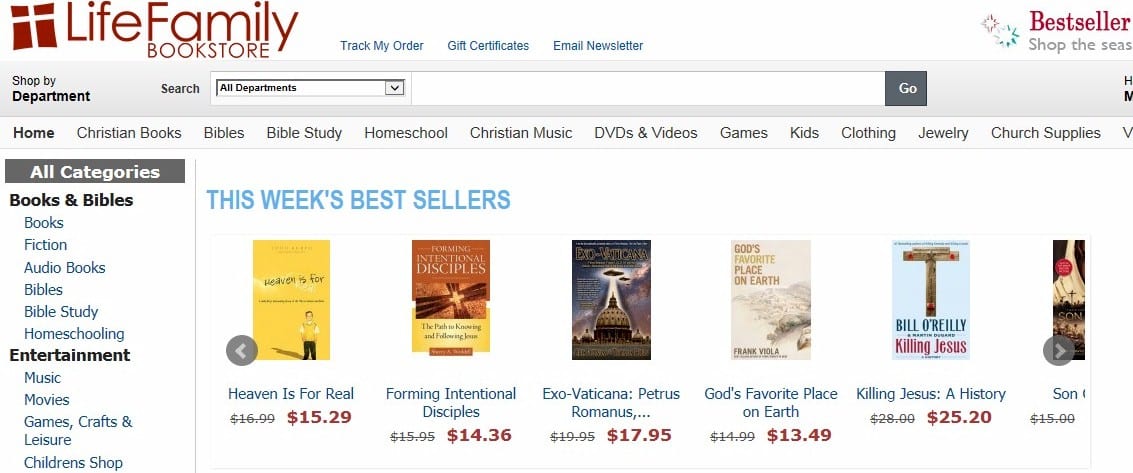 The page includes the following:
* The FREE Book Sampler on "Bethany" which contains 20% of the book.
* The 18 common struggles & problems the book seeks to solve.
* The video trailer.
* 47 endorsements & testimonials from Christian authors (at the bottom).
* All the retailers to buy the book on discount.
* Free samples of the course, Living by the Indwelling Life of Christ
About the Book
Have you ever asked yourself, "There's got to be more to the Christian life than this?" Do you sometimes struggle with discouragement, doubt, fear, guilt, bitterness, spiritual burnout or spiritual complacency? Do you ever feel you're just not doing enough to please God? And have you ever been puzzled because God allowed something to happen in your life that you didn't understand?
If you have any of these questions, you're not alone.

A New Project Born From Experience
As someone who has been following Jesus for over 30 years and who has been a part of numerous movements, denominations, churches, and parachurch organizations, I know the struggle against fear, doubt, discouragement, consumerism, spiritual burnout and spiritual complacency. I also know the pain of being misunderstood. The heartache of being unjustly criticized. The agony of being rejected.
But I've found a narrative in the Gospels that speaks to all of these challenges powerfully. So much so that it changed my life.
This is why I wrote God's Favorite Place on Earth. It contains lessons that were born out of my own struggles, challenges, mistakes, and disappointments.
"In Frank Viola's hands, the story of Lazarus—like Lazarus himself—once again comes to life. In a world where hope is battered and life can so easily beat down the human spirit, we are reminded once more of the possibility of becoming a host of Life. The gift given to Lazarus can be yours as well."
~ John Ortberg
Senior pastor at Menlo Park Presbyterian Church
Author of Who Is This Man?
Max Lucado Meets A.W. Tozer
Someone who read God's Favorite Place on Earth made the following remark about it.
I think your book is best described as Max Lucado meets A.W. Tozer. The book has the poetic, word-smithing, breezy and easy to read style of Max Lucado combined with the depth and insight of A.W. Tozer. It's an amazing book.
God's Favorite Place on Earth is different from anything I've ever written. It's a work of biblical narrative that combines story with non-fiction. It's a fast and easy read.
The premise of the book is simple and 100% Biblical: when Jesus was on the earth, He was rejected everywhere He went . . . from Bethlehem, to Nazareth, to Jerusalem. The only exception was the little village of Bethany.
The curtain opens with Lazarus, who is now ready to die, telling the incomparable story of Jesus' interactions with him, Martha, and Mary. God's Favorite Place on Earth blends drama, devotion, theology, biblical narrative, and first-century history. Within each narrative, the common struggles that we Christians face are addressed and answered.
So if you enjoy escaping into an engaging story and reading for entertainment, then this book is for you. But if you enjoy thoughtful books packed with theological insights, this book is for you too. It combines both elements under one cover.
What follows is perhaps one of the greatest compliments I've ever been paid:
"The best thing I can say about Frank Viola is this: When I read his books—and I read them all—I don't think much about Frank Viola. I think about Jesus. And I learn to love Him more. This book is no different. Read it, and you'll find yourself thinking, if you're like me, 'I knew Jesus was great, but… Wow!' And that, at least from me, is as good as it gets."
~ Brant Hansen
Radio personality and blogger

Why Read the Book? Conquering 18 Struggles
Using story, biblical narrative, and practical teaching, God's Favorite Place on Earth will equip you to:
Gain God's peace and presence in the midst of your worst storm.
Grow to the place where you are beyond being offended.
Truly forgive and release those who have rejected you.
Learn how to live life without fear of anything.
Trust God when He doesn't meet your expectations or doesn't appear to fulfill His promises.
Increase your faith and overcome doubt.
Defeat discouragement with a new perspective on Jesus.
Find out what Jesus means and doesn't mean by the command, "Follow Me."
Be set free from a guilty conscience and delivered from spiritual burn-out.
Learn how we've been misinformed about Mary and Martha and why this is important for your own walk with God.
Handle rejection, misunderstanding, and unjust criticism, especially from fellow Christians.
Be set free from bitterness.
Discover what God is looking for beyond everything else, solidifying the vision for the Christian life into "one thing."
Identify what touches the heart of Jesus the most. (It may surprise you.)
Be inspired to serve the Lord with renewed vigor and zeal.
Have your heart awakened with newfound love for Jesus by seeing Him afresh.
Find deliverance from materialism (consumerism) and discover the meaning of "wasting yourself" on Jesus.
Respond wisely to well-meaning friends when they give you poor advice during your suffering.
These are just some of the many lessons you'll find in God's Favorite Place on Earth.
Watch the Video Trailer
One person remarked that God's Favorite Place on Earth reads like a movie on paper. Here's a preview.
"Frank Viola's pen and voice are consistently both penetrating and trustworthy. Beyond his invitingly beautiful writing skill—which makes reading a joy and a sight-seeing tour that brings God's Word into 3-D when he relates narrative passages, I'm grateful for the depth of his themes. Frank probes the 'deep calls unto deep' content of the Holy Spirit's call within the Scriptures, and awakens that hunger that must be regularly fed to secure renewal in each of us. God's Favorite Place on Earth is the kind of book I've discovered I need to periodically find and read; thereby keeping 'the fallow ground' of my own soul plowed, re-sown and watered, in order to continue fruitfulness and to deepen the root system of my spiritual walk and growth in Christ."
~ Pastor Jack Hayford
Chancellor of The King's University, Los Angeles

Read the FREE Sampler
I love going to the mall and trying the samples in the food court. The samples help hungry customers decide which restaurant they want to eat in.
Because I regard this book to be my life's work, I want every Christian to get it. In order to help that decision, I'm giving away a free sample of the book. The Sampler contains 20% of the book.
Click here to download the Sampler. You are free to post it on your blogs, websites, and send it to friends. In fact, I'd encourage you to do this.
"Frank Viola's new book God's Favorite Place on Earth couldn't have reached me at a better time. I've been grappling with the pain of being rejected, misunderstood, and judged by other Christians for a few years now. I had no idea how dangerously bitter I'd become. Frank's book spoke directly into my heart, giving me much-needed perspective on the way God reconciles these difficult experiences, both in Jesus' life in the flesh and in ours. I realized how I had slipped into the modern church's focus on the self and success, and how that set me up to be bitter instead of forgiving, cynical instead of surrendered. I had forgotten that God's greatest work comes in and through my weakness and brokenness. This book is a timely and poignant reminder, through the story of Jesus' life and His one safe place, of the way God can redeem the pain of rejection by fellow believers and do amazing things through our own weakness when we embrace our brokenness and surrender to God."
~ Joy Bennett
Writer, editor, and blogger at joyinthisjourney.com
You can purchase God's Favorite Place from your favorite retailer. Here are some of them:
Fishpond (free shipping to ANY country)
Testimonials About God's Favorite Place on Earth
"Out of the rubble of the crumbling religion of Christendom is arising a new tribe of kingdom revolutionaries who are captivated by a vision of a God and a kingdom that is anchored in the humble, enemy-loving, self-sacrificial love manifested on the cross. And one of the boldest, most insightful and certainly most creative leaders of this rising movement is Frank Viola. Combining masterful storytelling, historical knowledge, biblical insight and practical wisdom, Frank artfully uses the Gospels' depiction of Lazarus and the small town of Bethany to lay out a beautiful and compelling vision of a God who longs to make every human heart and every church 'His favorite place.' In the process, Frank prophetically exposes the subtle but all-important difference between hearts that embrace Jesus and hearts that merely appear to do so. It is the difference between the unimpressive town of Bethany, where Jesus was welcomed and worshiped, and the much more impressive Jerusalem, which crucified Him. This is a beautifully written, timely, prophetic work all would benefit from reading!"
Greg Boyd, pastor and author of Benefit of the Doubt, Present Perfect, and The Myth of a Christian Nation
"A lot of people write books, Frank writes stories and in this one we once again see why he's such a master. Honored to call him a friend, excited to call him an author I love to read."
Jon Acuff, Wall Street Journal bestselling author of Start, Quitter, and Stuff Christians Like  
"God's Favorite Place on Earth realigned my heart toward Jesus and His mysterious, confounding, surprising, beautiful ways. It's not often I learn something new when reading a book, but Frank Viola's sharp storytelling and insightful interpretation made me hunger for more of the real Jesus. Pick up this book if you need a reversal in your Christian life; it will not disappoint."
Mary DeMuth, author of Everything: What You Give and What You Gain To Become Like Jesus
"Frank Viola's God's Favorite Place on Earth is a fast-moving, groundbreaking look at the Christian's struggle against legalism, discouragement, doubt, rejection, and spiritual complacency. Told through the voice of Lazarus, the narrative is intellectually gripping and emotionally touching. This is a masterfully engaging book that distills the vision of the Christian life into one focused quest: To be God's favorite place on earth today. I recommend this little volume to all Christians and Christian leaders. It brings several familiar Gospel stories to life in a fresh and compelling way." 
Mark Batterson, New York Times bestselling author of The Circle Maker
"As masterly as a Cezanne canvas or a Stravinsky score, Frank Viola surpasses himself in his best book yet—a work of serene, soaring magnificence. Part novel, part biography, part theology, part Bible study, Frank's imaginative touch and command of prose haiku leaves the reader resolved more than ever to be a Bethany—God's favorite place on earth."
Leonard Sweet, Drew University, George Fox University, Chief Contributor to sermons.com
"My Sunday School teachers did the best they could, but growing up, the biblical people and accounts were no more than flannel graph images in my mind. They existed at about the same level as the tooth fairy and the Easter bunny. As I've become a student of God's Word, I've fallen in love with the real people who find themselves in the pages of the Bible. I learn so much from their dreams, their failures, and especially their surrender. Reading God's Favorite Place on Earth by Frank Viola, my soul began to burn from Chapter One. To delve into Lazarus' heart and thoughts … I received a beautiful glimpse into the life of Christ on earth. Lazarus' stories make a perfect foundation for God's truth, God's intimacy. I can't wait to share this book!"
Tricia Goyer, USA Today best-selling author of 35 books, including The Promise Box
"Perhaps it's because I work in a creative business, the idea of 'place' has always been important to me. Where I find inspiration, where I write, or where I take time off, matters because I've discovered that where I create is the key to what I create. In spite of that, and in spite of my Ph.D. in Theology, I had never considered the importance of Bethany in the life of Jesus. Frank Viola's new book God's Favorite Place on Earth helped me understand why that one location meant so much to His life and ministry – and why a loved and valued place can transform yours." 
Phil Cooke, media consultant and author of Unique:  Telling Your Story in the Age of Brands and Social Media
"This book exudes love for Jesus. Its creative format offers an inviting window for valuable meditations on what we can learn about the Lord and our relationship with Him from His life and that of some of His closest friends."
Craig Keener, Professor of New Testament at Asbury Seminary, author of The IVP Bible Background Commentary 
"Reading God's Favorite Place on Earth illuminates the story of Jesus in such a new and captivating way that it's bound to impact your life. Read this powerful book and reconnect with the Lord's heart for every Christian, every church, and every city. "
Pete Wilson, pastor and author of Plan B and Empty Promises 
"God's Favorite Place on Earth is engaging fiction, poetry, theology, and devotion all put under one cover. The book brings new insight and perspective to Jesus and His most intimate friends – Lazarus, Mary, and Martha – with creative language that is beautiful and inspiring. It's emotionally moving and brings the reader back into the Gospels as an observer, addressing some of our deepest struggles as Christians in the process."
Anne Marie Miller, author of Mad Church Disease: Overcoming the Burnout Epidemic and Permission to Speak Freely: Essays and Art on Fear Confession and Grace, speaker and blogger
"In the scope of the Biblical story, weren't Lazarus, Martha, and Mary just minor figures living in a unimportant village? That's certainly what I assumed until Frank Viola showed me what I had been missing. With a mix of creative narrative and pastoral insight, Viola reveals what these friends of Jesus meant to Him—and what that means for us."
Joe Carter, editor at The Gospel Coalition and The Action Institute
"Frank Viola is a powerful story teller. The story in this book changed Frank's life. That's a powerful statement. After reading the pages of this book, I'm convinced that learning God's favorite place on earth might just change yours also. Do you need some encouragement? Ever feel rejected in your Christian walk? Read this book!"
Ron Edmondson, pastor and blogger at ronedmondson.com
"More than a devotional, better than an academic study, God's Favorite Place on Earth is a deeply moving pastoral book that will build your faith. Turn its pages slowly, pause between chapters and allow yourself to be immersed into the world of the New Testament. Prepare yourself for an encounter with Jesus the Galilean yet the very Son of God."
David Fitch, B R Lindner Chair of Evangelical Theology, Northern Seminary, author of Prodigal Christianity
"My friend Frank Viola is one of my favorite authors. He has the rare ability to make theology beautiful and grace delicious and practical. In God's Favorite Place on Earth, Frank teleports you back into the ancient 1st Century soil of Bethany, Jesus' favorite place on earth, and a whole new world of grace will unfold like drama right before your eyes. This book will move you to love Jesus more. "
Derwin L. Gray, author of Limitless Life: You Are Not Your Past When God Holds Your Future, speaker and pastor
"God's Favorite Place on Earth beautifully creates a powerful and moving portrait of the humanness of Jesus and His dearest relationships.  Taking a story well-told, Frank Viola engages the voice and view of Lazarus to bring a new perspective and moving relatability to Jesus' life on earth. Incredibly thoughtful and moving."
Jenni Catron, Executive Director of Cross Point Church and author of Just Lead!
"Frank's deep love for Jesus abides in every sentence of this unique and beautiful book. He makes the dry bones of the old stories-from-Sunday-school dance with beauty and resurrection power. God's Favorite Place is a call, a challenge, and a love story, all at once."
Sarah Bessey, author, editor of A Deeper Story, and blogger at sarahbessey.com
"Familiar stories scattered in different parts of the gospels are woven together into one narrative in this innovative work. Fictional elements help bring the events to life, and each chapter concludes with practical teaching to drive home the message that if you choose to welcome Jesus into your life, remarkable consequences will follow. Frank's refreshing and infectious passion for Jesus permeates every word."
Adrian Warnock, author of Raised with Christ and blogger at adrianwarnock.com 
"Hold on for a mind-bending, Spirit-honing journey. I've been a fan of Frank's writing for many years now, and this book distills all of the things I love best about his books. Here, for the first time, Frank not only offers great wisdom and theological insight, but also offers narrative passages to take us back to the sights, sounds, and realities of Jesus' day. We are there at the table with him in Bethany. We are there at His side when He calls Lazarus from the tomb. To encounter Jesus personally is to be changed forever, and Frank offers that opportunity by taking us to God's Favorite Place on Earth."
Eric Wilson, New York Times best-selling author of Fireproof, 1 Step Away, andOctober Baby
"Here's an invitation to experience Jesus in a remarkably personal way, through the eyes of His close friend Lazarus. As Lazarus retells 'the old, old story,' we find ourselves there, with him, with his family, with Jesus, watching Jesus at work and enjoying the warmth of His presence and the power of His influence. Frank Viola draws us into a powerful drama very much at home in the Gospels and faithful to the first-century world, and then he helps us to personalize Jesus' message."
Joel B. Green, Ph.D. Professor of New Testament Interpretation & Associate Dean for the Center for Advanced Theological Studies, Fuller Theological Seminary
"God's Favorite Place on Earth is old school, time-tested wisdom delivered in a highly creative format. I not only hope this book gains a wide reading, but an equal application. I know it spoke to my heart and gently challenged me to follow Jesus ever more closely, to make a Bethany in my heart."
Todd Hunter, Anglican bishop, founder of Churches For the Sake of Others, author of Our Favorite Sins and Christianity Beyond Belief
"Without question, this is Frank Viola's most exhilarating book yet. Read it to see into the heart of Lazarus. Read it to experience the tenderness of Jesus like never before!"
Dr. Andrew Farley, bestselling author of The Naked Gospel and God Without Religion
"Frank Viola has a rare gift for helping us all to understand the intimate union we share with the Father through Jesus Christ. God's Favorite Place on Earth will stir your emotions and empower you to open yourself to be a 'Bethany' where Jesus feels right at home. This is one of those books you'll read twice and then share with a friend."
Steve McVey, author of Grace Walk
"After reading God's Favorite Place, I find myself longing to be in each Bethany story with Jesus, tasting the food, smelling the perfume, seeing the man raised, and watching Jesus soar to the heavens. But more so than this desire, I now long to be Bethany to those around me. Thanks Frank, for helping me see."
Pete Briscoe, pastor at Bent Tree Bible Fellowship, Telling the Truth
"History is always informative, but it takes an artist to make it inspirational. By weaving imagination and history together, Frank Viola has crafted a captivating tale of a place where God 'hung out' with His friends and touched real human life. You won't regret the time you invest in exploring this ancient villa through Frank's creative mind!"
Brandon Cox, pastor and editor of pastors.com
"Few authors challenge me in my faith like Frank Viola. This book and the stories it contains will force you to face the myth of religion and instead adopt a life of deeper dedication to God, to find your own Bethany. It sure did for me."
Jeff Goins, author of Wrecked: When a Broken World Slams into Your Comfortable Life
"God's Favorite Place on Earth invites you to discover in a fresh way God's desire to live in close relationship. Many struggle today from self-doubt and discouragement. They feel stress at home, school and work. This book invites you into the life and experience of Lazarus and his small village of Bethany. In an easy to read and creative way, Viola tells the story of Lazarus and why Jesus, as God with us, found Bethany as His favorite place on earth. This journey ends with a compelling vision for believers to become God's Bethany to their own communities. This book will inspire all who read it."
Bruxy Cavey, teaching pastor at The Meeting House and author of The End of Religion
"Do you know what it feels like to be rejected? Do you long for the chance to start over in life? Do you yearn to find someone worthy of the love you have to give? Then take a walk with Frank Viola to the town of Bethany, to meet a family you'll feel right at home with. And to meet their friend Jesus for the first time all over again."
Sean Gladding, author of The Story of God, the Story of Us
"As you read these pages I predict that you, like me, will receive a fresh vision to 'Follow hard after God' as David did. I also predict that you'll receive new prophetic vision as to what Jesus wants for us, His Church."
Steve Sjogren, author, church planter, pastor
"God's Favorite Place on Earth illuminates the town of Bethany, welcoming us to visit and, in doing so, gain a powerful and irreplaceable picture of our Lord. Viola effortlessly weaves together a compelling narrative with practical wisdom, offering a fresh, imaginative, and exciting new vision of Jesus Christ, while also challenging our thinking to make room for this new revelation of an incredibly intimate and altogether real Christ."
Nicole Cottrell, blogger at modernreject.com 
"The insights of this book are profound for someone seeking a clear understanding of Jesus' character. More than that, it's a compelling display of Christ's human depth that is uncommon to traditional Christian literature."
Dale Partridge, CEO at Sevenly.org
"In Frank's new book, God's Favorite Place on Earth, through the power of fictional story and eye-opening life applications, we see Bethany, the physical place where Jesus retreated while on earth. But Bethany is more than just a historical city. The parallels and message Viola reveals are powerful. I hope your heart is touched like mine was. May we all strive daily to be a Bethany."
Melissa K. Norris, novelist, newspaper columnist, speaker, author of Pioneering Today: Faith and Home the Old Fashioned Way and blogger at melissaknorris.com
"I have often been haunted by Paul's reflections in 2 Corinthians 11 that we put up with 'another Jesus' way too easily as we slide away from the moorings of simple devotion in a cultural milieu that, as Frank says in his Introduction, causes us to battle 'doubt, discouragement, fear, guilt, division, rejection, and the struggle against consumerism and lukewarmness.' In our attempts to follow Jesus in such a hostile environment, we often lose sight of who He really is. Frank Viola does a marvelous job of getting our eyes back on Jesus and the gospel narrative through the eyes of one of His dearest friends, Lazarus, and the surprising beauty and safety of the place where He lived, Bethany. A truly unique vision of Jesus unfolds in this well written and beautifully-told story. I believe Frank's efforts here will go a long way in keeping us from embracing 'another Jesus,' 'another Spirit' and 'another gospel.'"
David Ruis, pastor and musician, davidruis.com
"In the great age of new media entrepreneurs, Viola has established himself as simultaneously one of the most consistently creative Christian thinkers writing today, and one of the most deeply rooted in classical Christian tradition.  It's the imaginative interweaving of old and new that has always made Viola interesting – and that trait, that special skill, is in full flower in this new work.  Entering into the life and story of Jesus of Nazareth through the person of Lazarus, and through the divine 'home' of Bethany, is a true stroke of inspiration."
Timothy Dalrymple, Ph.D., managing editor of the patheos evangelical portal
"In God's Favorite Place on Earth, Frank Viola invites us into the little village of Bethany to experience Jesus anew through the eyes of Lazarus. Together we discover that the world has not really changed that much, and that meeting Jesus has the same transformational impact 2,000 years after His first visit to Lazarus' home. It's challenging and encouraging to uncover the power of grace again for the first time."
Geoff Surratt, speaker, author, consultant, and director of Exponential
"If Jesus had a BFF, there's a good chance it was Lazarus. With fresh perspective, unique insight, and a poetic touch, Frank Viola brings us a look at Jesus' life and ministry through Lazarus' eyes. What we discover is God's Favorite Place on Earth and a surprising challenge to us all. It still exists, and it's closer than you might think."
Jamie Wright, author and blogger, theveryworstmissionary.com
"Frank Viola's creative narrative, engaging discussion and insightful commentary on Jesus' association with the village of Bethany spoke to my heart, challenged my lifestyle, and fed my soul."
David Lamb, associate professor of Old Testament, Biblical Seminary, author of God Behaving Badly: Is the God of the Old Testament Angry, Sexist and Racist?
"When He wasn't teaching, healing, and sowing the seeds of God's New Creation ecology, where on earth did Jesus go to just be Himself? He went to Bethany, an unassuming village containing remarkable relationships – a space where Jesus could simply be. With the pen of a seasoned storyteller, Frank Viola brings Lazarus back to life again to tell us the story of God's Favorite Place on Earth – a 'Bethany' that's not only a historical place in time, but a hospitable haven for the living Christ that can be born in every heart, home, church, and village today. This is a must-read that nourishes heart and mind – you'll want to get extras to give to friends!"
Mike Morrell, journalist and blogger, mikemorrell.org
"This book fastened my heart and mind on Jesus Christ. I count it as Frank Viola's best work. His passion for and love of Jesus Christ are on full display. But more importantly, Jesus Christ is on full display. The setting is Bethany, a little village atop the Mount of Olives. The story is told by Lazarus. It is powerful and moving. Be prepared to step into the story, to take a place in Bethany and encounter Jesus like never before."
Bob Christopher, host of People to People Radio, author of Love Is
"Ministry Leadership is tough, and so is the path of ministry preparation. Frank Viola presents a great narrative on church leadership and how criticism and rejection are many times God's tools for, as Frank puts it, 'liberating His servants from human control and the desire to please men.' This is a great read for any church leader."
Todd Rhoades, blogger and idea generator at Leadership Network
"In God's Favorite Place on Earth, Frank Viola creatively brings forth powerful and practical truths through the incarnate life of Christ. Jesus loved all whom He encountered, and yet like us, He had special relationships that brought Him much joy. God's special place called 'Bethany' is a place where real life, real relationships, and transformational experiences happen. As Bethany comes alive in your own heart as you read this book, you will find encouragement, revelatory insight, and strength for your journey."
Robert Ricciardelli, founder of Converging Zone Network
"The heart of the Christian faith is not simply allegiance to a book or obedience to a set of rules. Instead it is a profound transaction with Jesus Christ. Frank Viola re-tells the tale of two sisters and a brother who encounter Christ within both their ordinary existence in a small village, and their human drama of suffering, life and death. With the skill of a compassionate preacher and skillful teacher, Viola draws from the story of Mary, Martha and Lazarus lessons from life that will lead the reader to his own life-changing encounter with the King of Kings—Christ the Lord." 
Dwight Longenecker, Catholic priest, author of The Quest for the Creed and The Romance of Religion, award winning blogger, speaker, and retreat leader 
"If the gospel has become rote for you, if the familiarity of the stories weigh tiredly on your shoulders, if you wish you could read again with the passion and excitement of new eyes – then you need this book. Frank has taken the familiar and made it new, embracing the gospel for what it is – a warm, real narrative – not a cold, culturally inaccessible fable. This book will shed new light on a tale you thought you had mastered."
Jessica Bowman, blogger at bohemianbowmans.com
 "There could not be anything more human than to have a home, a home close to the heart, a favorite place to just be. Viola strikes deep emotional chords in reminding us in a new way that God became flesh in Christ Jesus, that the city of Bethany was God's Favorite Place on Earth. All I can say as I read this touching story is, 'Yes, Jesus had a home. Jesus was human.' Every pastor, Sunday School teacher, and Bible study leader looking for a fresh way to reach people with the story of the incarnation will find here an exciting new approach. It is the story of Jesus through the biographical eyes of Lazarus wrapped in a teaching method. Brilliant!"
Brett Blair, president and founder of sermons.com